About Me
Hi, my name is Ligia , I've been married for five years and this is our first child, we are so excited. Im from brazil and my husband is from the united states, so our baby is gonna have two very different cultures to be proud of.


weeks 1-4( 1st month ) = check :)
weeks 5-8 ( 2nd month) = yay finally!
weeks 9- 13 (3rd month)= almost there !
weeks 14-17(4th month)= not yet.......
weeks 18-21(5th month) = not yet......
weeks 22-26 (6 months) = ....................
weeks 27-30 (7 months) = not even close..
weeks 31-35 (8 months)= cannot wait!
weeks 36-40 ( 9months)= i hope im ready!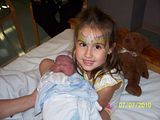 December 3

Thanks girl I love cookie crisp they are the best. I've just been on a cereal kick the past few days. Everything else seems to turn my tummy!!! How are you feeling?