itsybitzyspider
30 Posts | Joined BG: Dec 20, 2009
Last Visit: 4 years ago
Age

32



Gender

Female



Status

Married



Location

Missouri




Kids

2



Due

Sep 30, 2010 (boy)



My name is tisha! Im married to my wonderful husband for almost 8 yrs! But we have been together for 10 yrs this May!
I have 2 beautiful daughters! Trinity wich is 8yrs old and skyler that is 5. And recently i found out im expecting number #3!
Trinity
is currently in the 3rd grade and doing wonderful in her class! She loves school, reading, playing outside, video games, making up stories, drawing and pretty much anything little girls love to do! She is a big HSM fan and adores Troy.
Skyler
is doing pre-4 work at home and is doing wonderful. She is due to start kindergarten this coming up school year and couldnt be more excited! She cant wait to start school with her big sister! She loves coloring, playing with her stuffed animals, video games, DORA, cars, playing outside and absolutely loves s*****g her thumb! Its a hard habit to get rid of too! She also has to carry around a stuffed animal everywhere she goes!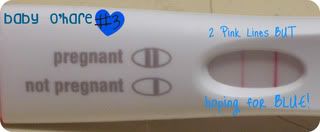 Estimated due date is October 3, 2010! ITS A BOY!!!!

\
1/24/2010- BFP- finally after taking test after test for weeks! :)
1/25/2010- confirmed by Planned Parenthood! :) estimated Due date October 3, 2010
1/27/10 Period is MIA! :)
2/22/2010 - first prenatal visit! - Went fabulous! Still EDD is October 3!
3/22/2010- 2nd Dr's visit! heard the heartbeat for the first time! 160BMP
4/19/10- 3rd drs visit. went perfectly. Lost 4lbs. baby heart rate was mid 140's. Got blood work done for genetic testing and all was negative!
5/17/ 4th dr visit at 3:30. Ultrasound confirmed its a BOY!!! Due date has changed to October 1st!
7/16/2010 - 4D ultrasound! got some amazing pictures and its still a boy!!!
8/8/2010 - BABY SHOWER!!

1st Trimester♥ COMPLETE!
1-4 Weeks [1 Month]Complete!
5-8 Weeks [2 Months]Complete!
9-13 Weeks [3 Months]Complete!!!

2nd Trimester♥ COMPLETE!!!!!!
14-17 Weeks [4 Months]Complete!
18-21 Weeks [5 Months]COMPLETE!
22-26 Weeks [6 Months] COMPLETE!
3rd Trimester♥
27-30 Weeks [7 Months]COMPLETE!!!
31-35 Weeks [8 Months]COMPLETE!!
36-40 Weeks [9 Months] BAKING!