About Me
I am expecting my first, but this is my second pregnancy. I lost my first baby angel in October 2009. My due date has officially been changed back to 8/9/10! :)
I live in Hawaii with my husband Christopher, and my puppies Geronimo and Charlie!
I married the man of my dreams February 22, 2008, but we got to have our BIG beautiful Wedding June 27, 2009! It was a dream wedding in Hawaii! :)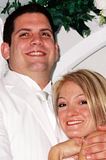 February 13

Another Navy Wife here expecting baby #1. Good luck to you both!!
January 26

I am a Navy wife also. My hubby and I are expecting our first also!!