manda [Noah's mommy]
2005 Posts | Joined BG: Jan 04, 2010
Last Visit: 4 years ago
Age

26



Gender

Female



Status

Engaged



Work

spencers



Location

California



Interest

reading, work, working out, movies



When the nights are long and the days seem to fade away in the distance, I look at you and fall in love all over again. Noah, my son, you are more than my world, my galaxy, my universe. You are all that I am, all that I ever will be; you are my life.
I love you my sweet baby boy.
Noah Bryson came into this big world with big beautiful eyes and a heart ready to steal the love from everyone around him on September 12 2010 at 2:36am. He weighed 6lbs 12oz and was 20 1/2 inches long. The moment I saw him I knew my life would forever change. I knew I would spend countless hours gazing into his eyes and seeing the best of everything through him. He is my little blessing, my everything. My fiance and I are at the happiest we have ever been, everything is perfectly in place and we cant wait to show him the world and all it has to offer. Noah Bryson you will forever be the only man who has ever heard my heartbeat from the inside and stole it the second you looked at me. You are truely amazing sweetheart.
my life would not be complete without you in my arms.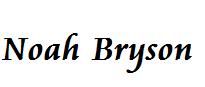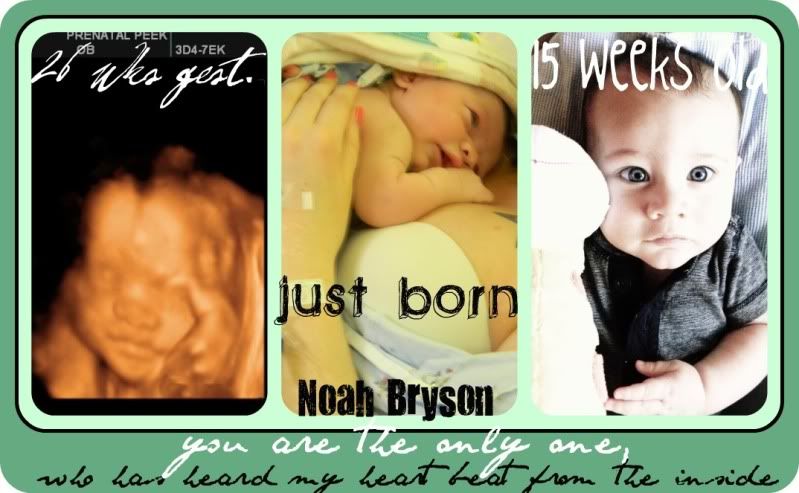 Jan 4. 2010
- took first pregnancy test, said positive but i had a juno moment so i took another to be sure, this time a digital. and again positive. (4 weeks prego)
Jan 5, 2010
- took third pregnancy test in the morning just to be triple sure lol. 3rd times the charm! definitely pregnant. (nervous but excited)
Jan 8, 2010
- went to clinic to take another test so i could get approved for insurance. now we know this is really happening!
Jan 20, 2010
- first OB appointment! blood work and family history. everything came back perfect on my blood tests =]
Jan 28, 2010
- first ultrasound! saw my little peanut, heart rate is 141.
Feb 25, 2010
- OB check up. nothing too exciting, just discussed how i was feeling. (11 weeks prego)
Mar 25, 2010-
OB check up, listened to heartbeat(160)
Apr 12, 2010-
ITS A BOY!
Apr 29, 2010-
Noah is 1 pound! heart rate 138
May 7, 2010-
heart rate 151
June 3, 2010-
heart rate 140, belly measures 25cm
July 13, 2010-
heart rate 145, belly measures 30cm, head down
July 27, 2010-
heart rate 157, belly measures 31cm
Aug 10, 2010-
heart rate 138, belly measures 34cm
Aug 24, 2010-
strep b test. belly measures 35cm, first check for dilation. (not dilated)
Sept 2, 2010-
dilated 1cm, belly measures 37cm
Sept 9, 2010-
belly measures 38cm, heart rate 146 (39 weeks!)
Sept 12, 2010- BABY NOAH WAS WELCOMED INTO THIS WORLD! 2:36am (6lbs12oz 20 1/2in)
Noah 15 weeks old.