About Me
ITS A GIRL!!!FINALLY MY BLESSING IS ON THE WAY!!ITS BEEN A ROLLERCOASTER FULL OF EMOTIONS AND TEARS BUT NOW SHES COMING!SO EXCITED,I DONT KNOW WHAT TO DO!NOVEMBER CANT COME FAST ENOUGH :)


I am an expecting mom,for the first time.I received the best gift on my birthday of this year.I found out that I was pregnant after trying for about 3 years.I was 2 weeks shy of a surgery that was to help me conceive,but God turned it all around in a matter of days!So excited

Its unfortunate but on January 26th I had a miscarriage.Im still in shock and hurting so bad.I dont know what to do at times.Im just trying to make it day to day.I know its ging to be hard,but I keep my head up.I know if God did it once,He'll do it again.I just have to get pass the pain Im experiencing now.!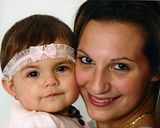 MOM2HSP2
I have 2 kids and live in Selden, New York
January 20

thank you! and congrats to u too! ur story is SO EXCITING!! and were due the same day, even MORE exciting! :) how are you feeling? are you hoping for a boy or girl? when did u move to NC? feel good mama! -nicole
January 18

Congradulations to you!!! I bet you were jumping up in down when you seen the two pink lines hu.....? All I could do was smile. It appears as though we are due on the same day..... Have you went to the DR. yet? By the way this will be our first too... very excited too.
January 17

Thanks! Congrats to you too!