About Me
M
y name is Laura and I'm 20 years old. I live in Olney, IL. I have a beautiful daughter named
Natalie Olivia Nicholas
she was born at 30 weeks and 4 days on January 14 2013..at 4:19 P.M. weighting 3lbs 0.6oz 16 inch long.....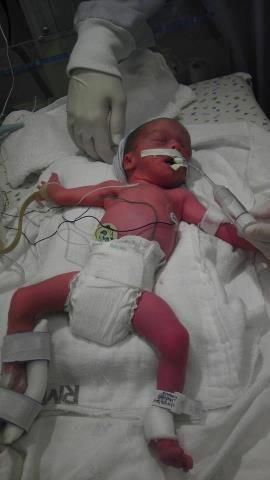 I met my best friend on 10/08/2010 and we started dating on 03/30/2012 and he proposed to me on 11/01/2012.... We haven't yet set a date to get married...
I woke up Monday morning around 5:30 AM feeling "different". I went into the bathroom and found my underwear & pants soaked in blood. Someone called 911 and I was rushed to labor & delivery. A Radiologist came in and performed an abdominal ultrasound. He showed the placenta and gave an immediate diagnosis of Partial Placenta Previa. The plan was to keep me in the hospital and watch over me for the next couple of days and maybe send me home. If things started to go bad, they would rush her into OR and the baby would be sent to Vincennes, IN. By 10 AM I wasn't having any bleeding but was contracting a little. At 4 PM I felt gushing and paged a nurse and then I was rushed into the OR. Once the baby was delivered, it was discovered that the placenta had detached from the uterine wall this is known as placenta abruption...
Natalie was actually rushed to St. Mary's Hospital and is expected to stay in the hospital until her due date witch was March 22nd....
Here is a family picture of all three of us... I <3 My little family... :)