About Me
In 2008 I had my first child, a son, named Ryan. At two months old Ryan was diagnosed with Spinal Muscular Atrophy. He passed away at 7 months old. After an ectopic pregnancy in 2010, I gave birth to a daughter, Lilly Isabella in March of 2011. She has been tested for SMA and it came back NEGATIVE THANK GOD!!
Feel free to PT me....I'm very open about anything you'd like to talk about!

Found out 10/20/12 that we are expecting again!! We're hoping for a boy! ~~and we were right!! Brandon James born 6.24.13 @ 1:24pm - 7lbs 4oz. 19 inches!!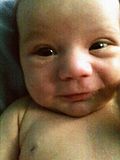 June 24

I'm doing fine, just ready for this to be over and meet my baby! As far as I know it's July 3rd but I have another appt today to discuss it again so we'll see :] Do you have one set? Happy due date!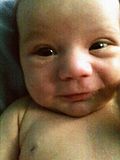 December 3

I know I'm soooooo excited! I get an ultrasound next week, I can't wait!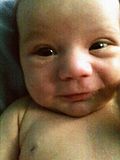 October 25

Of course! :]
Blessed x2♥
I have 146 kids and live in Fort Wayne, Indiana
August 6

Good. Bored on bed rest. Waiting for my next app. Got an ultrasound on Thursday and an Ultrasound and OB app next Monday.
July 28

Thanks fsor the PT. Nice to meet you :)
K8Hanna
I have 2 kids and live in Salem, NJ, United States
February 16

It is very nice to meet you too! :)
K8Hanna
I have 2 kids and live in Salem, NJ, United States
February 16

You are practically right down the road from me! :) My name is Kate, I have a 2 year old daughter, Olivia, and another baby girl, Gwyneth, on the way, my hubby is military, Air National Guard. He works at the Air Guard Base in New Castle.
I understand. I'm so sorry. Well, I don;t really know what to say. It's so unfortunate that you can't go with him. I'm sorry he doesn't feel ready to be a husband. You shouldn't have to raise your child alone just because he wants to see the world. I understand military mamas who practically raise their children alone due to deployments, but not this. I'm sorry. :(
Oh! Well, that will definitely be different! How do you feel about it? I know you wanted to stay on the east cost.
Most infantry do go to California and seeing as he just joined, he doesn't exactly have the luxury of asking to stay. I'm sorry. :(
Thank you! I made some and got others from websites. We're in Jax, FL right now but we're going back to Camp Lejeune soon. Yours?