About Me
The name is Brittany. I am a single parent. I have a 2 month old baby She is my world and I would do anything for her. . My baby girls name is Ysabellah Maria-Rose.
(Sounds just like Isabella just spelt very different.) <3
feel free to add my myspace or facebook.
just let me know your from this site =]
myspace-
http://www.myspace.com/yourshininstar
facebook-
h
http://www.facebook.com/summerbaby08
baby girl <3
1st Trimester
graphics & comments
|
trimester Graphics
|
1-4 weeks = 1 month -
completed
5-8 weeks = 2 months -
completed
9-13 weeks = 3 months -
completed
2nd Trimester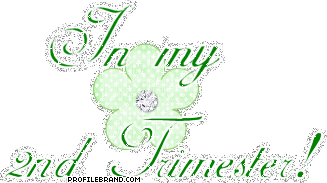 graphics & comments
|
trimester Graphics
|
14-17 weeks = 4 months - completed!! ITS A GIRL!!!
18-21 weeks = 5 months - completed!
22-26 weeks = 6 months- completed!
3rd Trimester


graphics & comments
|
trimester Graphics
|
27-30 weeks = 7 months- Completed
31-35 weeks = 8 months- Completed
36-40 weeks = 9 months - Baking almost done =] <3
March 7th-Missed period

March 20th-Positive pregnancy test.

April 6th-First ultrasound =] (docs wanted to wait until they thought i was 8 weeks but really found out im 6 weeks 4 days)
April 8th-got my blood work done at my ob's office. =]

April 15th- First appt with my doctor. Another ultrasound doctor said everything looks good and that im due november 30th and im 7 weeks 2 days.

April 20th- turned 8 weeks <3 gonna be moving to florida in a couple days here.
April 23rd- Big move to flolrida. Loving it here in florida. daddy stayed home in michigan
May 4th- 7:12 pm mommy went to the hospital because of pains in lower ab area, come to find out after sitting in the waiting for 5 hours and spending 15 minutes of my birthday there (May 5th lol) they were normal pains just my uterus and other stuff growing. baby is a healthy 10 weeks and moved a lot for the doctors.
May 26th- Doctors appointment with the new doctor. No ultrasound until im 18 weeks =[ sad. But hoping i can hear the heartbeat.
HEARTBEAT WAS 149. i lost 2 more pounds =[ but im showing alot for 13 weeks.
June 23rd- Doctors went good. babys heart was 154 =] doctor said i was 17 weeks 2 days lol. gained only 4 pounds =[ Wont get an ultrasound with this doctor until im a little after 20 weeks. But thank god my mom works in the medical field cause she can get me in tomorrow, So if the baby works with us I will know what he or she is =]
June 24th- Gender Ultrasound done and its confirmed, ITS A GIRL!!!! she was sleeping and when the ultrasound tech tried waking her up i think she kinda got mad cause she moved away and continued sleeping. HEARTBEAT 144 =]
<3
July 8th- felt the baby move (at least i think it was the baby) twice very big flutters =].

July 13- felt the baby kick on and off very lightly. light thumps in my low ab more towards the left. =] (i think it was ysabellah kicking, i hope so.)


July 20-21- went in to the hospital with pains under breasts and in the back. they thought it was labor so they hooked me up to an iv and the contraction machine did an ultrasound and they seen that i wasnt in labor and that my cervix was completely closed. so they said it must of been just a stomach virus cause i kept getting sick and throwing up. so they sent me home. they said the baby looked good and she even weighed a pound already.

July 22- doctors appointment. heartbeat was 150 =] loud and clear. belly measured 21 to be exact. im 21 weeks & 2 days. have an ultrasound july 28th. (had to cancel due to being on bed rest obs orders!)

July 24-27th- went back to the hospital for pains under breasts and in back again. got sick once in the car on the way to the hospital. i had different nurses and they all said that it sounded more like my gall bladder than anything. so after going down for an ultrasound they soon found out i had some gall stones. the on call doctor told them to admit me so they can keep an eye on me. a surgeon and my doctor came in and talked to me and said they would really prefer to not do the surgery but if they dont i will end up in the hospital almost all the time during the next 3 1/2 months of my pregnancy. so they did the surgery on monday and kept me and the baby on a good watch the whole time and even afterwards they kept a good eye on the baby, her heart rate stayed in the 140s-150s range. after seeing my regular ob and the surgeon they said i could go home the next day and that they wanted to see me in a week so ill keep ya updated!!

August 5th- Surgeon removed the stitches and said everything looked normal =] healing perfect!

August 6th- babys heartrate was 159 lol i scheduled the ultrasound for august 16th so excited!

August 16th-ultrasound (a day shy of 25 weeks) ultrasound went good. its confirmed SHES DEF A GIRL!! lol heart rate was 148 she weighs 1 lb and 15oz only an oz away from 2 lbs. everything looked perfect. shes beautiful <3

August 20th-glucose test

August 27th-4d ultrasound she was being sooo stubborn <3 lol i love her though. she looks just like her dad. she has his nose & lips and has my chubby cheeks =]

Sept 3rd- Doctor said she looks good. He says she sounds very healthy <3 when he was checkin her position by squeezing my lower belly he made her mad and she kicked cause he goes oh shes a fiesty one huh. i just laughed. Thats my baby girl <3 didnt get a chance to ask what the heart rate was =[ but it sounded good =] <3

Sept 24th- Doctors told me im anemic and that im RH-Negative. Had to get the shot to make sure baby girl will be fine during deliverly and they told me after shes born I have to get the shot again. They also told me this may be the only child i can have. Go every 2 weeks now.

Oct 4th- Ultrasound to check babys position =]
Oct 8th- 2 week check up
Oct 9th- BABY SHOWER!!!!!
December 1st-she was born. 7 pounds 8 ounces

[MY ACTUAL DUE DATE!]
[SHES MEASURING A WEEK AHEAD!!]