About Me
Hey there :o)

I am a mommy to a three year old. I live in New York...state, not city. It is boring here. It snows. A lot. My daughter is funny, witty, charming. Yes, I brag. She is in her second year of ballet. She loves to dance.


I am married to the love of my life. He is not my daughter's bio dad. Her bio dad is not involved. I have gone through the whole court battle for so long. Then he walked out of her life when she was sick and in the hospital. My husband is a father to my daughter now. Soon we will look into him legally adopting her. She calls him daddy.


I work part time at a lame restaurant. Whatever. It's a little extra money. Gets me out of the house. I get to stay at home during the day with my kidlet.


I am sarcastic. Witty. Charming. Yes, just like my kid. So...don't take everything I say seriously. Life is too short to get butt hurt over things said on the internet.
Amber ♡
I have 1 child and live in Kansas
March 20

Your baby is beautiful (:
March 15

I made it with size 2 diapers so it would last longer! It was really fun to make! =)
I know his party is saturday, i cant wait. it's crazy how old he is.
omggg thats s**k good news. hows your endometriosis?
K+2
I have 2 kids and live in Arizona
November 22

I saw your comment on my post about getting full custody from my abusive ex. I haven't been on for awhile which is why the late response. Just decided to send you a parent tank! Your daughter is GORGEOUS!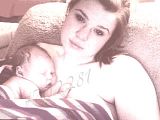 November 5

yayayyyy!!!!!!! awwwwww she's here!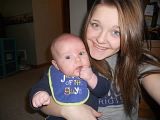 October 29

Awh! How exciting! Goood luck mamma! And yes, i know. I am trying my best to stay fit, and watch my weight. Ive only gained like 25 pounds, so Im hoping hes not to big, hah! I am going to try natural, because I really really want too! And yes your very right, im sure I will be able to handle it! Good luckk again, mammma!
Iff you dont mind me asking, How do you plan on having her? I am going to try to deliver my baby naturally, with absolutely noo medication, but no one thinks I can do it.. And my OB said he predicts around a 10lb baby at the smallest, unless he induces me early!
Yeah Im just about to start doing thatt! I keep telling myself that my belly isnt going to get much biggger, but I can already feel it is! I cant complain though, I do love it! :P Good luck to you mamma! :)
Awh thank you! Anddd haha yes, I am trying! I love it! But im getting to the point wheree I cant tie my shoes, its annoying :D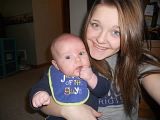 October 27

Congrats on your little girll! Shes almost here, yay! :) I hope all goes well for you!