Roxanne's mommy
15 Posts | Joined BG: Apr 06, 2010
Last Visit: 4 years ago
Age

22



Gender

Female



Status

Married



Location

Deer Park, Texas



im 17 and had my first child Roxanne 10/13/10(:
she is my whole world i dont even remeber life without her. she makez my day a million times better(: she alone has made me so strong. she keeps me going when things get though. i love her so much its crazy(:
my BD name is Jon. we are currently together. we dated from 9/20/09 to 6/11/10 and then got back together on 9/12/10. i love him a lot. we may have out little problems but who doesnt. if you have ever seen the movie the notebook. he is like allie and im like noah. expecally in there little fight close to the end of the movie when allie is trying to leave cuz her husband is in town and noah keeps askin her what she wants. oh and yes we fight about stupid things just like them(: but at the end of the day we love each other and wouldnt want to be with anyone else(: he does good with Roxanne except he dont get to be around much cuz his mom but hopefully when he turns 17 in march that will change.
my mommy is my best friend. i go to her about everything. we are more like friends then mother and daughter now. she helps me so much with Roxanne and i really apprecaite it(: she has been there with me through everything thing.
little Roxanne(: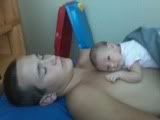 jon and Roxanne(: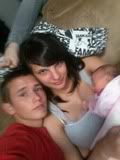 my little family(:
UPDATE(:
Im now 18 and married to my bd Jon(: as of 3/20/12(: we have Roxanne are are 6weeks&&1day pregnanct with our 2nd baby(: We have our own place together finally(: Life is looking up(: We are so excited about this next baby and to get to do everything together and the things we didnt get to do with our pregnancy with roxanne(: Oh i am doing a vlog with this pregnancy(: you can look me up on youtube
http://www.youtube.com/user/annamaree919?feature=guide