About Me
The name is Breanna Marie.
"A life lived at optimal settings is not one that we should not particularly like to partake in. It's too f**king easy. Easy doesn't teach you anything. Easy doesn't make you stronger. Easy doesn't motivate. Easy gets taken advantage of. I say let those other bastards take the easy way out. At the end of the day, let's take the long, brutal, uphill road and let them have their easy, because at the end of it all, we can say guess what m**********r, we're here too, and we manned the f**k up. We did it the hard way, we blazed that f**king path of most resistance, and we for goddamned sure learned some shit on the way here. What the f**k did you learn? They'll say nothing, because they had it easy. When shit gets tough for you, how are you going to cope? They won't, because they had it easy."
My roots are my music, art, and books.
My sunlight, always reliable, is my boyfriend.
He is my concrete.
And my water is my friends.
Although always coming and going, without it I would die.
There are two very different parts to my personality.
Complete opposites, good and evil.
Happy and sad.
Sweet and cruel.
Light and dark.
Shy and outgoing.
Graceful ballet dancer and Pro girl fighter.
I take pride in, I think my ability to balance myself out and take form to my surroundings, and appreciate the permanence in my beliefs, my individuality, my honesty, and my intelligence.
I don't waste my time on ignorance,
And I choose the people I spend my time with carefully.
I have very few friends because it is very rare for me to meet open minded people that make me appreciate this heart and life.
I've grown up fast.
And when you see a lot of things early on,
I guess you become cynical at an early age.
I have an attitude that comes from disillusion and it makes people bitter.
I have a beautiful son with the most wonderful man,
and he is the most incredible little boy in the world.
He has entirely changed my ways of thinking,
myself as a person,
and my life as I know it...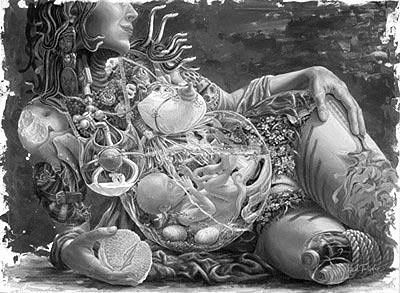 "The beauty of my body is not measured by the size of the clothes it can fit into, but by the stories that it tells. I have a belly and hips that say, "We grew a child in here," and breasts that say, "We nourished life." My hands, with bitten nails and a writer's callus, say, "We create amazing things."
I've got all I need.
And all I ever wanted.
♥ .Gideon Syrus Sandoval. ♥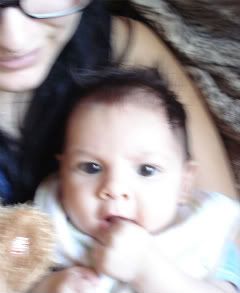 ╔═[.♥.]══════════════════════════════╗
The moment a child is born,
the mother is also born.
She never existed before.
The woman existed, but the mother, never.
A mother is something absolutely new... ╚═════════════════════════════[.♥.]═╝
"I paint my own reality. The only thing I know is that. I paint because I need to, and I paint whatever passes through my head without any other consideration."
Tragedy. Beauty. Controversy.
August 24

I wish you were still on BG. :cry:
RiannaRock
I have 1 child and live in Redondo Beach, California
February 15

I posted a thread with a few wedding pictures! Cause I know you wanted to see :D
Why thank you! Only took 3 pounds of foundation and 6 coats of mascara! Lmao. And yes, you may have them...for 5.99 at your local walmart (although mine are not purchased,i got them somehow while chillen in my wh**e of a mothers womb) hahahahahaha
December 4

also my husband wanted me to inform you guys that we have an xbox lol. so to add us. his name is <b>gizzzzzzzzz </b>with nine z's lol. all lower cased.
December 3

thank you SOOO much!! i was just thinking about you today!! and it's ok. i've been off BG for a loooong time. the BFP on the 1st brought me back lol!! were soooo excited!! haha!!
September 7

Aweee Thank you so much for taking time out of your day to just say such a wonderful thing to me! I love you dearly, Bre. You were my very first good friend on BG. <3
August 18

<a href="http://forum.baby-gaga.com/about1865763.html">http://forum.baby-gaga.com/about1865763.html</a>
T♥B♥+
I have 2 kids and live in Denver, Colorado
August 17

thanks! :D that sounds so good and easy!
August 5

*blushes* well thank you!! lol that made my day. and NO LIES from me lol!! howve you been lately?? how do you like your new place??
August 5

aww stop it!! <b>you're</b> gorgeous!! &gt;.&lt;
Bye.
I have 19 kids and live in Japan
July 16

lol, I'm okay at the 360 just depends on the games I mostly only played rock band on the 360 but that was a long time ago lol, I'm okay on the ps3 just depends on the game i rule at uncharted 2...kinda lol
Bye.
I have 19 kids and live in Japan
July 14

no my friend no... the ps3 is the greatest system ever ill get a 360 if i need a new heater ^_^