About Me
My name is Kindra and I'm 19 years old. I have 15 peircings. 7 of them are stretched out (1in., 0, 2, 4, and 6.) I adore each and every one of them. I found out I was pregnant in July. I was 5 months along. (BIIG surprise.) I'm a single mother and happy about it! I have a huge family and am psyched to start this new adventure just my daughter and I. I had my little angel November 7th at 9:33am. She was 7lb, 11oz, beautiful, healthy and happy to be out. It was a vaginal birth with NO pain medications. I had back labor for 12 hours before I figured I should go to the hospital and see what's up(didn't know I was in labor). I got there 7cm dialated. Having a baby is the most painful/sureal thing I've experienced yet. Left the hospital with more back injuries. 'Tis all worth it in the end to be able to see her face and touch her warm skin. She is my first child. (There WILL be more in the future.) I am opinionated, strong willed, colorful, and have what most consider "radical" views. I will raise my child how
I
feel is right. Feel more than welcome to PT/PM me. Gotta love random conversation!
PREGNANCY SURVEY!

About You:
Name:
Kindra
Age:
18
About The Father:
Name:
Age:
21
Are you still together:
not a chance :)
About Your Pregnancy:
When did you find out you were pregnant:
June 9th
Was it planned:
not at all
What was your first reaction:
histerical, then extreme happiness
Who was with you when you found out:
nana Susie =D
Who was the first person you told:
her
How did your parents react:
uhh father is excited/overwhelmed [feeling REALLY old]
How far along are you:
23 weeks and 5 days!
What was your first symptom:
growing abdomin [didn't know until week19 discovered THE bump]
What is your due date:
November 5th 2010
Have you had an ultrasound:
yep 19 weeks
Have you heard the heartbeat:
Yes <3
What was the heartbeat:
they didn't say anything about it accept it's strong....
About the birth:
Home or hospital birth:
Hospital
Natural or medicated birth:
MEDICATED!
Who will be in the delivery room with you:
my grandmother
Will you breastfeed:
DEFINITELY. health benefits are extraordinary!
Do you think you'll need a c-section:
probably [she's always sideways/lopsided]
Will you cry when you hold the baby for the first time:
can't say... will be an emotional experience
What's the first thing you might say to him/her:
We'll see.
Would you let someone videotape the birth:
no way jose
Are you excited about the birth, or scared:
a bit of both. scared shitless of complications and what coulllld happen, but can't wait to meet muh baby :)
Sex of the baby:
What do you want:
as long as s/he's healthy and a boy or a girl instead of some syfy character such as half goat or a giant squid, we'll be good!
What does the daddy want:
?
What do you think you are having:
a little girl
Have you had your big ultrasound yet:
yes!
If so, what are you having:
GIIIRL!!!
Names:
Do you have a name picked out:
YES!!!!
Girl names:
after my grandmother [not telling]
Boy names:
after my grandfather [not telling]
Is your baby going to be named after someone:
yes
Other random questions:
Where was your baby conceived:
rolling around in a big open field out in the country
Have you felt the baby move:
CONSTANTLY! i suspect i will one day have a kickboxer or dancer.
Do you have stretch marks:
Not yet...
Will your baby have godparents:
I would like for her/him to, we'll see if i can think of worthy people.
Who will the god mother be:
---
Who will the god father be:
---
What is the baby's room theme:
tye-dye & animals. lots of colors and abstract shapes.
What was the first thing you bought for the baby:
toiletries
Are you ready to be a mommy:
definately! never been this excited about something in my life!!!!
September 26

sure am!

H
I have 5 kids and live in Sacramento, California
September 22

Hey hon, how are you doing? Everything going well? I noticed you'd said something on your profile about being concerned about having a big baby. All of mine were huge. My smallest was 8 pounds even and my biggest was 10 pounds 6 oz. I'm only barely over 5 foot and am usually around 110 pounds. I delivered all of them vaginally with only minor complications with my 10 pounder. He was the only child that I has to have an episiotomy with. I have a very small pelvis and so on the way out he broke my tailbone and his collarbone. We were fine though. He showed no signs of any pain or discomfort and was completely healed within about 2 weeks. He's almost 8 now and is one of the healthiest kids I know. Don't stress honey, you will be just fine.
September 19

You b**b. I love you =) Baby shower gift already got :)
September 2

Very nice! Do you know if your having a boy or girl yet? Hows pregnancy been treating you? And if you ever need anything or any type of conversation don't ever hesitate to ask!

H
I have 5 kids and live in Sacramento, California
August 25

Thanks! Nice to meet you. :D
☮[amber+1]
I have 1 child and live in Fertile, Minnesota
August 5

Thanks!
July 20

Your welcome and thank you! :)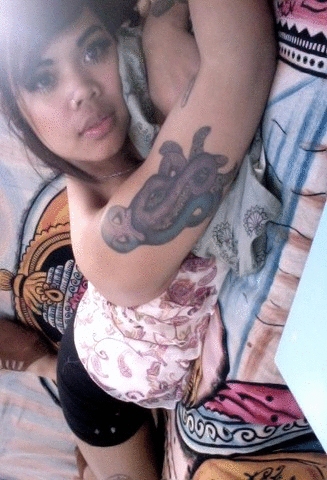 KNZ.
I have 3 kids and live in Washington
July 19

Hey, thanks! :) and I'm filipino
July 18

Diaper free works great for my lil boy. He just turned a year and he is completely potty trained. Seriously you should try it!! I started at 1 month old but people start at birth. My LO is happier, I know what his needs are. go to tribalbaby.org or read diaper free baby best thing to do for your child.
July 16

:lol: :)
July 15

Thank you so much! Nightmare is the perfect word to describe it. I felt like I was dreaming when they told me that I was in labor at 26 weeks and there was no turning back!! I wish you and your baby the best. <3
July 15

thank you :)