About Me
I found out on April 21st, 2011 That my dog has breast cancer...... <3
R.I.P February 11th, 2013 <3 You will always be in my heart, i love you babygirl.
If all you are going to do is talk shit, I would advise you leave my page now. You and I breathe the same air, and walk on the same earth, neither of us are better than the other.
Hello Mama's!
My name is Samantha, For those of you who do not know, I am happily engaged to this wonderful guy name Richard, We had planned to get Married on November 3rd, 2012, But we decided to push back the wedding because...... after a long long wait, we are finally EXPECTING! :) Our lil' one is due June 21st, 2013!
In no way does this paragraph justify who I really am. Every person I have ever known in my life have let me down at least once. If you have not noticed my Fiance means the world to me. I lack the ability to give a damn. I am done trying to impress people that are never pleased. I have a really sarcastic sense of humor. I love my life, and I would not change a thing. I dislike the majority of the people that I meet. I give my dead honest opinion about anything and everything. I am most likely nothing like any other person you have ever met in your life. I am not scene, emo, or any of that, labels are for soup cans, do not slap them on me. I guarantee you are not metal, brutal, or h******e, so kindly shut your mouth. I have a brain, some of you kids should invest in one. I spend most of my days at home rather than going out partying every night. I have nothing to prove or gain by talking shit on people. I despise two faced people, and the one thing I hate most is drama. I am actually quite shy, and people often mistake that for being stuck up. I never take anything for granted. I'm random and i speak my mind, even if its something you don't wanna hear. I can be rude, overly confident, and brutally honest. I don't take shit from people anymore so don't try to throw things at me, it would just be a waste of your own damn time. Some thing's never change and people never change they just become who they truly are. I hate it when people think they are better than everyone else. Open your eyes and realize, everyone goes through shit, everyone's life s***s at some point. I don't judge. Take a chance on me, cause I know I'll take a chance on you. Any further questions ? Feel free to ask (: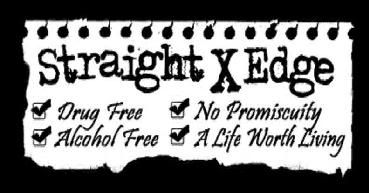 Straight edge youth. I can have a good time without putting disgusting toxins in my body. I have no malice against anyone that smokes, drinks, or has sex with anything and everything they meet, it is just not my style. I will always be edge until the day I am put in the ground. I have chosen this path because it is right for me, not to follow your trends.
Significant Other<333:)
One Step at a Time<3
~his kisses & hugs
~his smiles & tickle spots
~his jealousy & whinnyness
He is the absolute love of my life. He's completely amazing in EVERY way possible. He's all i need, He's the most charming, gorgeous guy i've ever laid eyes on and I'm madly in love with him <3
.he said forever,i said eternity
.he said till death do us part, i said death cannot break the bonds
.i took his hand, he took my heart
.he said sparks fly, i said a fire rages inside
.he said im all hes got, i said he keeps me alive
.if he were to leave this world tonight, take a journey past the walls of death, id be behind him every step of the way
We do have our serious times and we have our fun times. A relationship can't be boring and this one is deffinatly not. :) <3
Hes cute and im in love.
The love of my life, the reason to my smile.Nothing in this world feels more right then being with him, we've been through more then a lot of people can say they have in a relationship, i love him more and more every single day, we both know what we have is true love and i honestly wouldnt want to be with anyone on this planet than him, he is all i need, hes the most amazing guy i know, and his personality just amazes me, just like everything about him does,every single second i spend with him means so much to me, we always have a great time no matter what we're doing,just seeing him smile is enough to make my day, i love him more then life itself, untill the end of timee <333..
He has the most amazing smile i have ever seen , It takes my breath away <3
He makes me laugh, We always have a good time when we are around eachother, He's absolutely amazing && not only that he can make me smile even if i'm really upset.
He's cute && silly :P
He's an amazing guy who inspires me, makes me laugh, understands me, and showers me with love and affection. He is loyal and faithful and strong. We have a mountain of projects together, from the fun creative stuff. To the committed lifelong stuff. We get along like best friends. I've never had as much in common with anybody else. Basically, you can say I love him to death && would do anything for him .
We also have Two Furry little Family Members.
Nakia
She is our Lab/Husky mix. Born May 4th, 2012.
Princess Bella
She is a Pit/ Rotti Mix Born July 15th 2012
Now More about our Lil One,
First Trimester;
1-4 Weeks - 1 Month - Done♥
5-8 Weeks - 2 Months - Done♥
9-13 Weeks - 3 Months- Done♥

Second Trimester :
14-17 Weeks - 4 Months - Done♥
18-21 Weeks - 5 Months - Done♥
22-26 Weeks - 6 Months - Done♥

Third Trimester :
27-30 Weeks - 7 Months - Done♥
31-35 Weeks - 8 Months - Baking.. :)
36-40 Weeks - 9 Months-
~October 14th 2012- Missed period
~October20th 2012- 6 days past missed period, Decided to take a test-- BFP!!
~October 23rd, 2012- Pregnancy confirmed at Planned Parenthood. (5 weeks 3 days)
~November 13th, 2012- First appoint with an actual clinic. Took Blood work, They didn't really tell me anything, Gave me a sheet of paper that stated the medications i could take, And that was it, No ultrasound yet :(
~December 15th 2012- Went to the ER due to cramping, and found out that my cervix was closed, and left there knowing the baby was okay, BUT with the thought of a miscarriage.
~January 3rd 2013- Finally had my first real appointment with my OBGYN. She did a pap, And checked my breasts and what not, We did get to hear the lil' ones heartbeat, It is currently a 155, She said it sounds great and very healthy, And had tons of blood work done. I have a new appointment for Monday, to get an ultrasound done. :)
~January 7th 2012- First Ultrasound, Measuring 16 weeks and 3 days , Gender that Ricky and I saw, Confirmed by the Ultrasound tech, there was no boy parts, she definitly thinks its a girl! :) Next appointment set for 1 hour scan is February 4th.
~February 4th 2013- My 1 hour anatomy scan she is deffinitly still a girl and measuring right on time, weighing 13ozs, 156bpm, and my due date still remains June 19th, and the ultrasound tech said everything looked absolutely perfect, The doctor measured my stomach and she is right above my bellybutton. on the down side my blood pressure was 144/70?, and they said that is high, I must have had protein in my urine because they are making me get a jug and pee in it for 24 hours, when the doctor and i sat down she told me she was very concerned and shes doing a bunch of tests on me for pre eclampsia, and is sending me to a cardiologist for my frequent fainting. Another appointment is scheduled for Monday, February 11th and have an appointment with a cardiologist on February 22nd
~February 11th 2012- Urine was normal, I am Anemic so now taking Iron pills, Ericas heartbeat is 145, Perfectly normal. I am now measuring 26 weeks, and i went from 231 pounds to 228. Another appointment scheduled for February 25th.
~February 22nd- Cardiologist appointment went great, Blood pressure, EKG, & echo (heart ultrasound) All perfect!
~February 25th- Weight is back up to 231, Still no protein in urine, Blood pressure was 118/68, Erica's heartbeat was 150, My doctor said everything is looking perfect but would still like to see me back in 2 more weeks, Something new came up though, I now have pregnancy carpal tunnel, My hands are always numb! & it causes me a bunch of pain at night while im trying to sleep :/
~March 11th- Weight 233, No protein in urine, Blood pressure is high again 144/70, Erica's heartbeat is 160. Doing another glucose test on the 25th, and getting more blood taken, then another follow up appointment on March 28th.
~March 28th- Weight 236, Blood pressure is 115/54. Erica's heartbeat is in the 140's. My OB said she is measuring ahead by a week. All of my blood work came back perfect, and she would like to see me again on April 11th.
~April 11th- Weight 239, Blood pressure is 139/60, Erica's heartbeat is 150-160. They did a test for preterm labor because for the past week i have been having really bad pains in my pelvic area, The results of the test will be in, in a few days. She said if need be we will start steroid shots, to make erica's lungs develop a bit faster just incase. Another appointment set for April 26th.
~April 26th- Weight is now 249 ( HOLY MOLY) Blood pressure is 130/70,Erica's heartbeat is 148. She is currently Breech. My cervix is currently closed, Long, and -2 station. We have an ultrasound for 34 weeks and 3 days on May 10th to see her growth! :)
~May 8th- Had a lot of pain at night, Had to get up and walk around to ease it, Then found light pink blood on my toilet paper after using the bathroom...
~May 9th- Went to class at 11:30.... Around 12:33 i started having major back and stomach pain, It was completely constant, No way to time the pain. It still had not ended by 1:30, so i got up and walked around and it just got worse. It was absolutely horrible. I kept gagging and almost started to cry. I went to the Er, but then realized i will just call my doctor... I called my doctor and went in, I lost 2 pounds from my last appointment, My blood pressure was 139/70, They had me drink 3 glasses of freezing cold water, they hooked me up to the monitor for a half hour, she was moving great, lots of kicks. Her heartrate kept dropping down to a 120. then it would slowly come back up. When she was very active the highest it was a 170. I only have one uterine contraction while hooked up to the monitor. They then put me into a room, Where i was given my strep B test, She said Erica is now turned, She can feel where her head is lying on my pelvis, But my cervix are closed. When Erica continued to move and wiggle, the pain instantly went away, the doctor said she could have been on one of my major nerves in my back causing me all of my pain. But she checked my swelling and she said there is way to much, i need to do more relaxing, and drinking a lot of water. I have my ultrasound tomorrow morning at 8am.
~May 10th- Weight 246.8 , Blood Pressure 120/68 They did an ultrasound, Erica is now completely headdown, & she is weighting 5pounds 8 ozs. Her fluid and everything looks great. She is measuring 2 days ahead.