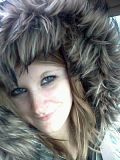 November 27

thanks so much sweetie!! :]
:D You'll have to tell me what you think of it when you finish season one then episode one of this season.
Yeah, I'm not giving you anything at all. :twisted: You're going to wait and see just like the rest of us had to. :lol:
OH! I thought you meant you started watching it last night because season two premiered last night. :oops: :lol:
NOOOOOOO! :shock: You MUST start with Season One Episode one! :lol: Really though, it's an amazing show.
Yea thats why I made the face!!!
:))))) Yay!!!! It's going to be SOOO CUTE <3 Let me find out for you brb!!!
Ooooh i like that :)))) has to be the bright colors def... But i love it!!
A TOP HAT :shock: Soooooo cute &lt;3 Have you thought of something like this <img src="http://img0.etsystatic.com/il_570xN.221661332.jpg" />
I think your colors should be Aqua, Brown and White Like this color Scheme :)))<img src="http://farm4.static.flickr.com/3207/2784607858_f5a7fb85ff.jpg" />