J-Peezy
4 Posts | Joined BG: Aug 27, 2010
Last Visit: 4 years ago
Age

24



Gender

Female



Status

Engaged



Location

Huron, Ohio



Hello my names Jen, I'm 20 yrs old. I have a son who was born April 25, 2011. 7 pounds 12 ounces 22 inches. This is our first baby, His name is Thomas II. He is my world already. I love him more than any words could describe!
I have been with the father since 11-19-08 I love him so much. He is gonna be the best father. We are engaged and we will be getting married a year or so after the baby is born. He means the world to me and so does our son <3


1-4 weeks = Done. Didn't know i was pregnant at all :D
5-8 weeks = 2 months - Done. Still no signs of me being pregnant.
9-13 weeks = 3 months - Done. No morning sickness through the whole 1st trimester. :D

14-17 weeks = 4 months - Done. I actually lost weight. and still no baby bump.
18-21 weeks = 5 months - Done. Finally starting to show :D [WE R HAVING A BOY]
22-26 weeks = 6 months - Done. :D baby kicking alot!! On bed rest

27-30 weeks = 7 months - Done. Off bed rest. Only 10 more weeks to go :)
31-35 weeks = 8 months - Done. Baking! on bed rest again.
36-40 weeks = 9 months - Started. 75% effaced 2cm dilated 4.25.11 <3
[Thomas Russell Michael Round II]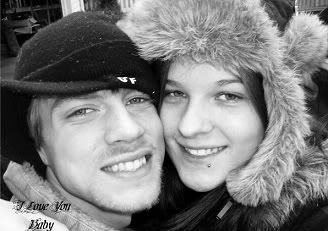 This would be my Fiance, bestfriend Tom. We have been together since 11.19.08 Hes the best thing to ever happen to me along with our son. He puts a smile on my face every second of the day. I love him so much no words could even describe the love i have for this man :)