About Me
After 4 years of trying, we finally got pregnant! My little miracle baby was born on May 1, and I have never been happier. I may have had a hard time conceiving but everything since has been so smooth! I had a pregnancy free of morning sickness or complication and was able to give birth naturally just as I planned. Everyone thought I was crazy for not wanting drugs, but looking back I wouldn't do it differently. I am using cloth diapers (another thing I orignially got criticism for). I actually really like them and am thrilled to be saving so much money. I am breastfeeding and hope to never need to use formula. I wish that I could stay home full time, but I eventually had to go back to work part time to cover a few bills. I am becoming a certified doula and can't wait to attend some births and help other people bring their little miracles into the world. I am new to all of this and am learning as I go.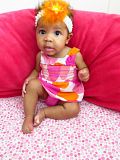 February 2

congrats, im due may 5th as well
January 20

Thanks for the PT!
October 28

Congrats!
October 13

Congratulations on your BFP! Due Date Buddies!