About Me

in loving memory graphics

graphics for moms
Mommy + Daddy love and miss you CJ. You may be gone, but you will never be forgotten. You will always be in our hearts. <3<3
[ 06.26.08]
My name is Kendra. I'm 23, soon to be 24, and married to a wonderful man who I love alot. We have one son, who was born stillborn on June 26, 2008 at 38 weeks. He is our angel. We are currently expecting another bundle of joy , and it will be due May 19, 2011.
Baby Tickers

graphics for moms

mommy graphics
1st Trimester
1-4 weeks = 1 month - [[ DONE !]]
5-8 weeks = 2 months - [[ DONE !]]
9-13 weeks = 3 months - [[DONE !]]
2ND Trimester
14-17 weeks = 4 months - [[ DONE !]]
18-21 weeks = 5 months - [[ DONE !]]
22-26 weeks = 6 months - *BAKING....*
3rd Trimester

27-30 weeks = 7 months -
31-35 weeks = 8 months -
36-40 weeks = 9 months -
Before your pregnancy & Finding out
Did you plan your pregnancy?
-- No, not really .
Did you have a hard time conceiving or was it easy?
-- Fairly hard, it took us a while to conceive this one .
Do you know exactly when you made your baby?
-- Ehh, some time in August .
What made you decide to make this baby?
-- We were ready for another one .
What made you keep it? if it was not planned
-- See answer above.
How many times did you think you where pregnan but was not?
-- Before finding out I was pregnant then, none .
Ok, so lets make this more interesting
How & when did you find out?
-- Had a weird period in September, and began feeling nauseated quite frequently .
Did you take a home pregnancy test? what brand?
-- Yes, Clearblue Digital .
How many test did you take before confirming you where pregnant?
-- One .
Was it the + - type or the type with only vertical lines?
-- DIgital.
where you nervouse or excited to take the test?
-- Was a little bit of both, even though I already knew the answer .
was anyone else there with you?
-- My hubby .
how did the babys father react?
-- He didn't believe me at first, until I showed him the test . Then he got excited .
who was the first person you told?
-- Husband .
what was your reaction after the pregnancy test?
-- Shocked. Happy. Excited .
1st trimester
During the 1st month, what symptoms did you experience?
-- Nausea. Sore b**bs. Extreme tiredness. Gagging from certain smells.
has any implantation bleeding?
-- Yes.
if yes did it scare you? thinking you might loose the baby?
-- No..
did you have sore breasts?
-- Yes.
nausea or vomiting?
-- Nausea, yes. Vomiting, no.
did you feel emotionally connected or not yet?
-- Yes.
How did you feel during the second month? emotionally & fisically
-- Still had bits of tiredness...nausea...gagging . sore b**bs.
Third month?
-- Bout the same .
Random
When did you start to show?
-- About 12 or 13 wks.
Did you have any braxton hicks contraction?
-- Not yet.
When did you experience them & how did they feel?
-- Haven't had any.
When did you choose your baby's name?
-- Decided when I was 18 wks.
How did you choose it?
-- From names we both liked .
Have you bought anything for the baby?
-- Of course.
What are somethings you really want to buy or get as a gift for your baby?
-- More clothes, etc.
Have you or will you have a baby shower?
-- Not for this one .
Will you plan it or someone else?
-- Probably some one else .
Do you know the baby showers theme?
-- ???
What is the babys nursery theme?
-- Probably pooh
Do you have experience taking care of newbors and children?
-- Yes/
Are you confident about your abilities to care for your child?
-- I'm sure we'll do fine .
Had any weird dreams or nightmares during your pregnancy?
-- At the beginning yes.
Do you already love your baby or think you'll bond after its born?
-- I'm already in love with him.
Do you know if its a girl? or boy?
-- Boy.
Are you finding out before birth? if so when?
-- Already know .
What color do you prefer for your babys stuff?
-- Blue ...
How did your friends react?
-- Excited..
Parents?
-- excited.
Family?
-- the same .
If the father is involved (if not skip)
Are you currently in a relationship with him?
-- My husband, yes.
Do you live together?
-- Yes/
Do you plan to get married?
-- Already are.
Does his family like you?
--Yes
Is he happy?
-- Yes
What was his first reaccion?
-- Shocked .
Does he go with you to appointments?
-- Yes.
Does he talk to you about the pregnancy and baby?
-- Yes.
What does he do to help you throu your pregnancy?
-- Alot.
How involved is he?
-- Very, He's gonna be putting the bed, etc together pretty soon.
Do you take any classes together?
-- No.
any cute things he has done or said related to the pregnancy?
-- He talks to the baby multiple times a day and tells him that he loves him.
is he scared for when you go in labor?
-- Hmm, I don't think so. Neither of us want a repeat of what happened the last time though. :(
does he want a boy or a girl?
-- he would be happy with either one, but we're having a boy.
do you think he will be a good father?
-- yes.
Preparing your self for labor
Are you curious about what labor will be like?
-- I'm hoping its not super long and not as bad as the other one .
Do you get nervouse, scared, excited?
-- I'm hoping not to be nervous.
Are you well informed about labor? do you read books ?
-- Somewhat.
Do you take classes to prepare?
-- I just took an anesthesia class last time .
what part of labor do you expect to be the most challenging?
-- Pushing . & contractions .
do you really think you forget all about the pain once the baby is born?
-- Yeah.
do you think labor has to be painful?
-- Idk.
are you afraid of something embaressing happening? what?
-- Pooping while pushing . lol.
have you done anything to prepare your partner to coach you throu labor?
-- He's been through it before .
will you give birth in a hospital? home or birth center?
-- Hospital.
Do you have a midwife?
-- No. I have an OB
Do you have a doula?
-- NO.
Who do you want there when you are giving birth?
-- Just the hubby, me and the doctors and nurse .
Do you plan to call others before you go into labor like friends and family ?
-- I might, but we may just wait and call them after the baby is born.
Do you want them to visit soon after the baby is born?
-- They can.
anyone you really dont want there, that you know will be there?
-- Hmm..
Have you packed your bags or made a list of items to take to the hospital?
-- Not yet. It's still fairly early .
Do you have a birth plan yet?
-- Sorta.
Do you have a c-section birth plan in case of emergency?
-- No.
Do you want to give birth naturaly or c-section?
-- Hoping to go vaginally .
Tell me about your birth plan (for or against)
being induced?
--medical reasons, for
episotomy?
-- for
c-section?
-- for
soft cup vacum?
-- ??
forceps?
-- not sure yet .
epidural?
-- for
other pain medication?
-- idk
labor aungmentation? pitocin or other methods
--i think i used pitocin last time .
what are the main things you wrote in your birth plan?
-- haven't filled it out yet.
anything else you'de like to say?
--
About him during labor
Do you thikn he will be nervous?
-- i hope not.
Do you think he will be supportive?
-- yes
Will he feel bad for you if your in pain?
-- possibly.
Do you want him to be there?
-- of course !
Do you trust him?
-- Yes!
About your baby
How do you picture him or her?
-- Hmm, about 8 or 9 lbs with dark hair, brown eyes, light skin, and to come out instantly hungry ! lol.
:-) CONGRATS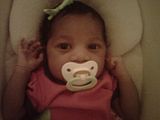 June 6

<b>Congrats on the lil one momma!! Where are the pics.. ?? I had my LO on May 16 and im loving every minute!! </b>
April 26

Thank you so much for the photo comment =]
March 24

Hi I live in Fl also I was wondering what part you live in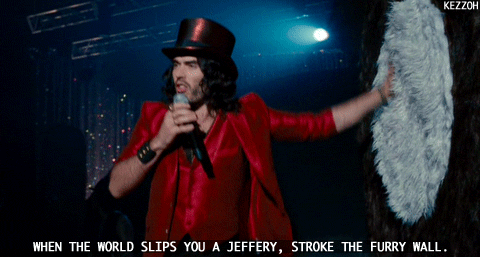 March 21

thanks :)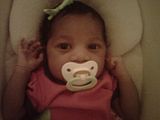 February 1

Oh that's ok.. I'm always home. But its good that you are staying in school and staying focused... !!! I commend u... And I like your sons name.. Its cute.. !! Its already february!! The time is sort of going by fast right now... Hopefully it doesn't slow down too much bc I know it felt like it did last time...lol. I'll just be soo excited to get my lil one in my hands healthy.. and I know you feel the same!! Have u started buying things for your lil man yet..?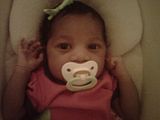 January 27

Yes definitely.. That's what I prayed to God. A healthy beautiful baby girl.. We will both have wonderful babies..! I know God won't put more on us than we could bare... And I'm sure u can agree the first time was def not easy to bare... But yes I'm going to be naming her Adriya.. She's being named after my husband whose name is Adrian... Bc I already know she's going to be a daddy's girl!! Do you already know??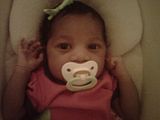 January 26

Yes I will definitely keep in touch with u as we go along in our pregnancies!! Because as well we have close due dates also! And yes they are considering me high risk. I only see my high risk doctor every visit and at 32 weeks I will start being monitored very closely every 2 weeks.. and at 39 weeks they will induce me..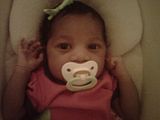 January 24

Thanks Mama... Yes everything is going great and I hope everything is going great for u!! I couldn't help but add u pertaining to our similar losses.. But everything will be just fine this go around!! U ever wanna talk hit me up!!
January 22

aww your due on my sons 4th birthday!!
January 18

when i was in high school they were always D.. then I lost alot of weight after I was 18 and they went down to a B. But when I got preg with myfirst they got up to like DDD .. after him they went back down to B now im back at DD again.. haha
January 18

No lol it's not a belly band. Its part of my maternity pants.
January 18

Thanks. I really appreciate it .