August 10

Hey hun, hope you're doing well :) You're almost there!
June 26

Yeah its not easy, He is coming over tonight to talk and stuff so I hope it goes well.
June 26

I'm feeling good, still get naseaus sometimes but not a bunch. The heartburn is wha really kills me lol. Congrats on ur baby girl, we were hoping for a girl but were happy with our boy, in a couple years were gonna try again for a girl. SO keeps saying well jus keep trying untill we get a girl lol so he better pray next time we get a girl.
June 21

our due the day after me :)
June 17

Awe yay so glad things are going well. I hear ya on the aches and pains. Ive been okay, Still getting use to becoming a single mom of two, A little scary. Brooklyn is great though, I have a OB app this Tuesday :)
June 12

Hey Kay! Hows the pregnancy going???!! I love the pics you did on your profile! Thats awesome!
June 12

Yay! That's awesome. It's crazy how fast it seems to be going :) And I've been doing pretty decent. Nothing to complain about really.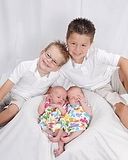 Court6382
I have 4 kids and live in Pennsylvania
June 4

You look adorable in your new pic! Hope you are feeling good :)
June 4

Love your new avi. So adorbale. Hope everything is still going well for you and baby Mila :)
April 22

heyy wheree did u get thee fruit sizes??
March 29

just wanted to let u know we share the same due month (: lol im 17 weeks and 4 days today im due sept. 2nd (:
March 28

awww there soo cute (: like there mommy