Stephy + 2
285 Posts | Joined BG: Oct 22, 2010
Last Visit: 2 years ago
Gender

Female



Status

Engaged



Work

SAHM



Location

Lafayette, LA, United States



Interest

drawing, reading, playing games, exercise, my kids



Proud Mom of Jonathan Paul!
He was born May 17, 2011 on a beautiful night with a full moon. (It was that way on the way to the hospital) My fiance' tells me that after I had Jonathan at 8:25pm, it had been raining for hours. I don't care. It was a beautiful night with a full moon and some fog. I'm sticking to that story. :D
Give me views,
http://the-stephy-powers.deviantart.com
or
http://wwww.youtube.com/chibioken
!!
About You
Name?:
Stephanie (Stephy)
Age?:
23
Height?:
4' 11" (Yes, I'm very short.)
Pre-pregnancy weight?:
135 lbs.-ish I was eating unhealthy foods before. (I don't really use a weight scale. It's degrading and generally always bad news. I should weigh 110 lbs. according to my height, but I look better at about 120lbs.)
About The Father
Name?:
Matthew
Age?
: 24
Height?:
5' 9"
Are you still together?:
Yes!
About Your Pregnancy (I'll put the answers for my second pregnancy in parenthesis)
Is this your first pregnancy?:
Yes (No.)
When did you find out you were pregnant?:
September 30, 2010. (August 2, 2012)
Was it planned?:
Not planned but not unplanned either. (Yes.)
What was your first reaction?:
Shock. (Excited.)
Who was with you when you found out?:
my Nanny, where I come from we call our godmothers "nanny"s, but she's also like my 3rd or 4th cousin. (My fiance'.)
Who was the first person you told?:
Matthew, the father deserves to know it too! (My soon to be in-laws.)
How did your parents react?:
They didn't believe me. No no no. My father... oh you're pregnant? Yes, see this ultrasound. That's my little boy. Ohh Congratulations. Then Bill (
How far along are you?:
34 weeks. (I'm going to update this again in about a month and a half with more answers. I should know the gender of the baby by then. I knew for Jonathan at about 12 weeks that he was a boy.)
What was your first symptom?:
missed period and fatigue. (engorged breasts and migraines...)
What is your due date?:
May 18, 2011 (April 4,2013.)
Do you know the sex of the baby?:
Yes
If so, what is it?
: A boy. (A girl.)
Have you picked out names?:
Yes
If so, what are they?:
Jonathan Paul (Kaylee Marie)
How much weight have you gained?
: total 42 lbs ( total: 32 lbs)
Do you have stretch marks?:
Yes, a lot.
Have you felt the baby move?:
Yes.
Have you heard the heartbeat?:
Yes
About the birth
Will you keep the baby?:
Of course!!
Home or hospital birth?:
Hospital.
Natural or medicated birth?:
As Natural as possible. (secondary c section so a very medicated forceful removal birth)
Who will be in the delivery room with you?:
Matthew
Will you breastfeed?:
I will give it my best try. (Update after having Jonathan, I couldn't do it :'( ) (I
am
breast feeding Kaylee)
Do you think you'll need a c-section?:
No. (Update after having Jonathan, I needed one...) (I signed up to have a secondary c section. I know my luck...)
Will you cry when you hold the baby for the first time?:
Yes. (Of course)
What's the first thing you might say to him/her?:
I was high from the morphine drip they gave me after the c section cause the anesthesia started to wear off. I was hitting the button like ever minute, no joke. I held him and looked at him, "I wonder what you're going to be when you grow up,.... are you going to be a doctor or an engineer..... or a teacher............(insert more wonderings about his future)" (She is so cute.
Would you let someone videotape the birth?:
No, no, no no. (Yes. My stomach is so disgusting.... I'll never be able to look at it the same way again...)
Are you excited about the birth, or scared?
: Excited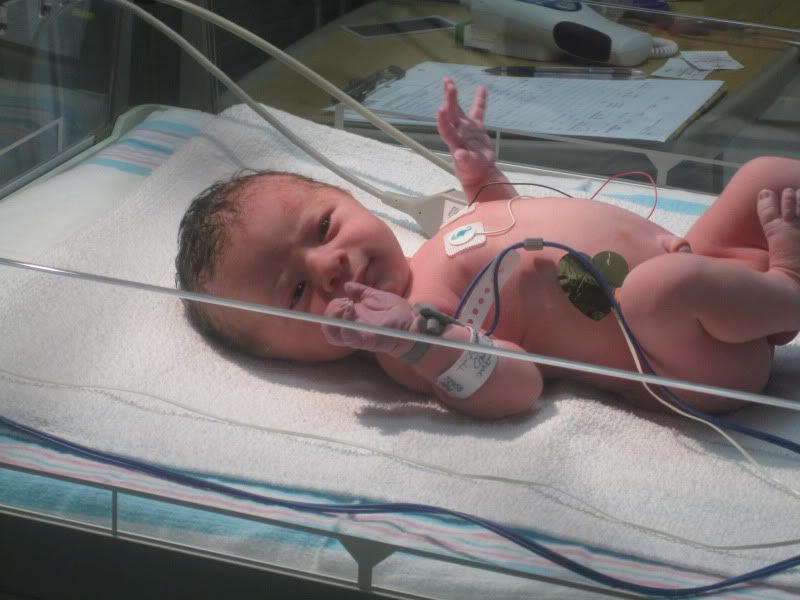 IMPORTANT EVENTS/


RUN DOWN OF LIFE UNTIL HE IS ONE YEAR OLD!:5/23/2011:
6 pounds, 4 ounces. 19" long (released from hospital)
6/29/2011:
8 pounds, 7 ounces. (1 month old!)
7/13/2011:
9 pounds, 3.5 ounces. (2 months old!)
7/18/2011
: Fiance' quit other place of employment to a much better place. :)
8/2/2011:
10 pounds, 8 ounces, 22" (3 months old!)
9/4/2011:
My birthday that I got to celebrate with Jonathan! Whoot, whoot! Big 23 years old now.
9/29/2011:
12 pounds, 9 ounces. 22.4" long (4 months old!)
12/15/2011:
14 pounds even. 20.08" long (6 months old!) found the length hard to believe so I measured him at home and got a little over 23" long. I didn't go with Matt and Jonathan to this appointment.
2/23/2012:
16 pounds, 8 ounces. 26.7" long. (9 months old!) I got told his spitting up a lot was due to his moving around a lot. I should try strapping him somewhere to not move so much after a meal. He's very attentive and curious for his age.
Crawling
now, but not exploring all the time.
Two teeth out,
bottom center. (other news: I lost all baby weight this month and was back at 135 lbs.)
2/26/2012:
FIRST VISIT TO THE ZOO! He loved it, but did not care for the Koi fish. I didn't take pictures. Second Trip to the zoo: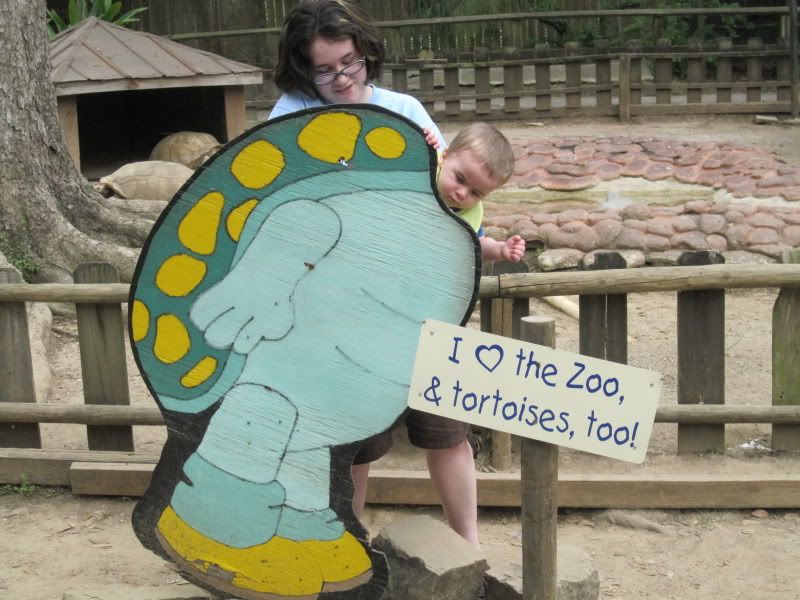 5/17/2012:
(1 year old!) THE ONE YEAR MARK!!!!!!!!!!! :D:D:D:D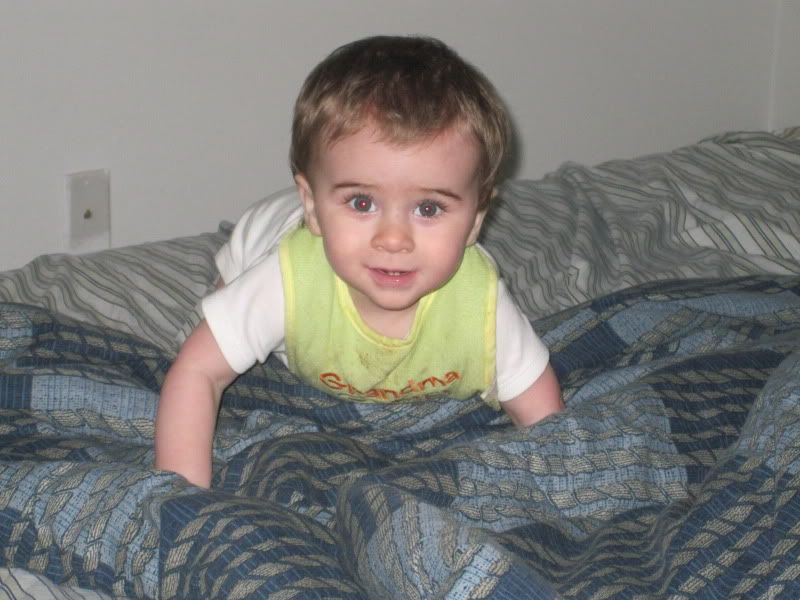 5/22/2012:
16 pounds 12 ounces and 27" long. (1 year!) Everything is good. :] Got the okay to put him a toddler car seat as long as its rear facing. I can put him forward facing after he's 20 pounds. I probably won't put him forward facing until he's 2 years old even after he does weigh 20 pounds.
6/3/2012:
1st Birthday Party! Invited 25 people and only 10 showed up. Jonathan flirted with a friend's daughter by trying to grab her hand and pushed away her brother away. Then, he wanted to play with the boy. (She was maybe 3 and the boy is 2.)
8/17/2012:
15 moth check up: 19 lbs, 4 ounces and 28" long.
2/21/2013:
18 month check up: 21 lbs, 12 ounces and 30" long. He's petite like Mommy with a size 3 shoe. Doctor gave him Pediasure to help gain weight faster.
10/18/2013:
2 year check up: 24 pounds and 32" long.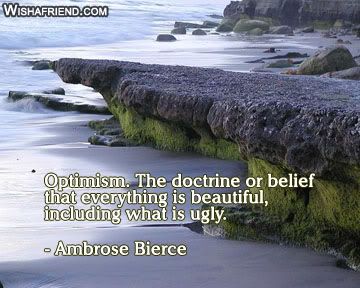 I am extremely determined, but some people would call it stubborn.
About My Parenting Ways:
I
do not support circumcision
. If you're for it then go get yourself circ'd. Oh, you're a woman and they don't do that? Yes they do. Go get it done yourself then tell me what I should do with my son. Thank you. :)
I
do not support baby/toddler wearing
. I didn't see the point in it. Trying to handle a newborn and a 2 year old changed my mind...
I
do not use baby talk
. I completely hate the idea of baby talk.
I
do not believe in day cares or babysitters
. I will take care of my child full time.
I support breast feeding
. I didn't get to bf my son, but I
am
bfing my daughter.
FIRST POSITIVE TEST August 2, 2012.
Due April 4, 2013.
BORN MARCH 29, 2013!!
Pre-pregnancy weight: 128 pounds.
LMP: June 28, 2012


First Trimester:
Completed (I couldn't find a doctor to take my insurance so my first prenatal appointment was at 18 weeks.)
Second Trimester:


11/8/2012:
My weight: 138. Blood test done. Did not get a good heart beat reading because baby kept moving.
11/15/2012:
(20 weeks) First ultrasound. It's a
GIRL
.
Late December/ Early January: Glucose Test


Third Trimester:


3/18/2013:
(37 weeks 4 days) scheduled c section loosely for March 29. Baby is in breech so ultrasound scheduled tomorrow morning.
3/19/2013:
(37 weeks 5 days) Ultrasound. Baby is not in breech. She was 6 lbs 3 ounces.
3/25/2013:
(38 weeks 4 days) scheduled secondary c section
3/29/2013:
(39 weeks 1 day)
KAYLEE ARRIVED @ 12:49 pm
She weighed 5 lbs 12 ounces and was 18" long. She had mild Jaundice. I am breast feeding her. Her released weight was 5 lbs 6 ounces.
4/5/2013:
(1 week checkup) builrubin level: 11, still slight jaundice. Started supplementing with formula. Weight: 6 lbs 1 ounce
7/29/13:
(4 month check up) 10 pounds 13 ounces. 23.25" long. :) Excellent head control.
10/18/13
: (6 month check up) 12 pounds 4 ounces. 23" long. Got the okay to start baby food and juices. I'm doing it at her pace tho... (She's on the petite side, but I expected that...)
Breastfeeding Successfully:
1 month: successful - 1 week for supplementing with formula to help her jaundice go away
2 months: successful!!
3 months: successful!!
4 months:. successful!!
5 months: successful!!
6 months: successful!!!!!!! YAY I REACHED THE 6 MONTH MARK!
7 months: successful!! :o No sign of stopping anytime soon.
8 months: currently working on it.
9 months: pending
10 months: pending
11 months: pending
12 months: pending