About Me
I love to play with my animals. I have 2 cats (Kitty and Eeyore). In my free time I like to play guitar hero and read books.
Now since my little man is here. I practically spend all of my time with him. I love being a mother!!!!
Well it looks like #2 is on the way. Going to the doctors to confirm the July 14th arrival.
Ivy's Momma
I have 17 kids and live in Concord, California
November 12

I have to cat's also and I love to play guitar hero and rock band :)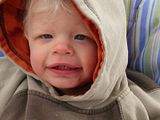 November 6

Oh Im sorry. We had a pit/lad mix once named Dakota he was the best dog Ive ever had and we had to have him put to sleep a few years back because he was just really old and very sick.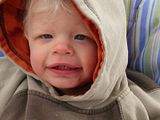 November 6

LOL I have a dog named Abby too. What kinda dog do you have?
DejaAurora
I have 1 child and live in Lake Orion, Michigan
March 18

Your son is SOO cute Carrie!! :D
March 13

YES! Do you have Yahoo? I use my husbands account to post to flickr. Then from there I view my picture, go to properties, copy and paste that into the place for the link. I can step-by-step it if need be! :)
March 11

Things are going okay. I am having problems posting pictures. Can you help me out with that?
March 11

Hey Momma.. how's things going?