About Me
my name is Jessica But most people call me Jessie for short .
im 23 and from Acworth G.A.
I love my Life and Believe life is what we make of it "Its all love and good times".
I was given this life because I was strong enough to LiVE iT! !
Im not perfect, not even close actually: no one is. I always learn my lessons the hard way. My judgement isn't always for the best and I don't always make the right decisionns - but it's done with a good heart , and the best of intentionns.Things just always seem to fall into place for me Despite what everyone seems to think.
Im a very sweet, up- beat ,down to earth ,funny,kinda person
always love meeting new people and making friends.
Iv been with the man of my dreams for almost 4 years now. we have been TTC .we both new right away we had alot of love to give and why not to a tiny beautiful miracle .so hopefuly sooner or later we will have the baby of our dreams.
That's a little about me.

December 22

hey girl! how have you been?
July 13

i have. i actually found some on clearnace for $3 at walgreens & bought all they had <3 it hasnt worked for us but ive heard a lot of good stuff about it working. they r pretty lost on me too. im on my 4th round of clomid now. they are giving me til 6 months then i have to go see an RE & see about IUI
July 10

have u gone to the dr? do they have any answers?
July 10

have u gone to the dr? do they have any answers?
July 6

so hows the ttc going on your end....on cycle 36 here!
May 23

I read that ticker on your profile at tender breasts/nipples were a DEAD giveaway for me. I just "knew".
May 17

No not yes she wanted me on this for the full 3 months to see what it will do and its helped me but with the one thing I want help with, then she said something about put me on 2000 day b/c Im on 1000 right now so I guess I'll see where we go from there .
Oops I forgot to add my Dr. gave me Provera to bring on my period and then Clomid to ovulate. Provera and/or BC is the only way I get periods.
I know how that feels. I have cried so many times over wanting to have a baby, trying, and failing. I've spent so much money on pregnancy tests just to see that line. I think its unfair how some people who don't even want kids have an easy time and people who do want them can suffer and jump through many hoops. I took Metformin for years and still do...but its done nothing for me in that department. Have you talked to them about Clomid?
Hi! Thanks for the PT! I see you have PCOS, I know how the disappointment feels. I actually gave up my hope and didn't try so hard this time with checking my BBT and BDing religiously because I didn't think Clomid would work since it has failed in the past and then BAM...BFP! Didn't expect it at all. I'll be crossing my fingers for you and sending lots of baby dust your way!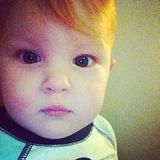 April 2

not yet! probably today!
March 31

Sure!