December 25

Merry Christmas!!!
October 23

Hi :)
August 31

So apparantly, Nora says "mommy" clear as day when she is not with me. MIL had her 3 days last week while i worked over nights and slept from 8am-4pm before work- and all day her favorite word was "mommy." What crap is that!!
August 22

Congratulations!!! That is super exciting! While watching sesame street a few weeks ago, they kept talking about bells and she said "bell" once. Then she said "doggy". But not since then!! <:( She only says mama and dada and shes been saying daddy occasionally. -sigh- they grow so fast!
July 11

Not yet, mama! Her babbles are getting more sentence-like. For example: she normally goes "mamamamamamama" itll be more "awoo ma ma ba da de foo?" more sounds in one babble-sentence. i dont know if that explains it at all! LOL! How about your LO?
February 16

Umm...I think so. :?:
Oh, I've heard of them. No, he's never gone by Mike (at least not that I know of. lol) I always used to see one of their trucks sitting in a drive way on my way to work when I used to work at Keystone. Yea, I'm glad this one is pretty good...minus the morning sickness that I still kinda get. (I didn't have it with my son). I'm just glad I don't have gestational diabetes this time! YAY!! It's not as tiring if your little one sleeps through the night, so at least you can get some rest. But it makes the time go by soo much faster cause you're so concentrated on the little one your not thinking about the weeks as they go by. I don't know how I'm gonna do it with 3. I finally got a routine with these 2, and now to throw in a new lil one...I'm a little nervous...ok a lot nervous. Send me your email and I'll send you an invite. But just to warn you...it's pretty addicting. I seriously check out new things on there at least 2 times a day if we're not busy.
I used to work for Keystone Towing (so did the hubby, but he now works at Howard Sommers). Nope, his name is Miguel. But I do know of a few Mikes from other companies. It is a small world, it's crazy! Oh I know! I don't understand why it's so overpriced...it's not <i>that</i> great. It s***s that the only thing that you can find for that price is in a shitty area and it's a run down building. I hate it! With my second pregnancy it was kinda exhausting cause she turned 2 right before my son was born, so I was chasing her every which way. But with this one it's not as bad cause they have each other to keep them entertained if I need a break or something. And it'll be nice once the baby's here cause they can help with him and keep themselves kinda outta trouble if I have to do something for the baby. This pregnancy is easier then my last one (I had a few problems with my sons pregnancy)...and this one is about equal to my first pregnancy with my daughter. OMG! Pinterest is AWESOME!!!! If you need an invite let me know, I'll send you one. There are so many recipe ideas, crafts, and organization tips, it's amazing. Well there are plenty of hobby/crafts that'll keep you entertained for a couple hours a week. I love it!!
Haha, really?! That's funny. Where was he working? I used to work for a tow company too...that's where we met. Yea, my friend used to live in some apartments on Topanga Cyn over by Owensmouth and Nordhoff...and she was paying A LOT for only a 1 bedroom so she eventually moved back to her parents house and continued with school. (not like that was really important to know. lol!) Are you working? I mean, it's not <i>that</i> horrible of a drive if you're not working...but if you work down there and live up here, then yea, it's a pain! Sunland's not that bad...and it's a little cheaper there too. I just hate that the valley is sooo over priced! It's crazy to see the gas prices here compared to down there (even though it's still expensive here but not as much). Haha, thanks! It's nice to hear that sometimes. I'm sure your a super mama too! :D But it's nice to have the little ones to keep me entertained sometimes even though they make we wanna rip my hair out sometimes. I'm just wondering how it'll all be once the new one is born. Hmmm....
February 7

Haha, no, no, I don't mind the questions. :D He works 11am-8pm (that is if he doesn't get stuck on a call or anything). Sometimes he's gotta be at work at like 6am and other times he doesn't get home till like 1 or 2am. He works for Howard Sommers Towing as a tow truck driver, so his hours vary...it s***s sometimes when I go down there to see him and he gets a call. It takes him about an hour to get to the valley. He leaves here at 9:45am and usually gets there around 10:45. Yea, it's lonely...but I'm getting used to it and the kids keep me busy. Although, it would be nice if I had more people to talk to. I don't mind. We're not renting though. We live with my dad and we split the bills. My dad pays the mortgage and its a little over $1400 a month, including taxes and insurance. Its a 4 bedroom 2 bath house +den. I'm not sure how the houses go for price wise up here...but I'm sure you can get a nice one for about that your paying for rent down there now. Yea, the valley is ridiculous! My friend bought a house out there for about $500,000 and it's WAY smaller then our place! Where in Chatsworth are you? I used to live in Winnetka then moved to Northridge. I know the area like the back of my hand. :D I do miss the valley sometimes though.
:SHEA:
I have 18 kids and live in Florida
November 18

Did u find the cap star? If so how did it work for u?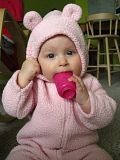 October 26

I love that picture of you and Ellie on your profile. She is just too cute. I hope you girls are doing great!