About Me
Hi, Im Nikki.
I have a daughter, Her name is Lola. She is my whole world.
Im married to the most amazing man i have ever met!
His name is Nicholas and he is a US Sailor!
&& I couldnt be more proud to be his Navy Wifey!
Lola was born completely natural, and in the water at Rosemary Birthing home and caught by her daddy on April 15, 2011 At 5:45 PM. She was 8 lbs 4 oz. and 19 inches. My labor was 24 hours, two of which i spent in transition (pushing stage). Just when i thought my life couldnt get any better she came into my life. I love my little girl more than anything.
Im a baby wearing, Cloth diapering, Co-Sleeping, Attachment Parenting kind of mommy & I love every minute of it.
I love my life, and the people i share it with. I couldn't be any closer to my family, and i'm so grateful to have their emotional support!
Whos Daddy?
His name is Nicholas And he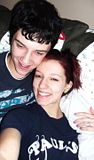 May 23

How are you doing mama:D
May 16

How are you & baby doing mama? :)
Queen Rosa
status
I have 3 kids and live in Sarasota, Florida
May 7

:D Great to hear!!! Hope all else is well, just wanted to stop in a speak, take in all the newborn stages you can get they grow so fastttt :D
Queen Rosa
status
I have 3 kids and live in Sarasota, Florida
May 4

Sooooooo How's being a new momma? :D
April 20

congrats
Jeka Joy RN
I have 2 kids and live in Evansville, Indiana
April 20

I'm so happy you got a natural WATER birth! Congrats momma!
April 18

YAY Congratulations mommy!!!!!!!!!!! :)
J ♡ N + 1
I have 1 child and live in Kill Devil Hills, North Carolina
April 17

YAY FOR LOLA! :) Congrats!!!
April 16

Did you have your little girl yet?
April 8

hey your from where my grand mama lives:)
March 31

Just read your announcement ... Yay you're getting closer and closer! :) How exciting!!! How are you feeling?
J ♡ N + 1
I have 1 child and live in Kill Devil Hills, North Carolina
March 31

I love the name you picked out. Lola is sooo cute. :)