March 22

I live in Canon City
March 22

Thanks for the parentank! I see you live super close!
May 29

awww she is sooooo cute
March 2

Thank yuuu! your daughter is also! :) <3
December 22

Boobie Milk. :) lol
December 21

Omg that article was soooo sad!
Sara Evans
I have 1 child and live in Washington, New Jersey
December 15

she is so cute! she was born a day before my son :)
December 12

Hey I just wanted to stop by and say your daughter is too adorable!!
November 12

Heyy momma!!
saageex3
I have 1 child and live in New York
October 28

Oh ! Oopsy i got you confused with the girl who woke up to her son being a girl lol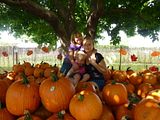 October 28

She's adorable!!!!
October 28

she so cute.