About Me
I am a proud mamma of a wonderful baby girl and I have another little angel in heaven. I am a stay at home mom, And Ihave a wonderful hubby.Life is simply fabulous!
I was homeschooled for 6 years, a sunday school teacher for 1 year, a teen missionary for 2 summers- Albania,Switerland,Austira, Wales,England and Ireland. I got engaged 20 days after I met my DH, and we have been married for almost 3 years now! my first pregnancy ended in a miscarriage, but I have a very happy 1 year old daughter!
I love miss RORY!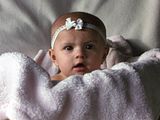 April 18

No her full name is Aurora Ann Haer. I have always been in love with the movie Sleeping beauty. lol.
April 18

Love the name Rory. Is that her full name?