About Me
I'm got married to the love of my life Isaac on may 19, 2012. We have a handsome little man Devin. His birthday is October 18, 2011. He had an eventful entrance to the world that ended after 16 hours of labor with an emergency c-section. I love my family and can't wait to see what the future brings! I'm really having baby fever here lately. I'm very open to having friends. I was in the army for 4 years, was an army wife. I am a student. I have been many places. I have been in an abusive relationship. I am now in a healthier one!! I am here for anyone who needs a friend, advice or just someone to vent too!!
Isaac, Devin and Me watching fireworks. I <3 my family
My little froggy!!!
Devin is enjoying his cousin Maggie's cookie cake!!!
Devin's pics for Mother's Day!
Me and my Doodle Butt!! I <3 this pic of us, He's trying to lick me lol
Featured Member 7/11/2012!!! :)
July 10

Thanks!!!
October 14

Thank you!. Good luck to you.. I hope everything goes good.
October 13

Yes!! ( 10/10/2011 11:20 am 5lbs 12.6 ounces 18 3/4 inches.!)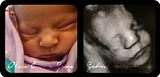 katie joe
I have 18 kids and live in California
September 22

we are doing good! no news as of late... just working on keeping my bp down at a healthy level. next month i go in on the 21st for the fetal echo to be sure that the baby is heart healthy and then the 28th is the anatomy scan! :D yay! how are you1? how are you feeling??? getting excited yet? any day now you could possibly have your baby :D
September 22

Aww thats's good.. Mine will not let me see a 4D yet.. He is always with his hands in his face or is in a position that you can only see half..
September 21

My pregnacy is going good yes, I am also ready I want to meet him so bad.. WOW I had mine today to.. :) How is your pregnacy going?
September 21

Hi, My name is Isabel I decided to comment because when I came across you page it says "Devin's Mama".. Well, We are due the same day and Mine is also a Devin.. :)
August 24

Yes, from White Oleander. I grew up on foster care so I can really relate to that movie. I'm glad you like them.
August 24

We are set on Nash Timothy for a boy (Timothy is my FIL name). For a girl, we are thinking either Astrid Lacey or Lacey Liberty. I think Nash and Astrid match more than Nash and Lacey. We also have to wait until the 19w u/s to confirm 100% that baby B is a girl. Thoughts on names? It's okay to be honest if you don't care for them. :)
July 22

devins Mama, you told me about courtney doin the whole prediction pregnancy sex and she guessed it was a girl and she was correct, I found out today I am having a baby girl (;