November 15

We have the same due date !! Congrats girl!! How are you feeling?
November 8

Love the pic of your daughter and your pit. My pit absolutely LOVES my son, and vice-versa. The pit will come up and lick the 3 week old to death, and the baby just grins and grins. Makes me feel a lot safer, knowing how much Gizmo loves his baby brother.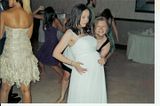 November 1

LOVE the picture of your daughter with the dog :) is he part pit bull? Congrats on TTC, we are kind of in the same boat, not quite trying..not quite preventing either :) also hoping for a boy! (I'm pretty sure this will be our last child)
December 12

I thought so too! :) <3
December 11

Oh my goodness! Your daughter and I have the same birthday as well! :)
November 5

<b>i am good how is the baby girl ?</b>
November 5

hwy how are you
Bubble Bum
I have 1 child and live in Imperial, California
October 20

Headache s**k i feel lucky on that end cause i use to get cluster mirgrins but ever since i'ev gotten pregnant i didn't get one ( Excepts like 3 right after giving birth) and now i haven't had any which is amazing cause i pretty much LIVED on a pain level of 3 with my headaches everyday!! Butt!! Last night my husband took the baby and i got to sleep for 5 hours!!! i woke up at like 3:30 in the morning feeling like i needed to do something like he needed me lol sure enough i tried to go back to sleep but 30 min later hubby came in with a hungry baby!! lol
Bubble Bum
I have 1 child and live in Imperial, California
October 19

We are doing fine just trying too get into some kinda routine he is still eating st random times there isn't any consistency with him just yet but hopefully soon then later! How are you doing :)
August 6

Wow!! 10 weeks on bed rest!!! Congrats on making it to 34 weeks!! I know what you mean about bed rest s**king but I agree it is totally worth it! Luckily I didn't have pre-term labor as early as you! It has only been 4 weeks of bed rest so far for me!