Peter Pan
2232 Posts | Joined BG: Apr 11, 2011
Last Visit: 7 hours ago
Age

27



Gender

Female



Status

Married



Work

Legal Secretary



Location

Florida




Kids

1



TTC Since

Jun 26, 2015



~ My name is Dani
~ I am married to the best Man :)
~ I have 1 child
~ We have been TTC since June 2015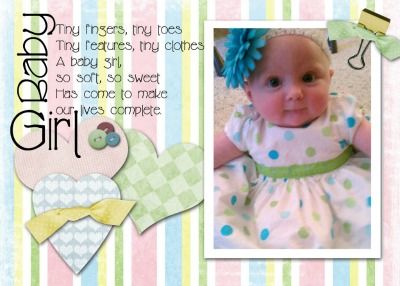 Kizoa slideshow: NovSiggy - Slideshow 
Kizoa slideshow: NovSiggy - Slideshow
~Caleigh Grace~

1st Trimester
1-4 Weeks [1 Month] Got a positive at 4 weeks!
5-8 Weeks [2 Months] Got Medicaid and WIC! First dr. appt, heard baby heartbeat!
9-13 Weeks [3 Months] 1st ultrasound and got my EDD
2nd Trimester
14-17 Weeks [4 Months] Finally out of 1st trimester!
17w 3d felt 1st movements!
18-21 Weeks [5 Months] Feel more movement!
22-26 Weeks [6 Months] Find out the gender on July 11th and it's a........ GIRL! Her name is Caleigh Grace! Everything looks normal!
3rd Trimester
27-30 Weeks [7 Months] Yay 3rd trimester!! Saw her in 3D for the first time!!
31-35 Weeks [8 Months] Ready to be done
36-40 Weeks [9 Months] Born on 11-9-11. 6 lbs. 10 oz. 19th in. long