About Me
Hi! My name is Brittany, & i'm 19 years old. I grduated high school June of 2011 & I am currently taking classes working towards my RN! I met my fiance in October 2010 & we have been going strong ever since. I found out we were going to parents in March 2011 && as nervous and scared as I was then I wouldnt change a thing now (: On November 15, 2011 I gave birth to the most precious gift I could ever receive.. a child..a wouderful girl. I named her Aubree Marie; she weighed 6lbs 12oz and was 20 inches long. She had my nose & her daddy's eyes; i would trade my amazing little girl for all the money or power in this universe!!
mommy2130
I have 3 kids and live in Clovis, New Mexico
February 5

Omg how neat my lil mama was born 11-15-09 She weighed 6pds 12oz and 19 1/2 inches long our girls share the same bday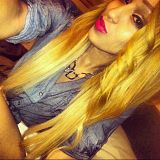 December 11

Aww thanks your lil girl is adorable too.. Our daughters names are similar my daughters name is Aubriana but we call her Aubri(Aubree) for short =)
Caeleigh didn't like her first bath but the second one I gave her, I got in the tub with her and constantly held her. She was completely fine that time. Also I read in a Dr. Sears book that it's best to bathe the baby like 2 hours after feeding them, and a lot of the time, right before bed. I don't have a big sink or anything so I bought the sponge thing for the tub, and it's perfect!
I gave Caeleigh a bath before it fell off just to wash her feet, hands, and face to get the dry skin off. She peeled a lot!
Her's fell off about 17 days later on December 2nd and it didn't bleed or anything, I know some babies tend to bleed a bit. We also didn't use any alcohol or get it wet.
When did her cord come off?
Well she was 5lbs 13oz (19.5" long and her head was 12.5") when she was born, then after I brought her home she was 5lbs 9oz. Her first appointment she was 5lbs 11oz (19.75" long and her head was 33.5") which made the doctor nervous, and at her second visit which was only 3 days later, she was 5lbs 15oz. Her 1 month appointment is on the 16th so I'm excited to see how much she's grown, mostly length wise though because she honestly still doesn't fit any of her clothes...
I was thinking the same thing about them! I think we both just have ideal baby girls, almost like Gerber babies! And I want a custom profile too... And a custom signature...
Sucha pretty name! Yeah mason :D
<b>aww thats nice:) you thought of any names for her yet?</b>
<b>yeah its such a good feeling! i didnt really mind what i was having, either way i just wanted him/her to be alright and healthy :D</b>