About Me
I'm the mommy of 3 year old Molly May, and almost-1-year-old Lucy Delilah. I've been married to my wonderful husband, Gareth for almost 4 years now, we've been together for 10. I'm a tattoo'd mommy, I'd be covered with them by now, if it weren't for the fact that my husband doesn't like them...at all. My kids are my life, and that is never gonna change. Message me if you want to know anything else about me!
November 5

Game day! Guess who's staying her pregnant butt at home. Lol It'd be better if I didn't live 2 miles from the stadium...
November 4

I love it. We went up to Eureka Springs last week and it was beautiful up there!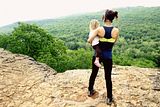 Ozknativmama
I have 17 kids and live in Fayetteville, Arkansas
November 4

Aren't you loving the oh so colorful trees her in Faytown?! They're like crazy bright this year!