Moms are in some of the most challenging shoes in the world. Between the pain of childbirth to a life dedicated to raising and taking care of the children, moms become incredibly strong people through hardship. Motherhood changes you into a person who, though not the same woman you were before parenthood, is much wiser than before.
Some mothers, however, go above and beyond what's expected of them and break records that no other mother has before. These mothers break records and accomplish daring feats by biological chance or by a lifetime of hard work. All mothers are great, but these mothers deserve recognition for their incredible achievement.
This article explores the accomplishments of 13 record-breaking moms who pushed themselves to their physical and emotional limits to embrace success. From oldest to youngest, most births to longest period of time between birth, record-breaking mothers succeed in ways that are occasionally a little strange but always astounding.
While reading through this article, don't dwell on how much these woman have done and wonder if, as a mother, you fall short. Instead, make a daily effort to notice the little victories and personal records you and strive to do a little more every day. With time, who knows? Maybe you'll join these ladies on the list of motherly "greats."
13

Mother With Most Biological Children
According to Guinness World Records (and they seem like a pretty reliable source),  the most prolific mother ever was a woman known as the wife of Feodor Vassilyev (1707-1782). Although we don't know her given name, we do know that she was a peasant from Shuya, Russia, and that she gave birth to and raised a whopping 69 children.
Not only was she mother to enough children to populate the village, but among the numbers were 16 pairs of twins, 7 sets of triplets, and 4 sets of quadruplets. Of these babies, only two died during infancy. The rest lived through childhood and survived to their adult years. Mrs. Vassilyev herself lived to the ripe age of 76. If you think of the stress she must have been under, physically and emotionally, the true miracle is how she survived all the way to menopause!
The Vassilyev family's case was first reported to Moscow by the neighboring Monastery of Nikolsk in February 1782. Because the monastery recording all local births and christenings, the Vassilyevs had an accurate and reputable record of their family numbers. Contemporary mothers have claimed to have birthed as many children, but none of come close to Mrs. Vassilyev's record.
12

Most Tennis Grand Slam Titles Won By A Mother
Kim Cijsters is a Belgian former professional tennis player and Grand Slam champion. Once ranked No. 1 in the world for singles and doubles, Cijsters won 41 WTA singles titles during her career. Margaret Court is a retired Australian tennis player, also ranked No. 1, who amassed more championship titles than any other player in tennis history.
What do these two women have in common besides their impressive sports records? Both tie for the record of most tennis Grand Slam titles won by a mother! Cijsters and Court both received three Grand Slam titles during their time as professional tennis players while raising children of their own.
Professional sports are time-consuming and strenuous careers, and those who play them often devote their entire life in the face of great stress and uncertainty. That Cjisters and Court were able to succeed so greatly in tennis while raising children of their own attests to their professional skill as tennis champions and maternal skills as mothers.
11

Longest Interval Between Two Twins
Think a twelve hour interval between labors when having twins is difficult? Try 87 days! Twins Amy and Katie Jones-Elliot were born to their mother Maria nearly three months apart. What's more, both girls arrived into the world healthy and happy (a chance that their doctors compared to winning the lottery).
During the first few months, Maria's pregnancy went without complications. She had always wanted twins and was a little surprised but happy to hear the good news during an ultrasound. At about twenty three weeks, Maria began to feel extreme pressure in her abdomen and admitted herself to the hospital. Hours later, her water broke and Amy went into labor with little chance of either child surviving.
When Amy was born several months early, Katie was left clinging to life in Maria's womb. Without her twin and due to the trauma of Amy's early childbirth, Katie struggled to stay alive for the remaining three months of gestation. At the same tie, Amy fought for life in an incubator with a small chance of survival without medical disabilities. Maria described this later as "the hardest three months of [her family's] life."
Against the odds, Katie was born by induced labor three months later and both twins grew older without any signs of long-term problems. The previous record for longest interval between twins was mother Peggy Lynn from Pennsylvania, whose twins Hanna and Eric were born 84 days apart.
10

Youngest Mother
This is perhaps one of the most unfortunate and challenging records on the list, but because of this mother's endurance in the face of hardship beyond her years, it felt important to recognize and include.
Peruvian Lina Medina was only five years and seven months old when she gave birth in 1939, according to a report in the local journal La Presse Médicale. Doctors had assumed that Medina had an abdominal tumor but later discovered that she was seven months pregnant. Medina gave birth a few months later to a boy.
Initially, Medina's father was jailed on suspicion of abuse but was released due to lack of evidence. It was never determined who the father of Medina's child was.
9

First Mother-Son Team to Row an Ocean
Jan Meek and her son Daniel Byles took family bonding to a new, extreme level when they became the first mother-son duo to row any ocean together.  Between October 1997 and January 1998, the two rowed the Atlantic from east to west, from the Canary Islands to Barbados. They fittingly named their boat the Carpe Diem.
Did these two stop there? Of course not. After breaking this world record, the mother-son team searched for the next big record to break and found an even bigger one calling their names. Meek and Byles later became the first mother-son team to reach a pole. On May 2007, the two reached the North Pole following a month-long 350 mile trek through Northern Canada.
What's next for Byles and Meek? Who knows, but whatever record they try breaking next, they'll undoubtedly accomplish it together. Mother-son power!
8

Largest Mother's Day Greeting Card
No matter what you give or receive for Mother's Day this year, it won't top this record broken by Nestlé NIDO in India. At the Dubai Mall Ice Rink, the company's creative team unveiled a Mother's Day card that broke all previous greeting card records.
Nestlé called in the help of children from all over the Middle East, who helped decorate and contribute to the card as part of NIDO's "I love Mama" creative contest. Over 40,800 children from nearly 70 schools across the UAE, Kuwait, Jordan, Lebanon, Saudi Arabia, and Qatar participated by sending drawings that represented their love for their mother.
At approximately 33 feet by 23 feet wide, this greeting card is so massive that your mother might just forgive you if you don't get her one of these (even if she deserves it one hundred percent). After all, where would you put it?
7

Highest Contemporary Number Of Births
Although after over two hundred years Mrs. Vassilyev still stands securely in her record-breaking feat, some modern mothers have come close to beating it.  One of these mothers resides in San Antonio, Chile, and boasts at least 55 biological children between she and her husband. Her name is Leontina Albina, and she claims at least nine more to her record besides the 55.
Initially, Leontina and her husband were recognized as giving life to and raising 64 children. During the late twentieth-century, she was listed as mother to the highest amount of children (still living). Unfortunately, nine of these births have not been verified. Since 1999, Leontina was no longer recognized in the Guinness World Records and was removed from the list.
Despite this, many still recognize Leontina as mother of the most children living in contemporary times. Whether she gave birth to 64 or 55, however, doesn't matter as much as record listings may think. After all, both numbers are still impressive enough to blow minds.
6

Oldest Mother
After years of IFV treatment and dwindling hope, 72 year-old Indian mother Daljinder Kaur and her 79 year-old husband Mohinder Singh Gill welcomed a baby boy named Armaan into the world. Dalljinder's son was born April 2016 healthy and welcomed happily into his parents' home despite weighing only 4.4 lbs at birth.
When the couple had initially begun IFV treatment, neither were optimistic. Though the couple had been married for many years, neither had hopes of conceiving, especially due to their high ages. Yet against the odds, Daljinder conceived and gave birth to her sun two years after beginning treatment.
The clinic they received help for is controversial for helping older women give birth, as the same doctors had assisted a 66-year old woman give birth to triplets. Initially, they had refused service to Daljinder for fertility treatment due to her frailty and old age but decided it was in her best interests to begin treatment. Daljinder lives with her husband and two other childless wives, who will be raising the baby together.
5

Heaviest Birth
For those of you who have experienced the "joy" of childbirth, you might not envy this mom's broken record. Italian mother Signora Carmelina Fedele gave birth to a 22lb 8 oz boy in 1955, tripling the average birth weight of other infants.
Very little else is known about the boy besides his massive weight, but we can guess that he was healthy and that, despite the pain Fedele must have experienced during labor, she must have felt grateful her baby was born healthy and hale.
The second largest baby was a boy born in September 2009 to an Indonesian woman who preferred not to have her name released. Her child (whose name is also unknown) was born at a whopping 19 lbs 3 oz. The mother had a history of diabetes, which may have accounted for the larger-than average birth. Due to differences in insulin regulation, mothers with diabetes can have babies on the larger side of the scale. In the case of this baby, however, the scales tipped significantly.
4

Earliest Birth
In contrast to the two heaviest births, the mother of James Elgin Gil gave birth to a child that weighed only 1.1 lbs at birth. Because he was only 21 weeks old when born, doctors nearly refused to treat him because of his incredibly low chance of survival. Many hospitals will not attend to babies born before the 22 mark, but James survived the odds and is to this day alive and well.
The tiniest baby to survive labor was born to the mother of Amillia Taylor in Florida. Born at almost 22 weeks, Taylor was only 10 ounces when she was born. Despite astronomically low chances of surviving infancy, Taylor was brought into intensive care quickly and received treatment that saved her life. Beating the odds, Taylor grew up healthy and strong despite her extremely premature birth.
3

First Male Pregnancy
What is a mother? By definition, mothers are those who care for and nurture their child through adulthood. If mothers are not defined by their biological relation to the child or their age, then why should a mother be defined by their gender?
Thomas Beatie is a transgender man living in Oregon who became the world's first pregnant male. Beatie received gender reassignment surgery and testosterone therapy in 2002 and had been a transgender and sexuality advocate before giving birth.
Because his wife, Nancy, could not give birth due to a hysterectomy, he decided to have a child via artificial insemination. Beatie has since given birth to three children, none of which showed signs of complications. Due to his strength against social backlash and questioning, Beatie remains an advocate for all parents regardless of gender identity.
2

Smallest Mother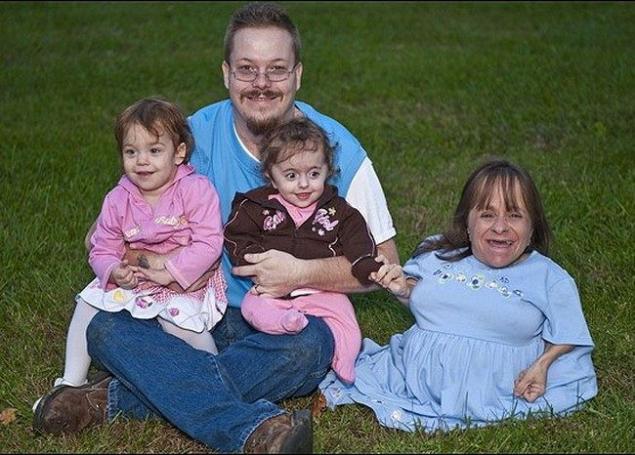 Stacy Herald, who stands at 2 ft 4 inches tall, has given birth to three children as of this article's publication. Despite doctors' concerns that her children would be unable to fully develop or that her pregnancy could threaten her own health, Herald and her husband decided to have children naturally.
Herald suffers from osteogenesis imperfecta, more commonly known as "brittle bone disease." This genetic disorder causes bones to break more easily and not develop as they should. Because her pelvis was smaller than average, doctors worried that a growing baby could crush her internal organs.
Although her pregnancy faced difficult odds and resulted in complications, her children grew up happy and healthy. Her oldest and youngest child also have osteogenesis imperfecta, but her middle child does not.
1

Most Births From One Pregnancy
This broken record is Nadya Suleman's, better known as "Octomom," claim to fame. In January 2009, Suleman gave birth to 8 children. At age 33, Suleman became the first mother whose octuplets all lived past the week mark. Until her children's birth, octuplets had a high mortality rate and most did not survive infancy.
Suleman had already raised six children before giving birth to her octuplets and went from an already-hectic six to a chaotic fourteen children, more than half of with were under the age of one. Next time you're changing diapers, be glad you only have to change one or two at a time rather than eight! Sometimes record-breaking mothers give us the perspective that we need to feel grateful about our own lives.
Because Suleman gave birth through in-vitro fertilization, a controversial debate swept through the medical community of California (Suleman's home state) which resulted in the doctor who had performed the procedure's license being revoked.
Sources: GuinnessWorldRecords.com, Mirror.co.uk, Livescience.com