Celebrities are a fascinating group of people to watch and it gets even better when they have babies. Some celeb families know all too well how discombobulating it can be to maneuver around the paparazzi and the fans, so many have come to accept their fates in life. They will be watched on the big screen, the small screen, at Starbucks, and the playground. So, when a family of two celebrities becomes a family of three, four, or even six (thanks Brad and Angelina), things get so much more interesting.
The celeb babies we are looking forward to this year are from some of the most famous celebrity couples in the world right now. There is so much to look forward to: will there be crazy names? Will they go into labor outside of their "birthing plan"? How will the celeb siblings adjust to a bigger bunch? The excitement is in the air from the moment a famous mom-to-be makes that one (sometimes internet breaking) announcement "I'm Pregnant!"
Some celebrities are so hush-hush that they don't announce due dates or names or anything until they have to because they are caught checking into the labor department at the hospital, while other celebrities let the public know way too many details. This list is brand spanking new with all the latest and late breaking baby announcements for the year 2017. These babies will all be born into a life of luxury and way too much attention. So without further ado, here are 15 celeb babies that will be born this year.
15

The Hills Besties' Babies
Some of the most loved characters from the Hills and Laguna Beach will be welcoming new babies this year. Lauren Conrad and Whitney Port both recently announced they were expecting. Lauren Conrad has been majorly successful in her fashion career since leaving MTVs super popular show about life in Beverly Hills, California. Lauren (often referred to as LC) has a clothing line at several major retailers including a major chunk of retail spacing at Kohls. Whitney Port, also a fashionista and designer is also expecting her first child.
Something must be in the water because Audrina Partridge from the Hills show is also expecting her first child in June. Here's a guess: the days of partying, complaining about boys, and being late for fashion school are now over. Mommy hood is no laughing matter and should not be taken lightly. One thing is for sure, however, these babies will be stylish, with moms like these two, they will be rocking the latest and the hottest from day one.
14

Million Dollar Babies
What happens when one of the world's most famous, hottest and oh-so handsome bachelors finally ties the knot to another globetrotting world wind human rights lawyer, who is equally as hot? Well, they start having babies of course. When George and Amal Clooney announced they were pregnant after months of fans whispers and guessing, the world was thrilled. The fact that they are expecting twins means double the delight.
There are estimates reporting that George and Amal plan to spend around 1.3 million dollars just on the birth of the babies. They have reportedly rented out an entire wing of an upscale hospital in London. Amal is also supposedly flying in two birthing assistants, an Italian masseuse, and their favorite Italian cook. No expense will be spared for this set of soon to be world famous twins. Amal who is currently in her final trimester is set to give birth this June.
13

 Little Zuckerbergs, The Facebook Baby #2
Mark Zuckerberg, the founder of Facebook, and his wife, Priscilla Chan, a pediatrician, are expecting their second child before the year is out. They had their first child a couple years ago, a little girl they call Max. This couple is known to be very hush-hush about pregnancy until rather late in the pregnancy because of difficulties they have faced in this past. Before giving birth to their first child, Max, Priscilla suffered multiple miscarriages. Mark opened up about their experience on Facebook, and shared their struggle because he wanted other people to know they were not alone and they had nothing to be ashamed of, as many people believe when they are faced with those difficult situations.
He said they had kept their troubles a secret for so long but as soon as he opened up to some of his friends they shared that they too had had similar situations but all eventually ended up with healthy children.
12

Rockin' Babies, Blue Ivy's Siblings
Well, out of all the celebrity babies we are expecting to meet this year, Beyoncé took the cake when it comes to the popularity of pregnancy announcements. She gave the world the surprise news over Instagram and now has one of, if not the most popular Instagram of all time. Back in February, Beyoncé, rapper Jay-Z's wife, posed in a bikini and what looks like very short denim shorts, holding her round belly, with her face covered by a lime green veil.
These babies (they are expecting twins) will be Blue Ivy's siblings. Blue Ivy, who is known for her over the top parties (shutting down parts of zoos and amusement parks) and her wardrobe, will need to make room for two. She will probably make a great big sister. One things for sure, Beyoncé is going to have her hands full when these babies arrive so she'd better get ready!
11

Baby Trump, Presidential Grandbaby #9!
Late this past March, Eric Trump, the son of president Donald J. Trump, went on twitter to announce that his wife, Lara, was expecting their first child. He was over the moon because he found out she was pregnant on his birthday. Eric who is 33 years old is one of President Trumps six children, and this baby will be President Trumps 9th grandchild. Trump's older son, Donald Jr and his wife Vanessa have 5 children, and Ivanka and her husband Jared Kushner, have three kids. Lara, is due to give birth sometime in September, the couple shared in a recent interview. They found out about the baby in January, but waited till she was further along in her pregnancy to share the news.
Lara, who felt exhausted during the first trimester, said she is feeling much better now and thrilled about the arrival of their child. This has been a busy time for the Trump team, as they call themselves, but they do seem to be holding up under the pressure.
10

Romo's Going For A Team, The Cowboy Baby #3
The Dallas Cowboys are the world's most famous football team. This makes Tony Romo, one of the most famous quarterbacks of all time, although we do have to throw some appreciation at mega-hunk and all-star Tom Brady too! Tony Romo and his wife Candice Crawford, are expecting their third child. Candice Crawford, whose brother is a cutie, and actor Chase Crawford shared the news on Valentine's Day.
The couple already have two sons, River, age two, and Hawkins, age four. Tony Romo who played for the Cowboys for 14 years was out most of the last season due to injury. Many people remember him from his days of dating Jessica Simpson, but he met and fell in love with TV anchor and reporter, Candice, in 2009, after he and Jessica broke it off. Many people say that Jessica Simpson gave the Dallas Cowboys bad mojo, because they lost many games while the two were dating!
9

Victoria Secret's Baby Or Stunt Man Baby?
Victoria Secret beauty, Rosie Huntington-Whitley, and thriller actor, Jason Statham are expecting a child and they shared the news via Instagram in February. She posted a picture taken by Jason Statham of her on the beach, clad in a Missoni bikini showing off her round baby bump. While Rosie Huntington-Whitley is mostly known for her photos and stomping down the runway, her beau Jason Statham is known for his heart pounding blockbuster thrillers. He is all action and kicking a lot of butt in most of the movies he chooses to star in.
This couple was recently spotted out and about and Rosie was rocking her baby bump in all black. Who knows what to expect with the baby, seeing that the mom is so chic and feminine and the dad is the ultimate man's man fighting machine. The couple who got engaged in early 2016, and announced their pregnancy, February of this year, are pretty secretive of any other details as far as due date or sex of the child.
8

Two Comedians = One Funny Baby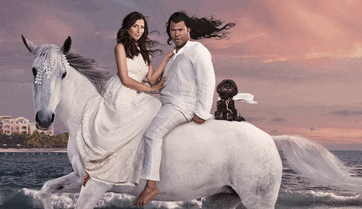 What happens when two super popular comedians get married and find out they are with child? Some awfully funny pregnancy announcements. Jordan Peele, one half of the funny duo from the show Key and Peele, and his wife (also a comedian) Chelsea Peretti announced their pregnancy in February with a silly jab towards Beyoncé's now Instagram record breaking announcement. Chelsea posed in front of glittery mirrors and captioned her picture "Beyoncé Scmoche".
Jordan and his wife have been together for three years after they eloped, which he revealed during an appearance on Late Night with Seth Meyers. These two are known for their bold and brave sense of humor, so the baby will probably be one funny little guy. Like most other celebrities, they are keeping most of the details about the birth to themselves. As of yet, no one knows the due date or even the month, or the sex of the baby,
7

More Biggs Littles, American Pie Baby #2
Well, there is no denying it now, Jason Biggs could not possibly be a virgin like his character in American Pie was, because he is married with his second child on the way. Jason Biggs and his wife Jenny Mollen, also chose to announce their second pregnancy in a humorous way. They took a picture where Jason has (essentially) a snot sucking device (meant for babies) dangling out of his nose going to a tube coming out of his wife's mouth. Yes, it's a little gross, it's also a lot funny, and a side note: those devices work wonders on snotty babies.
While Jason Biggs has been in other films besides American Pie, the American Pie collection which has several movies on its belt these days is his most famous role. Nobody can forget the scene where he sits at the dinner table with his father trying to explain why the apple pie is "damaged" in the fashion that it is.
6

Another "New Girl" Or Boy Baby?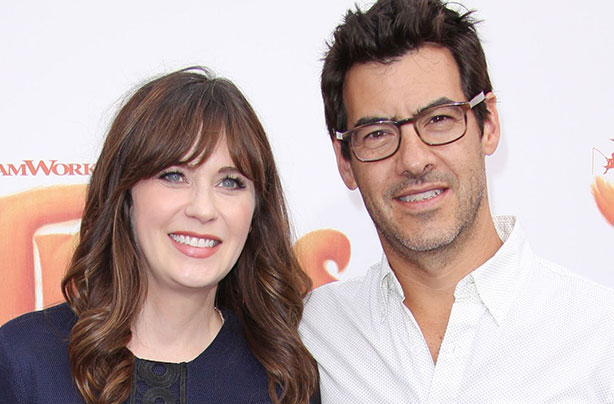 Funny girl Zooey Deschanel is expecting her second child with hubby Jacob Pechenik. All that's left to ask is what will they name the baby? Zooey is known for her quirky spirit in naming children giving her first daughter the middle name Otter. Who knows maybe this baby's middle or even first name will be Koala. Zooey recently opened up to Ellen, from the Ellen DeGeneres show about how hard it can be to leave her child and go to a full day on set.
She really enjoys and appreciates motherhood and loves spending time with her daughter. Although she does add that she thinks it's good that her daughter sees her go to work. They are all about strong women. Zooey and her husband secretly tied the knot in 2015, the same year she gave birth to her first daughter. They are also keeping hush-hush about the details of the second birth.
5

That 70s Baby
Raven haired beauty, Laura Prepon from that 70s show is expecting her first child with her fiancé Ben Foster. Laura has been super busy since That 70s-show ended, she has stared in the super popular series on Netflix Orange is the New Black, taken from the blockbuster book of the same name. She also stared in Girl on a Train (also taken from a smash hit book) alongside other mega stars. Ben Foster, also an actor, has a long-standing career in Hollywood, as he has appeared in films and TV shows over the last couple of decades.
Laura and Ben have known each other for 18 years, although they got engaged recently and announced their pregnancy pretty quietly. Ashton Kutcher was out of the loop and teased Laura for not giving him the news sooner. Rumor has is that Ben is very protective over his pregnant fiancé, and they too are keeping all other details top secret.
4

Sports Illustrated Or Sports In General?
Sports super star Derek Jeter and wife Sports Illustrated model Hannah Davis Jeter make one hot couple and they announced in February that they are expecting their first child, a baby girl. Looks like we won't have to wait much longer to meet this little bundle of joy as the couple has hinted at May for the month the baby is due. Hannah opened up in an essay in The Players' Tribune about how important it is that their first child and any other children they may have know Derek as their dad and not some famous baseball player.
She wants them to have a normal relationship with their father but admits they will need to be tough because their lives will obviously be quite interesting. Derek and Hannah, unlike many other celeb couples have been pretty open about the pregnancy thus far, hinting at the sex with a picture of pink balloons, and giving many hints that the due date is fast approaching.
3

A Country Set Of Babies
Country crooner Thomas Rhett and his wife Lauren are not only expecting their first child, they are also in the process of adopting one! Talk about big things happening all around. Last year in December, while the couple was on a safari in Tanzania, Lauren started feeling ill and Thomas joked she might be pregnant. Although she was almost positive that she wasn't pregnant she went ahead and took a test which confirmed what Thomas suspected.
The crazy part of the story is that months earlier the couple had stopped trying to have a baby on their own and started the process of adopting a baby from Africa. The couple had always planned to adopt, but after trying to get pregnant for a while with no success felt the Lord wanted them to adopt first. Lauren said as soon as they stopped trying to get pregnant, they ended up pregnant. Now they have two babies on the way!
2

Sports Illustrated Babies Everywhere, Bar's #2
Bar Refaeli recently announced at the end of March 2017, that she and her husband Adi Ezra are expecting their second child. She revealed the pregnancy with a selfie showing her growing baby bump under her mid-drift shirt in her home with the caption "somethings cooking" on Instagram. Bar and her husband, businessman Ezra, welcomed their daughter Liv just 7 months ago in August of 2016. Bar, who dated super star Leonardo DiCaprio for almost six years, married her husband back in 2015.
The model has reportedly admitted wanting to have a large family and they seem to be getting the job done. Two babies who are not even a year apart will be quite a handful. Hopefully Bar has some major help. A newborn and a baby are two adorably needy creatures. Maybe Bar will continue to have babies and spend some time off the runway, although as soon as she is ready to return its likely she'll drop the baby weight so fast it'll make heads spin.
1

Another Boy Band Baby
On March 31st, former N'Sync crooner, wild haired cutie, Chris Kirkpatrick announced he and his wife Karly, were expecting their first child. He said the couple is "over the moon excited" about their first baby. He will join some of his other N'Sync bandmates in fatherhood. Justin Timberlake, probably the most famous member of N'Sync had his first child, Silas Randal Timberlake, with wife Jessica Biel last year. Maybe the two kids will eventually become great friends and start a band of their own.
The die-hard fans of N'Sync would probably love something like that happening. The guys from N'Sync look nothing like their past selves these days. Most have gone off and done their own thing. Justin Timberlake has starred in countless movies and dropped some successful albums all on his own. JC also started a solo career and now writes songs for other artists. Joey Fatone, finished second place on Dancing with the stars and has been on many TV shows. All of the other guys have stayed busy as well.
Sources: People.com  Dailymail.com