Celebrity kids would know best – they are accustomed to the very best lifestyle since their birth: the best houses, the best clothes, the best vacations and the best parties. While being a kid of someone rich and famous obviously has its own perils, one cannot deny the benefits that come along.
From Michael Jackson's kids who get $8 million per year in inheritance to Allegra Versace who inherited $800 million, there are celeb children who never had to lift their little finger to earn a penny and obviously will never have to.
Since growing up with such luxury can prevent one from appreciating the value of hard work, many celebrity parents are coming up with inventive ways to teach their children the same. Then there are those who allow unlimited indulgence right from the moment their babies enter this world. Mila Kunis and Ashton Kutcher have actually told their children that they are poor. Mila told them 'Mommy and Daddy may have a dollar, but you're poor. You are very poor, you have nothing. Mommy and Daddy have a bank account.'
Well! That seems to be the other extreme. Why not strike a middle path like Mark Zuckerberg, the founder of Facebook, did. He pledged to donate 99% of their wealth to the various charitable causes around the world and just 1% to his kids. If you wondering how that doesn't fall under extreme, that 1% amounts to $450 million, which is surely more than what the kids need.
Let's take a look at a few famous kids who have gotten used to all things luxurious owing to their parent's deep pockets, and a few of those who are likely to get nothing:
20

Suri Cruise - A Million Dollar Allowance
Suri Cruise, the famous daughter of actor Tom Cruise and actress Katie Holmes, although just 12 years old, has been setting fashion trends for years now. According to the Daily Mail, her clothes are worth anywhere from $1 million to $3 million, and she has an enviable collection of shoes and accessories as well.
She reportedly spends thousands of dollars every month on her fashion and beauty choices, a move that is reportedly approved by both her now separated parents.
She was also gifted a $24,000 Victorian playhouse by her mother, and has "an annual clothing allowance of over $1 million, a personal massage therapist who treats her after each of her dance classes", says the OK Magazine.
However, being in front of the lens comes with a price. According to nydailynews.com, when she was as young as three, Suri stirred up a controversy by wearing high heels. Although her appearances have become fewer as she has grown up, she still managed to get the news cycle on fire whenever she steps out with her impeccable fashion choices. While she has already walked the ramp for fashion labels, there is no doubt that Suri will follow in her parent's footsteps and earn massive success and fame in the future. And we all know what this means: more green bills!
19

Allegra Versace - $800 Million And Counting
The sensational story Gianni Versace in 1997 put his sister Donatella Versace at the helm of the luxury brand. However, one more fallout of the tragic passing was that almost half of the Versace empire was given away to Allegra Versace, daughter of Donatella and Paul Beck.
Allegra grew up in Milan and has been rubbing shoulders with the rich and famous ever since she was a kid. Her uncle willed her half of the company he had built owing to a dispute between him and his sister. When she turned eighteen, she was given her share of the company. According to reports in Mirror UK, she has a current net worth of anywhere between $600 and $800 million and is next in line to manage the Versace business after Donatella. This means that this figure is only set to rise in the future.
However, according to dailymail.co.uk, Allegra has seen her fair share of troubles. She spent most of her childhood under strict security and even sought counseling after her uncle Gianni's passing. She has also battled eating problems for several years. One can only hope that she finds is able to find her own sun in the spot, despite the massive baggage that comes with the surname Versace.
18

The Kutcher Kids Won't Get A Dime
Ashton Kutcher and Mila Kunis, the couple has two children: daughter Wyatt and son Dimitri, and are reportedly very sure of not serving them things on the silver platter. Ashton Kutcher explained in an interview on Dax Shephard's podcast that he doesn't intend to leave his kids their earnings.
He said, "I'm not setting up a trust for them. We'll end up giving our money away to charity and to various things." He went onto explain that they must not get accustomed to the privileged life that they had so far and that they must learn the value of money since he and Mila didn't grow up in rich families.
Even Mila Kunis is on board with this. On the Australian show The Kylie and Jackie O Show, she went as far as to reveal that they are actually telling their children that they are poor. She said, "It's a matter of teaching them from a very early age that, you know, 'Mommy and Daddy may have a dollar, but you're poor. You are very poor, you have nothing. Mommy and Daddy have a bank account.'
Last year, they also decided to skip Christmas presents for their kids to teach them to be grateful for every gift they receive, according to the PopSugar.
17

Saint West's Diaper Bag Is Worth $23,000
Saint and North West are undoubtedly some of the famous children in all of Hollywood. Being born into the Kardashian clan is a sure-shot ticker to live a finer life, and these two are no exception to the rule.
While North has been grabbing headlines for chic fashion choices, Saint West was rumored to have a diaper bad worth $23,000.
They also played with a playhouse that is worth nearly $144,000 according to The Sun. What's more, even their very young sister Chicago, who is just a few months old, owns the following according to the OK magazine: a $1,495 gliding nursing chair, a $575 cloud-motif rocker and a $1,900 tweed and leather bassinet! It's not just them – every new member of the Kardashian-Jenner family is welcomed with expensive purchases.
Kim and Kanye have made a fortune by being famous, and it is only fair that their children get to enjoy the rewards as well. Don't be surprised if they land a recurring gig at one of the reality shows or star in a new one of their own! With Kim and Kanye also launching a kids clothing line, one can expect the little ones to splurge even more money in the future.
16

Blue Ivy Carter Already Has A Personal Stylist
Blue Ivy Carter's parents Beyonce and Jay-Z have a combined net worth of over $1 billion, according to Forbes. Even if she has to split that with her younger siblings, she will still have a lot of bills to get just about anything she wants.
Does it really come as a surprise that she routinely flaunts limited edition designer wear outfits and accessories? Or the fact that she recently bid nearly $20,000 on a piece of art. Or the fact that she is already a certified superstar-cum-diva?
There are certified blogs, twitter handles, and articles that follow her fashion and lifestyle choices, and list out the outfits she chooses to wear. Blue Ivy already has dedicated fan pages and a massive amount of following for someone who is just six years old. And get this according to CNN, she already has a stylist and personal shopper.
The OK Magazine says, she owned a $600,000 gold rocking horse in her nursery and that "she has her own personal staff, including a stylist, chef and butler, who must, Blue insists, wear a tuxedo." Although her parents have been, until recently, very guarded about Blue Ivy's media exposure; she is slowly stepping into the limelight on her own rather fabulously.
15

The Zuckerberg Kids Will Only Get 1%
Mark Zuckerberg, the founder of Facebook, alongside his wife Priscilla Chan, has also decided to leave the bigger part of their fortune for developmental purposes. According to the nytimes.com, in December 2015, they pledged to donate 99% of their wealth to the Chan Zuckerberg Initiative, which is dedicated to "personalized learning, curing disease, connecting people and building strong communities" around the world.
While taking the pledge, they said, "We've benefited from good health, great education and support from committed families and communities. We believe that in the next generation, all of our children should grow up living even better lives and striving for even more than we think is possible today."
Despite being regularly featured in the list of one of the richest men on the planet, and being the poster boy for success over the last decade, it is really great to see Zuckerberg trying to inculcate strong values in his children. He is the father of two girls, Max and August. Zuckerberg posted on Facebook:
"We will give 99% of our Facebook shares — currently about $45 billion — during our lives to advance this mission," he said. "We know this is a small contribution compared to all the resources and talents of those already working on these issues. But we want to do what we can, working alongside many others."
14

Jaden And Willow Smith - The Fresh Kids Of Bel-Air
The children of Will Smith and Jada Pinkett Smith are already mini-stars of their own accord. They have already appeared in movies, music, and television, but Jaden Smith is already reported to be worth nearly $8million dollars, and his sister Willow Smith is worth nearly $4million.
Consider this: Jaden endorses the collections of Louis Vuitton, Willow drives a $120 K Porsche, and Jaden got his hands on a Tesla X before it even made it to the market, according to Ten Over Ten.
If that isn't called living a luxurious life, nothing will ever come close.
Jaden has appeared in movies like 'After Earth', 'The Karate Kid', 'The Day After Tomorrow' and also shared screen space with his dad in his very first movie, 'The Pursuit of Happiness'. Willow has been more active in the music industry and has released two albums and EPs. The siblings have been in news not only for their high-end purchases but other controversial statements they keep making. They have a unique perspective on fame, purpose, and identity, something that can only be formed when you grow up in such a charged up environment.
According to the vanityfair.com, parents Will and Jada's parenting style has also been questioned for its effectiveness. No matter their choices and opinions, one thing is for sure: Jaden and Willow sure know how to make the most outrageous use of their wealth.
13

Jackson Kids: Paris, Prince & Blanket
Being the children of the biggest pop icon ever sure has its benefits: Paris, Prince and Blanket Jackson have been granted handsome portion of their late father's estate. Michael also ensured that his children lived off well without having to as much as lift a finger. Consider this: according to a 2014 NY Post report, in addition to splitting $5 million amongst themselves, they each get $8 million per year in inheritance, plus another $30,000 annually for tuition, vacations and other expenses.
Michael Jackson ensured that the wealth he spent lifetime accumulating goes to his heirs, and even after his sudden death in 2009, his brand and music continued to earn millions of dollars every year. It really mustn't come as a surprise that his children are reaping the benefits of his hard work, and are already certified millionaires, despite being very young. The Jackson siblings do not mind dipping into their funds once in a while to sponsor expensive coaching or splurge but show more restraint that their father, a source in the NY Post report stated. While they are all trying to get their careers off the ground, having a huge safety net to fall back on is always reassuring.
12

Gordon Ramsay's Kids Won't Get A Dime
The celebrity chef who is reportedly worth upwards of $50 million, has decided to give away all his wealth to charity. The father of four said, in an interview with 'The Telegraph '"It's definitely not going to them, and that's not in a mean way; it's to not spoil them. The only thing I've agreed with Tana (wife) is they get a 25 percent deposit on a flat, but not the whole flat."
He also explained that all his children get a limited amount of pocket money per week, which they must sustain for all their expenses. He told the Telegraph, "Meg's at uni and has a budget of £100 a week; the others get about £50 a week and they have to pay for their own phones, their bus fare. The earlier you give them that responsibility to save for their own trainers and jeans, the better."
While the approach might look a little too harsh for the multi-millionaire, he says that he realizes how lucky he has been and respects that immensely. "I've been super lucky, having that career for the last 15 years in the US. Seriously, it has earned a fortune and I've been very lucky, so I respect everything I've got."
11

The Pitt-Jolie Kids Are Always On The Move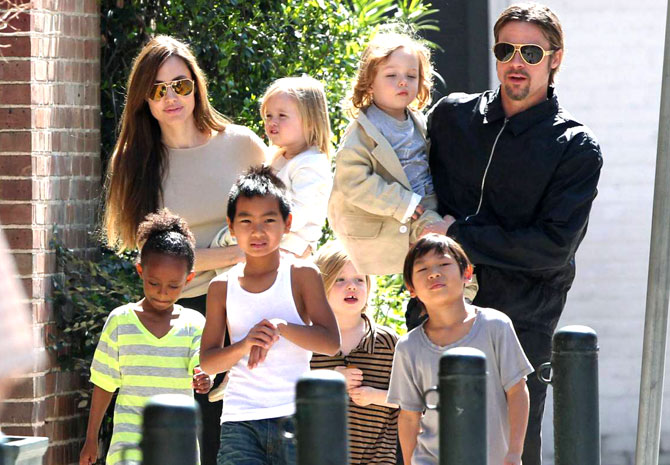 Although Angelina Jolie and Brad Pitt have parted ways, they have a total of six kids, both biological and adopted. The family has purchased beautiful accommodations all over the world. The Daily Mail says that the clan has a long list of options to choose from: a countryside villa in France, a mansion in New Orleans, a sprawling home in Los Angeles, an apartment in Waldorf, a beach house in Malibu and briefly, a rental in Surrey.
According to the Telegraph, the divorce between Angelina and Brad was subject to wild speculation, as the two had joint assets worth nearly $400 million.
While the children have largely stayed away from the public glare, their parents have made it more than amply clear that they have no qualms splurging on their children: be it an impromptu visit to the toy store, expensive dresses or exotic locations.
That's not all, according to the OK! Magazine, Shiloh, the first biological child of Jolie and Pitt, has an on-call therapist to talk to in case she is feeling anxious. As per a report by Star magazine, the kids have three full-time tutors, six-day nannies, two-night nannies, and a team of bodyguards. What's more, photos of the youngest twins Knox and Vivienne were sold for an unbelievable $14 million back in 2008 – and still remain the most expensive celebrity photos ever bought.
10

J-Lo's Twins - Diamond Rattles? Why Not!
The J-Lo twins, Emme and Max, were born in the public spotlight. Their baby pictures were sold for nearly $6 million – and remain the second most expensive celebrity photos ever sold; second only to the twins of Angelina Jolie and Brad Pitt, the Daily Mail reported.
Back in 2008, when they were just born, the twins never repeated what they wore – that should give a sense of just how they appreciate the finer things in life. According to the Independent, when they were born, Marc Anthony, the father gave them Egyptian cotton crib lines and rattles encrusted with diamonds. Also, each of the twins owns a pony each.
More recently, the instyle.com reported that Jennifer has splurged on a $40 million estate in Bel-Air, which boasts 7 bedrooms, 13 bathrooms, and 14,000 square feet of luxurious living space. The twins just turned 10, however, with her personal wealth of over $300 million, and her present boyfriend, Alex Rodriguez worth nearly $500 million; the twins are set to inherit a neat sum of money when they grow up.
Unlike most other celebrity moms, Jennifer regularly shares photos of her twins on her social media handles and has no qualms managing motherhood with a very busy career. The enstarz.com said that she is a 'strict' mom, and has laid some very restrictive ground rules for the twins. Nonetheless, they make for an adorable rich family!
9

The Poor Children Of Pierre Omidyar, The Founder Of eBay
Pierre became a billionaire when he was just 31 and was also one of the early adopters of the Gates and Buffett Giving Pledge – all the way back in 2010. Pierre and his wife are amply clear that their three children must strive hard to be successful.
The father of three, however, had plans to give away his vast wealth way before he officially signed on the pledge. As per cnbc.com, way back in 2001, Pierre had admitted that he and his wife were considering giving away the bigger part of their lie earnings. While signing the pledge, he wrote, "We have more money than our family will ever need. There's no need to hold onto it when it can be put to use today, to help solve some of the world's most intractable problems." This earnestness in this message in palpable and extremely well-meant; however, his children might beg to differ.
Despite being worth more than $10 billion, the fact that Pierre wants his children to understand the importance of hard work and value money is commendable. He is also known for founding Humanity United Foundation with his wife and supporting various charities and developmental organizations working against human trafficking.
8

The Beckham Kids - Living The Posh Life
David and Victoria Beckham have four children, and all of them are known to be put their best fashion foot forward. Brooklyn, Romeo, Cruz, and Harper – all have at some point dominated the headlines for their affluent sense of style. However, other than Harper, the youngest, all other kids are involved in some or the other income-generating activity.
As per reports from Harper Bazaar, in 2015, the family purchased the most expensive house in all of UK. Just last year, Victoria Beckham and her son treated themselves to a £2500 bottle of wine, according to DailyMail.
All the children are regularly clicked in expensive clothes and accessories. However, reports suggesting that David was miffed with some of the ridiculously expensive wardrobe choices made by Harper did surface a few years ago. The Beckham boys were also reportedly gifted a sci-fi/futuristic tree house by David sometime back, says Circus.
With David's earning from his entire career and multiple brand endorsements, and Victoria running a hugely successful fashion label of her own – there is no reason for the family to not splurge once in a while. Considering how some reports suggest that the Beckham's wealth has surpassed that of the Queen of England, the kids can sure afford to indulge a little (or a lot!).
7

Mariah Carey's Twins Own Their Own Candy Shops
No one does diva like Mariah Carey! The singer is well-known to have outrageous backstage demands and requests. Mariah has spent her entire career crooning chart-topping hits and collected fat paychecks by endorsing high-end fashion and cosmetic brands.
With a net worth exceeding $500 million, it should come as no surprise that her twins Monroe and Moroccan (with ex-husband Nick Cannon), are treated only to the best of the best.
Take for instance their first birthday party: celebrated in Paris, the twins got their very own toy Ferraris according to DailyMail! They also slept in cribs worth nearly $3600 when they were infants. There's more: both the twins OWN their very own, private and exclusive candy shops according to the Circus. More recently, their sixth birthday party, even an 'average' celebration, according to industry standards, is reported to have cost the parents a bomb.
However, with Mariah's huge treasure chest, the twins can grow accustomed to a luxurious lifestyle without thinking twice. They also rub shoulders with other celebrity kids, and hence, will get ample opportunities to splurge in their company. While Mariah and Nick have parted ways, they remain dutiful parents to the twins and do not think twice before letting them go overboard while indulging.
6

Jackie Chan's Son Won't Get A Dime
Worth nearly $150 million, Jackie Chan has no intentions of leaving anything behind for his son, Jaycee Chan. The logic is simple, as explained by Senior Chan in a Metro story in 2011, "If he (Jaycee) is capable, he can make his own money. If he is not, then he will just be wasting my money." He has also clarified that in the case of his death, his entire wealth will be given to a charity, and Jaycee will not be able to claim anything to his name.
That means that Jaycee will not see anything from his father's huge estate, but will have to toil hard. However, don't feel too bad for the guy: According to supermoney.com, for the greater part of his life, he has lived in luxurious mansions, have had the best education and been on expensive exotic vacations. Jackie even helped Jaycee launch his movie career, and considering that he is also working in the entertainment industry, one shouldn't be too worried about him.
Supermoney.com noted that "Jackie has been frustrated with Jaycee's expensive lifestyle and financial troubles for a long time, so it's no surprise that he doesn't trust him with $130 million."
With this move, Jackie Chan has followed in the footsteps of several other famous actors and celebrities who want their children to realize just how fortunate they have been. However, he does stand out as an Asian actor to have done the same.
5

Madonna's Kids - Only The Best And Lavish Gifts
Madonna is a mother to a total of six children, both adopted and biological. She has two children, a daughter, and son, with ex-husband Guy Ritchie, and has also adopted four other children: two of whom are twins.
With a net worth in excess of $800 million, she is one of the most successful singer and entertainers of all times. During her career peak, she was known for indulging in luxury properties and had an expensive taste. In 2012, Madonna got her daughter, Lourdes, an apartment in NYC for her 16th birthday, says the Standard UK.
According to HollywoodLife, the twins adopted by Madonna are routinely spoilt with lavish gifts. What's more, as per a recent DailyMail report, she is working hard to ensure that all of her children carve out successful careers in their respective fields: some dedicated mother she is!
Even though the singer turns 60 this August, she shows no signs of slowing down and keeps herself busy with music, shows, concerts, and performances. If she is working so hard, it only makes sense that her children make the most of it, and live a life of luxury and comfort.
4

Valentina Paloma Pinault's Dad Is Worth $10 Billion
Daughter of actress Salma Hayek and French businessman Francois-Henri Pinault, Valentina Paloma Pinault is a very fashionable young girl. Her father is extremely rich, and owns many famous companies like Gucci and Yves Saint Laurent.
With her father worth over $10 billion, it is safe to assume that Valentina doesn't have to worry about student debt in her life.
However, despite her limited media exposure, last year Salma attested to the fact that her daughter is more interested in science and feminism as opposed to fashion or entertainment. In an interview with People, she revealed that Valentina has started making slime of all kinds and is becoming a popular kid in the school for it. The mother-daughter duo also apparently read a lot together.
Just 11 years of age at the moment, Valentina enjoys living a luxurious life, in a fancy place and enjoying expensive vacations. Salma herself has a sizeable wealth of her own, owing to her popular acting career. Regardless of which industry Valentina ends up in, one thing is certain: her safety net worth billions of dollars is likely to give her the freedom to experiment with all the slime in the world!
3

Athina Onassis - A Billion Dollar Inheritance
Athina Onassis was really excited for her 18th birthday. Sure, she would officially be an adult on the day, but she was also set to receive nearly a billion dollars. She happens to be the last living descendant of Aristotle Onassis, the shipping tycoon. When her grandfather passed away, he willed her all the rights to companies, shares, bonds, properties, and assets, which included a private jet, according to the Town&Country.
But wait, it gets better: when she turned 21, she was instated as the President of The Onassis Foundation. It is one thing to be born into a rich family, but it is a whole different thing to become rich when you are just a teenager.
Athina Onassis is the living example of the same, at 33 years of age today, she participates in select events as a show jumper and equestrian athlete. One shouldn't be surprised if her lifestyle choices reflect her penchant for only the very best. She was recently in the news again for divorce from her husband of 12 years.
According to the Daily Mail: "Doda' Miranda was found in bed with the blonde at the $2 million home that the heiress bought in the horsey-heaven of Wellington, Florida just last year. Now Miranda is desperately trying to worm his way back into the life of the heiress who inherited half of the $5 billion fortune of her shipping magnate grandfather — Jacqueline Kennedy's second husband."
Media-shy and reclusive, Athina rarely gives interviews and prefers not to interact with people beyond her immediate circle of trust.
2

Billie Lourd - From Mother And Grandmother
Billie Lourd comes from the family of famous people. She is the daughter of actress Carrie Fisher and the granddaughter of actress Debbie Reynolds. Her godmother is actress Meryl Streep and writer Bruce Wagner is her godfather. While her family tree might intimidate many, she has been slowly cementing her place in the Hollywood based on her merit and talent.
Her most famous appearances include American Horror Story: Cult and Scream Queens, both FX shows. However, as reported by the People, tragedy struck twice with the sudden passing of her mother and grandmother in a span of two days in December 2016. Billie was suddenly left without the guidance and advice of two seasoned and experienced actresses.
Nonetheless, this tragedy resulted in the transfer of estates from her mother and grandmother to her own name.
At the age of 25, Billie was given the possession of nearly $7 million, a handsome inheritance sum, life insurance policy money, luxury cars, jewelry and right to her mother's images.
She also received the profits from the sale of $18 million mansion in Beverly Hills, according to the People. Nearly 1,500 items belonging to the actresses were sold off in an auction with their proceeds benefiting different mental health charities. The circumstances of Billie Lourd becoming a millionaire are no doubt unfortunate.
1

Victoria And Marlena Laboz - Under Certain Conditions
In 2015, the Laboz sisters received global recognition. When Victoria and Marlena Laboz's father, Maurice Laboz, passed away, he left his $37 million wealth to his two daughters. However, this inheritance comes with several clauses and conditions.
According to NY Post, the sisters have access to a part of the fortune and need to fulfil certain conditions in order to be eligible to receive the rest. For example, they won't get at least $10 million of the money until they turn 35 years of age. Here's how Maurice ensured this: Marlena will receive $500,000 for getting married as long as her future husband signs a strict prenup; furthermore, she stands to gain another $750,000 if she graduates from an accredited university. Both the girls also stand to receive significant sums of money from his estate when they bear children – inside the wedlock.
While there has been no follow-up since 2015 on how well the sisters are doing, and if they managed to fulfill the conditions of the agreement in order to receive the amounts specified, one sure hopes that they got the inheritance. While several trust-funds of high profile celebrities and A-listers come with riders, this particular case garnered worldwide attention for being particularly stringent.
References: People, Daily Mail UK,  hollywoodlife.com, NY post,  standard.co.uk