Motherhood is a beautiful feeling. As a woman, people feel complete being a mother. Yes, it is right that everyone is not privileged with this gift. While a lot many patiently wait long years to be a mother, there are some who never value their precious blessing. Two sides of a coin!
Pregnancy and motherhood isn't child's play. You are paving a way for a life to enter this beautiful world! Knowingly or unknowingly you are becoming the pivot point in someone's life. You are going to be engraved in someone's heart and memories forever! Any doubt? How do you value your own mother? Is she not special for you whatever said and done? I have always felt that when I became a mother, I realized the hardships of motherhood and most importantly, its bliss too. Being a mother doubled my love I had myself for my mother. This is true across the board.
"The moment a child is born, the mother is also born". What a beautiful quote! It is true to the core. A wonderful journey begins there, mother-child relationship! From the moment kids are placed in your arms they are snuggled right into your heart. Be a celebrity or not, the story does not change. This is the only reason why we come across craziest age differences between mother and child all over the world. Here we take a sneak peek into the lives of fifteen celebrities who have craziest age differences with their children.
15

Janet Jackson - 50 Years
Janet Damita Jo Jackson (born May 16, 1966) an American singer, songwriter, dancer, actress and finally a mother at the age of 50 on January 3, 2017! What an accomplishment! She is best Known for her innovative, socially conscious and sexually provocative records, and elaborate stage shows. Not forgetting the fact that she has been a prominent figure in pop culture for more than thirty years. But all her laurels are diminished in front of the truth that she has become the mother of a baby boy at the age of 50!
According to TMZ.com, she even had to cancel her 'Unbreakable' music tour with Live Nation due to the orders from her doctors considering the high risk of her pregnancy. Finally Janet is a triumphant mother now.
The Qatari business magnate Wissam Al Mana is the father of her beautiful baby boy, Eissa Mana. Sadly, she is in the midst of the split from her relationship with billionaire Wissam. But dailymail.co.uk reports that she was beaming with pride and looked happier than ever before when she took her baby boy for a stroll in a London park.
That is the way it should be. Janet be strong, you are a great woman, now a proud mother too! Nothing in this world can stop you.
14

Halle Berry - 47 Years
Pictured: Halle Berry, Maceo Robert Martinez, Nahla Ariela Aubry
BACKGRID USA 13 MARCH 2018
BYLINE MUST READ: GAMR / BACKGRID
USA: +1 310 798 9111 / usasales@backgrid.com
UK: +44 208 344 2007 / uksales@backgrid.com
*UK Clients - Pictures Containing Children
Please Pixelate Face Prior To Publication*[/caption]
Halle Maria Berry was born on August 14, 1966. She is best known as an American actress and the only black woman to have won the prestigious Academy Award for Best Actress considering the excellent performance in the romantic drama Monster's Ball (2001). Her private life is as eventful as her career.
Berry who has been dating the French Canadian model Gabriel Aubry since 2002, gave birth to their first daughter Nahla in March 2008 at the age of 42. But in two years they announced their separation. After the split, the Oscar-winning actress was seen dating the French actor, Olivier Martinez. In that relationship, she again became the mother of a baby boy, in October 2013 at the age of 47! This is incredible since her conception and delivery were natural at that age, according to dailymail.co.uk.
Halle Berry has admitted her second pregnancy came as a complete shock - as she didn't think she could at the age of 46.
The Huffington Post reported that "Halle revealed she was caught off guard when she and husband Olivier Martinez found out she was pregnant because she had been feeling 'premenopausal.'
When she and her then-husband found out that she was conceiving, they were dumbfounded. Berry gave the full credit to her older daughter for the second child. Nahla had prayed for a sibling for more than one and half years and longed for a bunk bed too. Happily, she got both of them and they all believe it was a 'miracle pregnancy' at the age of 47. Prayers are so strong that it does make miracles happen in everyone's life.
13

Kelly Preston - 48 Years
Kelly Preston, the wife of Hollywood actor John Travolta, gave birth to her son Benjamin at the age of 48. This is a kind of miracle, heavenly intervention. The longtime sweet couple already had a teenage son Jett and a daughter Ella Bleu.
Unfortunately, the couple lost their 16-year-old autistic son while they were holidaying in the Bahamas due to fatal seizures in 2009. The dailymail.co.uk reports that the couple also had to go through the ordeal of blackmailing by the ambulance van driver who recorded the final hours of their son.
In 2010, the family announced the pregnancy of their third child when John Travolta was 56 years and Kelly was 47 years old.
In 2011, when they finally had their baby, father was 57 and mother at her 48! Wow, that is an age gap!
People.com says that Kelly was radiating happiness to have a son at this age. Kelly says "I didn't have any doubts. I love being pregnant. I love the closeness I feel when I'm carrying them. We had been trying for quite a few years, and then, of course, there was a time when we weren't, and then we started trying again," continues Preston. "When I found out I was pregnant, I was floored. I'd snuck out of bed and then came back and woke Johnny up in bed. We both started crying. It was wonderful."
Yes, it is wonderful. May your journey be happier than ever.
12

Mariah Carey Gave Birth To Twins At 42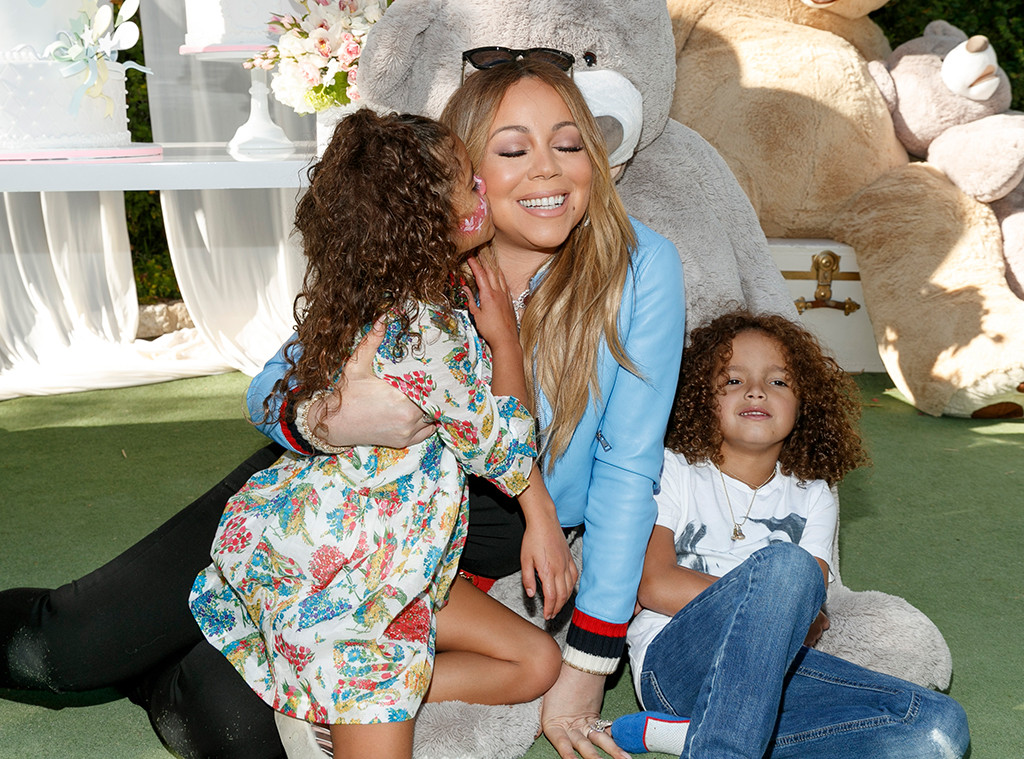 Who doesn't know Mariah Carey the American singer and songwriter? But it is not sure whether she was born on March 2, 1969 or 1970. She is generally referred to as the "Songbird Supreme" by the Guinness World Records. Her five-octave vocal range is rare. Her vocal power, melismatic style, and signature use of the whistle register are not that very common.
Mariah became the mother two fraternal twins on April 3 2011, the third wedding anniversary with her then-husband, Nick Cannon at the age of 42. According to babymed.com, the couple challenged several late pregnancy complications such miscarriages and gestational diabetes.
Her pregnancy was always considered as one of the high-risk pregnancies.She had later said "I don't think I understood the enormity and the magnitude of what it really does to your body…It's not just 'oh you don't look pretty and you have a bump'…It's difficult to understand what I went through because my pregnancy was unique in terms of what happened to me."
There is never a doubt in the fact that she is a true music diva. According to Babycenter.com, the most diva thing she ever did was give birth to her twin boys, Moroccan and Monroe. Mariah's then-husband had shared the news that during her delivery Maria wanted her twins to listen to her song and she literally closed down the hospital. Truly Diva style!
11

Nicole Kidman - 40 years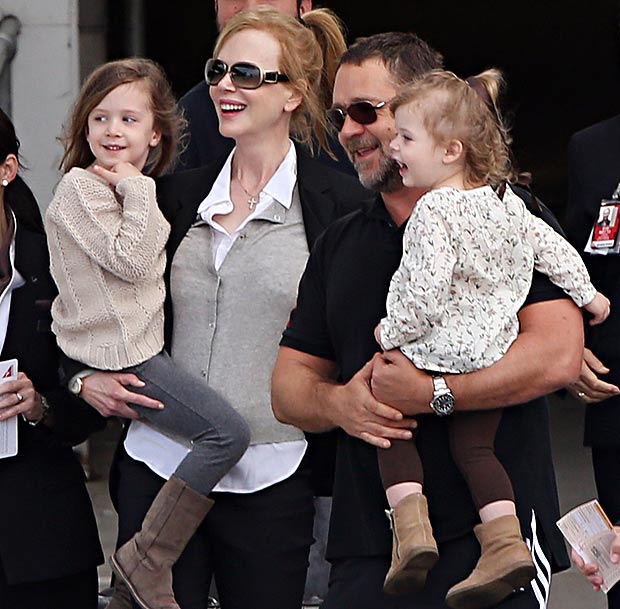 Nicole Mary Kidman is an Australian actress, producer, and occasional singer.she was born on 20 June 1967. She is the recipient of multiple awards, including an Academy Award, two Primetime Emmy Awards, five Golden Globe Awards, and the Silver Bear for Best Actress. But more than all these her wanting to be a mother is what something unbelievable.
She married the Hollywood throb Tom Cruise on the Christmas eve of 1990. This relationship gifted her two adopted children, Isabella and Connor. Dailymail.co.uk exclusively reports that Cruise's increasing interest in Scientology resulted in their divorce after long eleven years! Nicole Kidman then married the New Zealand-Australian country singer Keith Urban in June 2006.
Kidman welcomed her first biological daughter, Sunday Rose, in 2008 when she was 40 against all the odds. The couple had their second child Faith through surrogacy in 2010.
The beauty is that she wanted more children. She has been quoted saying "I still have the faintest hope that something may happen to me this year. Keith and I would love to have more babies. My grandmother gave birth to my mother at 49. I would be beyond happy and just welcome it with open arms". Wow! She had earlier publicly stated that kids are the true joy of her life.
Yes Nicole, this is what we call pure motherhood, the longing for kids and the love for them even at the age of 50! You rock mom!
10

Geena Davis - 48 Years
Geena Davis gave birth to a daughter, Alizeh, at 46 and had twin boys, Kian and Kaiis, two years later at 48. Virginia Elizabeth "Geena" Davis who was born on January 21, 1956 is an American actress, film producer, writer, voice actress, a former model, and former archer, if you don't know.
As per the Wikipedia, on September 1, 2001, Davis married Reza Jarrahy who was just 30 years old then. The couple together have three children: daughter Alizeh Keshvar Jarrahy who was born on April 10, 2002, and fraternal twin sons Kian William Jarrahy and Kaiis Steven Jarrahy who were born on May 6, 2004. As per the statistics, Geena became a mother of her first child at the age of almost 46 years and then to her twins at the age of 48! One child at late forties is thinkable. Oh Geena, you are an exception! Three children and that too two are twins! Isn't this Great?
People.com reports that, when Geena was going through the last stages of her first pregnancy, her labor started while she was driving with her husband. They were away from the LA hospital where she had been receiving her prenatal care by about 2 hours. But somehow they could make it and became the mother of a 6-lb, 11-oz girl, Alizeh. Geena's father has been quoted stating that for his daughter delivery was not a big deal and her labor was only for four and half hours!
For a first time birth at that age, isn't this amazing?
9

Celine Dion - 42 Years
Celine Dion gave birth to twin boys, Eddy and Nelson, at 42 years old in 2010 after multiple failed IVF attempts. I admire Celine Dion not only for her voice and music but also for the true love she had for her late husband René Angélil and for the strong wanting to have babies even at the age of 42. She gave birth to her first son in 2001.
According to littlethings.com, though Celine had a son and was at the top of the music charts, she knew that she was missing something inside.
She desperately wanted another baby and relied upon IVF treatment. She was trying naturally also. After five failed attempts the sixth one was a success. Thus she became the mother two twin boys Nelson and Eddy on October 2010 when she was 42 years old!
As per dailymail.co.uk, she had conceived three zygotes but lost one during pregnancy. She is happy about the sleep-deprived nights and considers them as the pleasant pleasures of motherhood. 'It's a great challenge and it's all amazing. All day I'm in my pajamas and it's overwhelming but all good' is what Dion said about this. While the babies were small she couldn't even manage time to go to her older son when he was having a fever. Sometimes lost in time and would be confused whether she had slept or had taken shower or had eaten something. Yes, this happens, story everywhere! Finally a truly successful mother!
8

Sophie B Hawkins - 50 Years
Sophie Ballantine Hawkins was born on November 1, 1964. She is an American singer-songwriter, musician, painter and also a mother to a baby girl at the age of 50! Sophie already had a six-year-old son in 2015 and that was when she decided to have her second child to give a sibling to his older one, that too at the age of fifty years!
Her both children were born in vitro fertilization of donor sperm and her own eggs as per today.com reports. She had frozen her eggs at the age of 31 and so there is no question about the quality of them. The today.com further reports that nowadays doctors are also not shying away from this idea. 'Why not?' is what they too have in their mind.
Dr. Joanne Stone, the Director of fetal medicine at Mount Sinai Hospital in New York City says that they see this trend of becoming old moms, a lot now. "Women are delaying child-rearing, reproductive technology has improved, and donor eggs are more acceptable. There's a whole community of older moms." Though Hawkins was worried about the idea of having her second child at this advanced age, she reveals that later she felt very healthy and strong. Moreover, she was getting a good chain of support which is more important than anything else.
Well, we hope there would be more to join this gang of very matured moms and age may never be a barrier to these bold moms!
7

Salma Hayek - 41 Years
Salma Hayek is a Mexican actress who moved to the US in 1991. She is a brunette beauty and has an army of fans. But the most inspiring thing is that she is also a hands-on loving mother to her only daughter Valentina with her husband French billionaire Francois-Henri Pinault.
She said to dailymail.co.uk that 'I had my child so late in life. I thought I wasn't going to be able to and it was such an important thing to me'.
It is true that she had feared about missing her chance of becoming a mother. But she was lucky enough to be a mother at the age of 41.
She had also gained almost 50 lb baby weight and was completely disfigured. We can understand how much does it cost for a Hollywood star if her figure is out of the way. But Salena was an exception.
She had said "I gained so much weight, I got an opportunity to see myself completely disfigured in many different ways - for a very good reason - and I don't regret it for a second. That is when I started appreciating my body. The things that I used to criticize, they were not that bad after all".
6

Meryl Streep Had Her Fourth Child At 42
Mary Louise "Meryl" Streep is an American actress born on June 22, 1949. She has been quoted in the media as the "best actress of her generation". Streep is specifically known for her versatility and accent adaptation. She has been nominated for a record 21 Academy Awards, in which she has won three. Streep has also received 31 Golden Globe nomination and winning eight among them. Don't you think this is massive? She is the one with maximum nominations and competitive wins than any other performer.
Karina Longworth the author points out that Meryl Streep is a woman who has managed to live a normal life in spite her long years of "stardom". That is something cool which cannot be achieved by many.
Meryl was 34 and 37 years old when she gave birth to Mamie and Grace who both are actresses now. She did not stop there. According to the LA Times, she went on to become a mother for the fourth time when she gave birth to model Louisa in 1991 at the age of 42!
Streep lost her partner John Cazale due to lung Cancer after living with him for three years. Streep then got married to the sculptor Don Gummer after six months of the loss of her previous partner. With Gummer, Meryl became the mother of four children. The oldest is the musician Henry Wolfe Gummer who was born in 1979 when Merryl was 30 years old.
5

Supermodel Iman - 45 Years
At the age 45, Supermodel Iman became a mother to Alexandra, her daughter with husband David Bowie. Zara Mohamed Abdulmajid was born on 25 July 1955, also known as Iman ("faith" in Arabic). She is a Somali-American fashion model, actress and an entrepreneur also a pioneer in the ethnic-cosmetics market, she is also noted for her philanthropic work.
According to marieclaire.co.uk, "From refugee student to world-famous model, multimillionaire businesswoman and rock-star wife, Iman's quiet determination to succeed has always set her apart".
This is very true that she became the mother a beautiful baby girl Alexandria with her loving husband English rock musician David Bowie on August 2000 at the age of 45! They got married in 1992. Though she already was the mother of Zulekha from the American basketball player Spencer Haywood and David Bowie had a son Duncan Jones from his previous marriage, the couple wanted a baby together. They were trying for a baby since their marriage through IVF but the attempt was a failure. Then they thought of adoption and started the process for it. But for their much delight, later discovered that she was pregnant naturally with her daughter Alexandria aka Lexi.
Though David Bowie had an early exit from their life for his heavenly abode, Iman standing tall and elegant with her beautiful daughters and stepson, even at this age! Hats off to you, dear lady!
4

Susan Sarandon - 45 Years
Susan Abigail Sarandon was born on October 4, 1946. She does not need an elaborate introduction as she is the well known American actress and activist. She is also an Academy Award and BAFTA Award winner who is renowned for her social and political activism for a variety of causes.
A bold lady in every sense. Her rocking career and her personal life is just an example of how one can lead own life in dignity. As per dailymail.co.uk, she has been told by the doctors that she would never become a mother because of her condition of endometriosis. She had gone on years with no birth control believing the words of doctors. But this lady had never lost her hope and she was overjoyed when she came to know that she was carrying her first child at the age of 38.
She became the mother of her first child, a beautiful daughter Eva Amurri from her relationship with the Italian filmmaker, Franco Amurri on March 15, 1985. Later from her cohabitation with the American actor Tim Robbins, she welcomed her baby boy, John Jack Henry at the age of 42 and then Miles at the age of 45 on 1989 and 1992 respectively.
See, even though the medical world declared that she can't conceive, Susan Sarandon went on to become a mother of three children and a grandmother of two children, as of 2018!
3

Kim Basinger - 42 Years
Kim Basinger had a daughter, Ireland, with then-husband, Alec Baldwin, when she was 42.
Kimila Ann "Kim" Basinger is an American actress, singer and a former fashion model who was born on December 8, 1953.
She was a successful model and later ventured into Hollywood movies and proved her mettle. Basinger met her second husband, Alec Baldwin, in 1990 when they were cast as lovers in the movie 'The Marrying Man'.
They got married on August 19, 1993. Basinger and Baldwin were blessed with a daughter, Ireland Eliesse Baldwin on October 23, 1995, at the age of 42!. Sadly, they got separated on December 5, 2000, and got divorced on February 3, 2002. End of the story!
Though Alec Baldwin went on to have children from his other relationship, Kim remained sincere to her daughter.
As per people.com, Kim Basinger's father has been quoted saying "She realizes there is more life than to career".
A very good realization, indeed.
Reprioritizing her life is the choicest decision she had made in her life. In 1998, Kim Basinger told INSTYLE that having a child "is the greatest thing I'll ever do." So it means that she really values her motherhood and is true to it.
2

Brooke Shields - 41 Years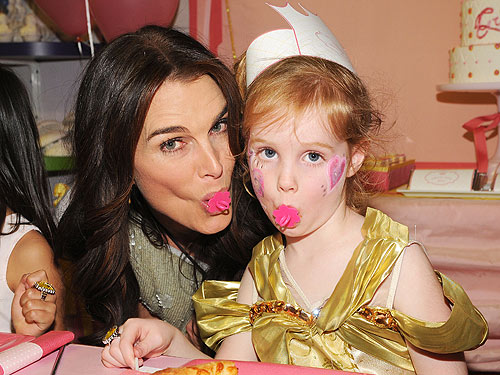 Brooke Christa Shields was born on May 31, 1965. Her beginning was as a child model and garnered the critical acclaim just at the age of 12 for her successful leading role in the film Pretty Baby(1978). Though a very successful model and actress, she had to struggle a lot for becoming a mother. The path towards motherhood was not that easy considering her acting career. She married the television writer Christopher Thomas Henchy in May 2001.
As per people.com, she had to undergo IVF treatments seven times after marriage since the couple desperately wanted a baby. Today.com reports that with her husband Henchy, Brooke welcomed her first daughter Rowan Francis on May 15, 2003.
The actress suffered from severe postpartum depression and she had published a book "Down Came the Rain: My Journey Through Postpartum Depression" depicting her ordeal. It is reported that she had thought of swallowing a full bottle of pills or jumping out of the window during her worst times of depression. Right time of medication saved her though.
But Shields and Henchy were thoroughly surprised when they came to know that she is expecting her second child at the age of 41 without any IVF treatment as per hollywood.com. She delivered her beautiful baby daughter Grier Hammond on April 18, 2006, the same day Katie Holmes delivered her baby Suri at the same hospital St.John's in Santa Monica.
1

Helen Hunt - 40 Years
Helen Elizabeth Hunt is not only an American actress and director but also a screenwriter who was born on June 15, 1964. She says she has never regretted having children in her late forties.
As per perezhilton.com, Helen had said "Part of me wishes that I'd started having children earlier and had four of them. But that's not the reality. I had to fight like a wild animal to get pregnant with my daughter; I went through a lot of rigorous fertility stuff. I think I have more appreciation of motherhood having had my daughter later. But the upside is that I'm a better person now than I was when I was 20-something. I'm not perfectly patient all the time, but I don't say, 'Ugh, I've got to pick up my kid at three o'clock.' The fact that I get to pick up my daughter is great – it's rare that I roll my eyes."
Her journey to motherhood is quite unique. With her Director/Writer partner, Matthew Carnahan she tried to have a baby. As per babycenter.com reports, she had given the credit to an Indian Guru Sri. Chinmoy who spiritually helped her in becoming pregnant. Helen and Matthew welcomed their only daughter Makena Lei Gordon Carnahan on May 13, 2004, when Helen was just one month away from her 41st birthday. A mother, after all the trials!
References: The People, The Daily Mail, Babycenter, Perezhilton.com, littlethings.com, babymed.com, Wikipedia