Celebrities. Whether you love them or hate them, there is no getting away from celebrities in this world of constant media bombardment. Being relentlessly inundated with images of celebrities in the media looking poised and perfect can certainly be frustrating and, some argue, even damaging to society. The pressure to constantly look one's best can be maddening, but there really is no need to worry. It is definitely not necessary to go overboard when simple steps are all it takes to get a person looking and feeling their best. We are continuously exposed to celebrity moms with the media proclaiming them as, "bikini ready," but what does that really mean. Everyone has a body. And surely everyone can put a bikini or a pair of leggings on that body. Let this list of celebrity moms serve as the inspiration you need to get back into a pair of leggings, no matter the size.
The celebrity moms on this list are largely examples of how moderation can help anyone feel as though they were born to wear anything, leggings included. These moms find the time to take care of themselves while chasing after little ones and managing their careers. Adherence to a diet of healthy foods and a fitness regime is the key to helping drop any extra pounds after having a baby. Perhaps more importantly though, as exemplified by the celebrities that are included in this list, is a dedication to consistency and moderation, in addition to a healthy mindset. Here are fifteen celebrity moms who were born to wear leggings.
15

Kourtney Kardashian

[caption id="" align="alignnone" width="1280"]
via: pinimg.com[/caption]
No stranger to a bikini, this first celeb is just as frequently photographed leaving a workout. The eldest sister of the infamous Kardashian clan, Kourtney is also mom to three little ones, born in 2009, 2012, and 2014, with her on-and-off-again partner Scott Disick. Kourtney credits her fitness success to a classic and sensible mix of healthy eating and intense workouts. Famously, Kourtney and her sisters serve as workout inspiration for each other, always pushing each other to do more and more.
Kourtney also keeps a gluten-free and sugar-free diet proclaiming that it keeps her feeling her best. Though it's worth noting that she's also no stranger to a cheat day now and again. It's all about balance! No matter how you feel about the Kardashian family, it's got to be said, these ladies look good. And with so much media attention on the family who can blame them?
14

Reese Witherspoon

[caption id="" align="alignnone" width="1200"]
via: nydailynews.com[/caption]
Another celebrity mom who swears by a mix of healthy eating and exercise is Reese Witherspoon. This southern belle is a mom to three kids ranging in age from seventeen to five, two with ex-husband Ryan Phillipe and one with husband Jim Toth. In addition to parenting three children, Reese also owns a production company, a retail company, and has recently joined the team at Elizabeth Arden, Inc. That's one busy mom!
Not one to let her packed schedule get in the way, this clearly busy mom seems to always find time to be active. Reese swears by the restorative power of yoga and a good old-fashioned run outside. She's continuously pushing herself to get stronger while working out with her friends to keep herself motivated. A proponent of a balanced approach to diet and exercise, Reese still takes opportunities to indulge in her favorite Southern delicacies.
13

Hilary Duff

[caption id="" align="alignnone" width="1000"]
via: hawtcelebs.com[/caption]
After welcoming her son with ex-husband Mike Comrie in 2012, Hilary faced criticism for not bouncing back as fast as some other celebrities. As is the case with most human beings, a healthy diet and frequent exercise eventually helped Hilary lose the weight she gained during her pregnancy. A rarity in Hollywood, Duff made no bones about the fact that losing weight can be a long process, but with hard work and dedication, anything is possible.Hilary's level-headed approach to weight loss had garnered a lot of praise both from those within the health industry and everyday women from all over the internet. From her childhood role on Lizzie Maguire to her current project Younger, Hilary has managed to remain a role model for women and girls by remaining true to herself and to life. Her common-sense approach to fitness and life after baby is certainly to be admired.
12

Jennifer Lopez

[caption id="" align="alignnone" width="1000"]
via: celebuzz.com[/caption]
Famous for her music, movies, and body. Jennifer Lopez originated the booty craze back in the late 1990s. In fact, there was a time when the only booty on the scene was Jennifer Lopez's. Trained as a dancer, Lopez has always maintained a healthy and toned figure. It wasn't long after welcoming twins, with ex-husband Marc Anthony, in 2008 before Jennifer Lopez returned to the public eye looking better and healthier than ever.
A fan of dancing and fitness most of her life, this celebrity mom continues to put her health and wellness first and it sure shows. At 48 years old Jennifer is still going strong, looking fitter and healthier than ever before. Like other celebrities, she credits Tracy Anderson workouts with helping her get back into shape following the birth of her children. That, and a lot of dancing!
11

Kate Hudson

[caption id="" align="alignnone" width="2500"]
via: entrepreneur.com[/caption]
Hollywood royalty Kate Hudson is no stranger to the gym. An avid student of meditation, Pilates, and many more forms of exercise, Kate works hard and it shows. Just as important as her fitness regime is her attitude. Kate famously doesn't take herself too seriously and does not beat herself up over missing a workout. For Kate, it's all about balance.
Kate is a mom to two children: a son born in 2004, with ex-husband Chris Robinson, and another son born in 2001, with ex-fiancé Matt Bellamy. In-between parenting and continuing to work actively in Hollywood Kate somehow found the time to start a business. In 2013 this A-lister co-founded Fabletics, an activewear retailer offering trendy fitness ensembles at reasonable prices. In addition to being actively involved in running the company, Kate Hudson also serves as its face, allowing her to share her love of fitness and fashion with the masses.
10

Mila Kunis

[caption id="" align="alignnone" width="2000"]
via: gotceleb.com[/caption]
A Hollywood staple since her time on That 70s Show, Mila Kunis is often photographed leaving the gym. Mila married her That 70s Show costar, and longtime friend, Ashton Kutcher in 2015 and the couple now have two children together. After welcoming her children, a daughter and a son born in 2014 and 2016 respectively, Mila has been seen looking better than ever. A staple on many a top 100 list, Mila has also worked as the face of Christian Dior.
A notoriously private person, she is often photographed leaving the gym. Mila credits yoga with helping her stay in shape during her pregnancies. And it clearly worked because this celebrity mom was seen back on the red carpet, promoting the film Jupiter Ascending, just months after giving birth. Most recently Mila can be seen co-starring in the film Bad Moms.
9

Gwyneth Paltrow

[caption id="" align="alignnone" width="1000"]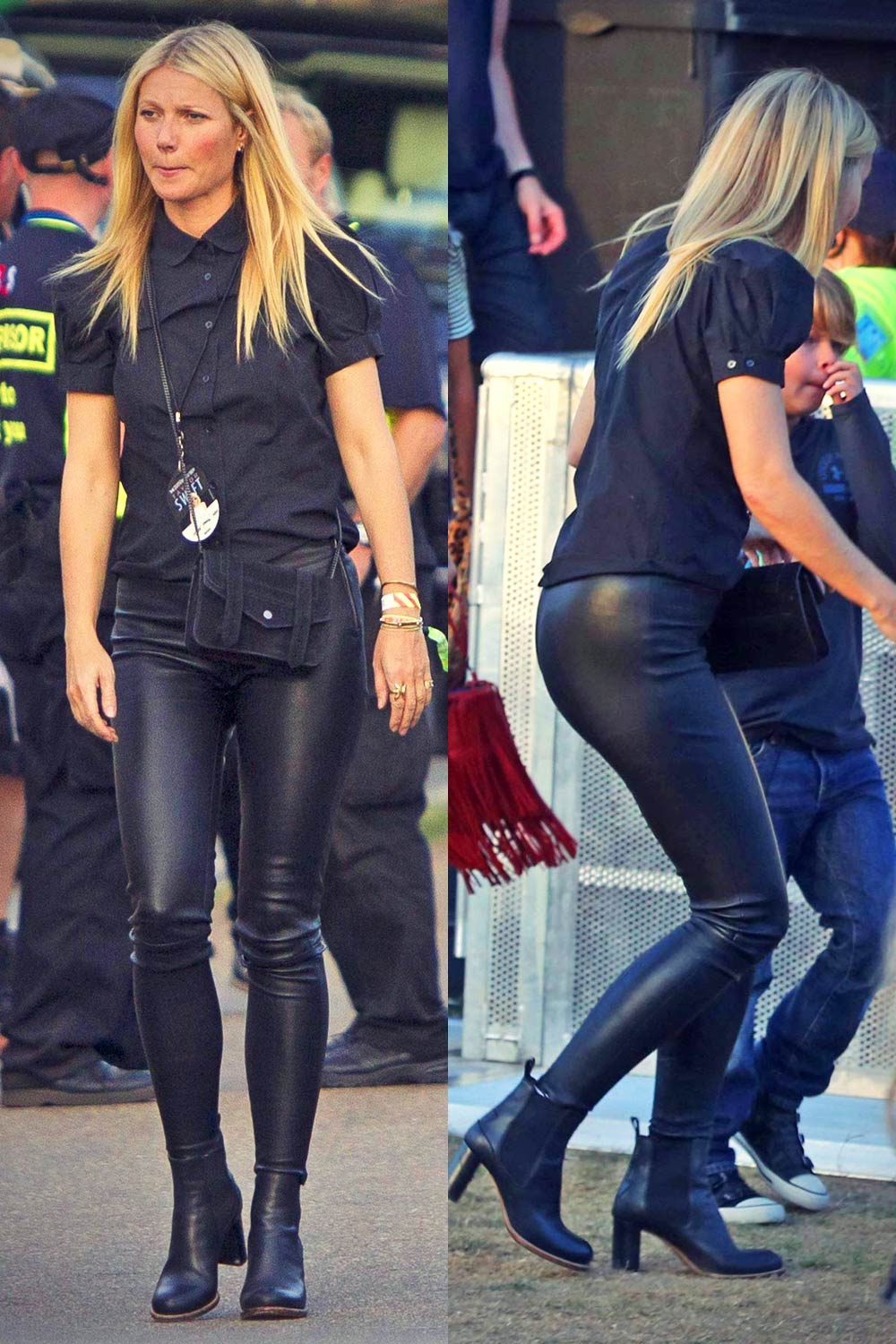 via: leathercelebrities.com[/caption]
Controversial A-lister and Goop guru Gwyneth Paltrow has made a fortune offering lifestyle advice, and extravagant gift ideas, to other women. From common sense to the quirky to the "I'm sorry, what" she can always be counted on to keep the world up to date on the latest and greatest products and trends on her lifestyle website, Goop. Mom to two children, born in 2004 and 2006, with her consciously uncoupled ex-husband, and Coldplay front man, Chris Martin. Gwyneth is definitely a busy lady.Gwyneth is an outspoken disciple of Tracy Anderson. Tracy is a legend in the fitness world. Her workouts focus on the smaller muscles in the body. These workouts also change every ten days to ensure both you, and your muscles, do not get bored. These workouts clearly work for Gwyneth as she's looking as fabulous as ever.
8

Britney Spears

[caption id="" align="alignnone" width="1450"]
via: gotceleb.com[/caption]
It was not that many years ago that this next celebrity was in the middle of a very public mental breakdown triggered, at least in part, by being ceaselessly hounded by the paparazzi. What a difference some much need privacy and ten years can make! Britney Spears is back and better than ever, currently starring in a Las Vegas residency and gracing us mere mortals with regular fitness updates, and lots of handstands, on Instagram. Spears shares two sons, born in 2005 and 2006, with ex-husband, and ex-backup dancer, Kevin Federline. Need the inspiration to push passed a fitness rut? Britney Spears is living proof that it does not matter how difficult the current situation is, things can be turned around. Britney Spears credits a mix of weight training, Pilates, and yoga for her transformation. She's back and better than ever.
7

Pink
Another celebrity mom whose no stranger to looking fabulous is none other than Alecia Moore, known professionally by her stage name: Pink. Pink met her husband, Carey Hart, in 2001 at the X Games. The couple has been married since 2006 and have two children born in 2011 and 2016. Pink has always been known for her style and high energy performances. After the birth of her first child it took her some time to get back into the swing of things.Pink took time getting back into shape after her first child so she wouldn't miss spending time with her. Pink credits her post-baby bod, and her ability to fly through the air performing acrobatic stunts, to consistent workouts with her trainer and a healthy diet. She works out five days a week, eats a healthy diet, and generally stays active. We think the results speak for themselves.
6

Chrissy Teigen

[caption id="" align="alignnone" width="1280"]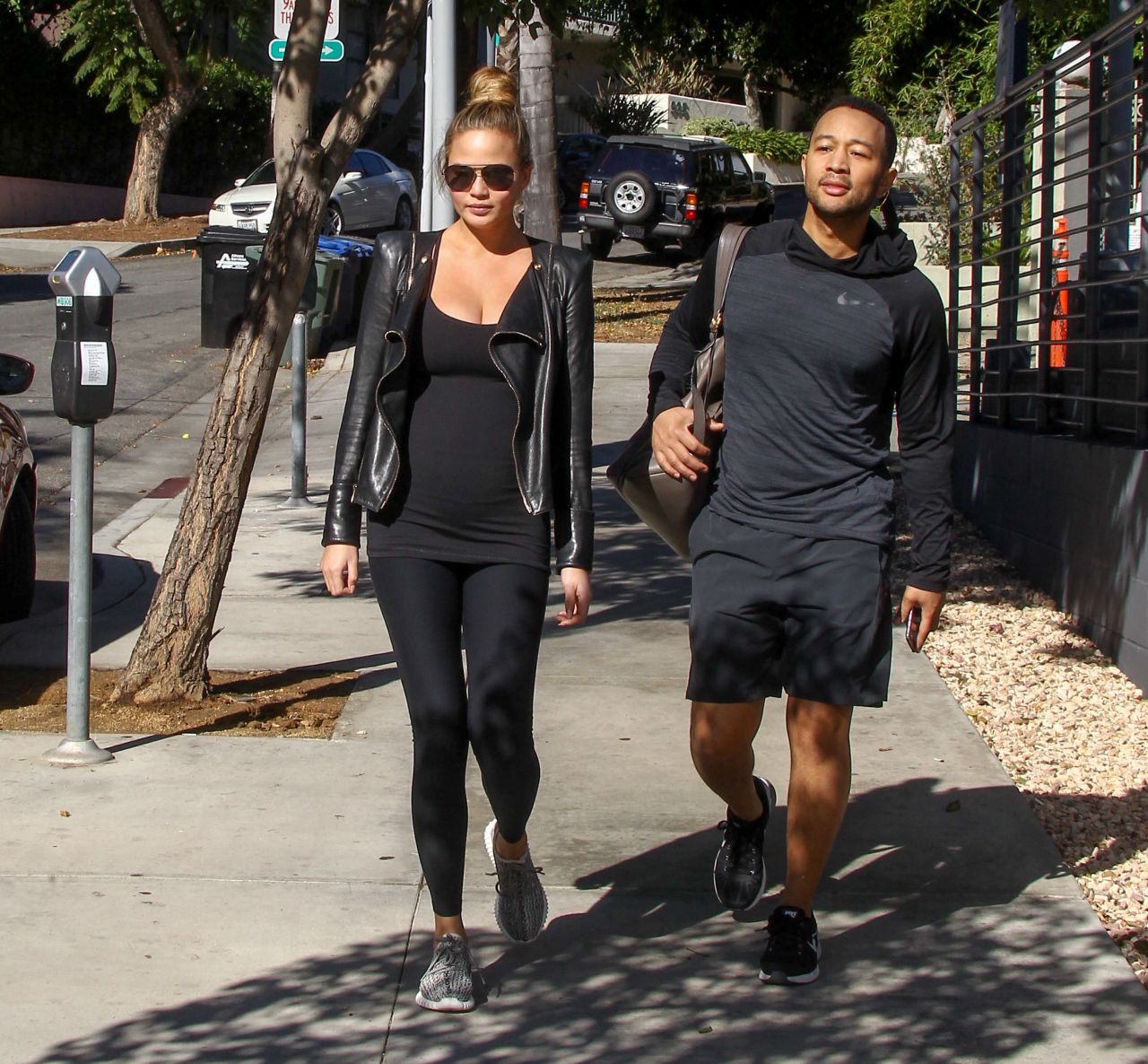 via: celebmafia.com[/caption]
Model and cookbook author extraordinaire, Chrissy Teigen, epitomizes mom fashion. Very open about her, and husband John Legend's, struggle with infertility, Chrissy has made a point of talking matter-of-factly about all aspects of life, motherhood included. Chrissy is an inspiration to us all if for no other reason than she never lets the internet haters get her down. From sharing what she's cooking, to her frankness about the necessity of Spanx, Chrissy refreshingly keeps it real.
Chrissy credits Body by Simone classes with helping her get back into shape after the 2016 birth of their daughter. As is to be expected a healthy and balanced diet is also an essential part of Chrissy's routine. Though Chrissy is not above a cheat day, or two, or three on occasion! This celebrity mom frequently shares pictures and videos of her home cooking experiments on twitter.
5

Kim Kardashian West

[caption id="" align="alignnone" width="1450"]
via: gotceleb.com[/caption]
Arguably the most famous member of the Kardashian family, Kim is known around the world for her style. Another thing Kim is known for is her curves, and she's further proof that anyone can rock a pair of leggings. During both her pregnancies, Kim was followed closely by the paparazzi and criticized by the media for her weight gain and steadfast commitment to her signature fashion style. After the birth of each of her children in 2013 and 2015, Kim worked hard to regain her figure.
Like her sister, she has workout buddies to help motivate her through each session. She credits her dedication to an intense workout regimen and strict diet plan with helping her shed the pounds following both of her pregnancies. However, she's also no stranger to the occasional cheat day. Proving once again that looking good, both post-baby and in leggings, is all about balance.
4

Jennifer Garner

[caption id="" align="alignnone" width="1024"]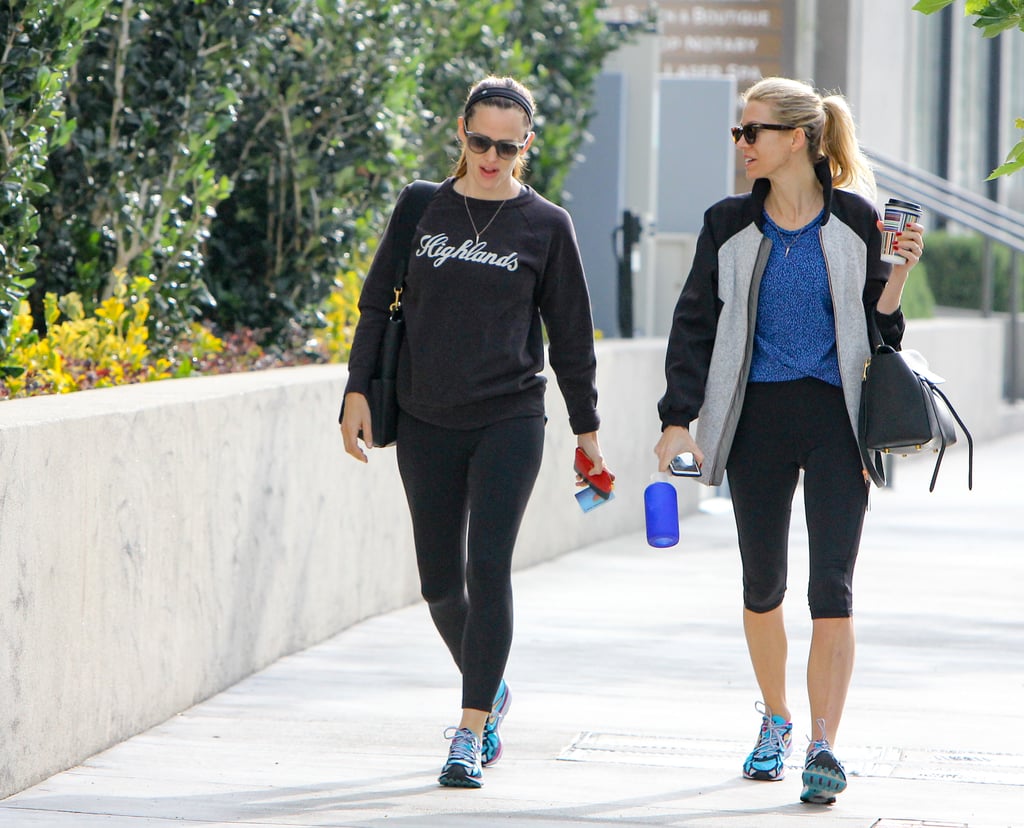 via: popsugar-assets.com[/caption]
This next celebrity mom made a name for herself playing butt-kicking super spy Sydney Bristow on Alias. Jennifer Garner is another example of a celebrity mom who can rock a pair of leggings. Jennifer shares three children born in 2005, 2009, and 2012 with ex-husband Ben Affleck. Jennifer is no stranger to working out, reportedly relying on a mix of cardio and strength training to help get back into shape.
Nowadays it's not unusual to see a photograph of Jennifer running errands around town wearing a pair of leggings. And she looks good. Another crucial part of her fitness routine is making sure to stick to a diet that is mostly healthy. Another celebrity who is no stranger to cheat days, one of her weaknesses is pizza. Which just goes to show, you can look great while still practicing moderation.
3

Jessica Alba

[caption id="" align="alignnone" width="1339"]
via: pinimg.com[/caption]
This celebrity mom made a splash on televisions screens everywhere when she starred in Dark Angel at just nineteen years old. Since then Jessica Alba has gone on to star in several Hollywood movies. Jessica is a mom to two children, born in 2008 and 2011, with husband Cash Warren. The happy couple is currently expecting baby number three!
Jessica is another celebrity who credits a mixture of healthy eating and realistic workout expectations as the key to staying fit. And it's just as well as this busy mom to almost three has become a whole lot busier in recent years. In 2012 Jessica co-founded The Honest Company with a focus creating products for the home that do not contain harmful chemicals. Jessica has turned her passion for a healthy family into a business and we could not be more impressed!
2

Nicole Richie

[caption id="" align="alignnone" width="1200"]
via: hawtcelebs.com[/caption]
Daughter of famed musician Lionel Richie, Nicole Richie has made headlines over the years for both her behavior and her fashion sense. Nicole has dabbled in the music industry and in reality television, co-starring in The Simple Life which ran in 2003. More recently she's been seen on the set of her new show Great News. In recent years Richie has focused more on fashion, serving as the face for several brands as well as launching fashion lines of her own.
Nicole shares two children, born in 2008 and 2009, with husband Joel Madden. Like many of her famous counterparts, she credits Tracy Anderson with helping her maintain her figure. Despite rumors that her low weight is due to an eating disorder, Richie maintains that she's doing fine and taking care of herself. Which just goes to show that beauty comes in all sizes.
1

Katie Holmes

[caption id="" align="alignnone" width="2023"]
via: denimblog.com[/caption]
This final celebrity mom first made a name for herself on the hit teen series Dawson's Creek. Still making headlines for her relationships, Katie Holmes is another celebrity mom who always looks good. Always a fashionista, Katie has worked as the face of several brands in addition to launching her own, now defunct, fashion line. Holmes shares a daughter born in 2006, with ex-husband Tom Cruise. Katie is often photographed out and about with her daughter, or running errands in New York City.
A big fan of running, Katie credits the cardio activity for helping her stay in shape. She even ran the New York City Marathon! Since her divorce Katie has been living and working in NYC, making her debut on Broadway. She has also worked on returning to television and movies. Whatever she is doing it's certainly working. Keep it up, Katie!
Sources: People, Delish, Wikipedia, HelloMagazine, Self