Adoption is never an easy decision. Pregnant women and their partners find themselves in the incredibly difficult position of placing their child with a family that can better provide. Hopeful adoptive parents-to-be understand the heart wrenching decision that brings them their child and completes their family. Adoption brings everyone involved on a journey of unimaginable emotions and feelings.
The process is enlightening, maddening, difficult and heartbreaking. All involved parties must be completely honest and open their lives to social workers and professionals of all kinds. It is far from easy. But all well worth it. Because the well being of that child is the most important thing. More important than money, time, and privacy.
Adoption affects all walks of life - rich, poor, young, old, celebrities and everyday people. We are a family from a very small town in rural America. I'm a stay at home mom and my husband is a blue collar worker. Our family has been touched by adoption. Someone said to us when we introduced our daughter, "Oh, you took the easy way out." I disagree. It is something that is impossible to understand until a person has been through it themselves.
Celebrities bring an interesting facet to the conversation about adoption. Many have been adopted themselves, or have adopted children. They share portions of their lives with the public. They shine a light on how magical adopting a child can be, how difficult it is to become a parent for some people, and how hard it is to share the story from which they or their children come from. Privacy is very important in adoptions, but so is honesty. Celebrities have to balance that, and I don't envy their position. But for now, lets learn more about celebrities who were adopted, and have adopted children.
15

Adopted: Mariska Hargitay
Mariska Hargitay is very well known for her long time career with Law and Order: Special Victims Unit, and for being legendary hollywood bombshell Jayne Mansfield's daughter. But to August, Amaya and Andrew, she's known only as Mom.
August, Mariska's oldest son with husband Peter Hermann, was born when she was 42. When the time came to have more children, they decided adoption was the way to do it. Early on they were matched with a biological mother, were even involved in the birth and parented the baby girl for a couple of days before their heart shattered when her biological mother decided to keep her. Shortly after, they were matched again with daughter Amaya's biological mother. And about 6 months after Amaya's adoption they were called again, and told there was a baby boy born prematurely and in need of a family. Mariska said it was a complete surprise as they had planned to wait 18 months or so before starting the process again. And they had no baby boy clothes! It was a wonderful whirlwind.
Mariska has said, "Adoption isn't for the faint of heart. " I have to agree!
14

Was Adopted: Faith Hill
Faith Hill is a well known country music superstar, also known for her super successful marriage to country crooner Tim McGraw. Faith and Tim have three beautiful daughters themselves. What isn't as well known is that Faith was adopted at birth.
Faith was born in 1967 and placed in the arms of Ted and Edna Perry. Faith has said herself that her adoptive family was wonderful, loving and very supportive. She still longed to know her birth family. So after she moved to Nashville and settled into stardom as a young adult, she began the search. She said when she met her birth mother she was amazed because she hadn't met anyone that looked like her. She was also surprised to find that she had a brother as well. He battled drug addiction, turning to crimes to support his habit. He credits his sister for helping him through his rough time.
13

Adopted: Sandra Bullock
America was shocked to learn that Sandra Bullock adopted a baby in the midst of her dramatic divorce from bad boy biker, Jesse James, in 2010. Sandra went into hiding during this crazy time, to protect baby Louis before she was ready to go public with his adoption. Five years later Sandra adopted 3 year old Laila from foster care. She tells People magazine, "I can tell you absolutely, the exact right children came to me at the exact right time."
Sandra has become a foster care and adoption champion and advocate. "There are so many kids out there who so badly want to have families," she tells People. "What's heartbreaking is that some of these kids don't get love, it's our duty to help."
There have been rumors swirling for the last year or so that Sandra is working towards adopting another child. If they turn out to be true, I wish her nothing but the best. She is blessed with beautiful children, and is a wonderful mother.
12

Was Adopted: Kristin Chenoweth
Kristin Chenoweth, known for her amazing voice and her roles on Broadway as well as multiple guest spots on TV, has made it no secret that she was adopted and proud of it. Her parents, Jerry and Junie, adopted her when she as less than a week old. They've never kept her adoption secret from her. Telling her she was chosen, never abandoned.
She hasn't met her birth mother and never felt the need to because she knows she loved her enough to give her the best life possible. "Sometimes people can't take care of that baby just yet," Kristin said. Every little piece of information she gets about her birth family gives her some peace but she has her parents, and she's incredibly happy.
She feels her adoption was a full circle blessing. That the emotions that surround adoption are hard for people to understand unless they've been directly involved and that is okay.
11

Adopted: Katherine Heigl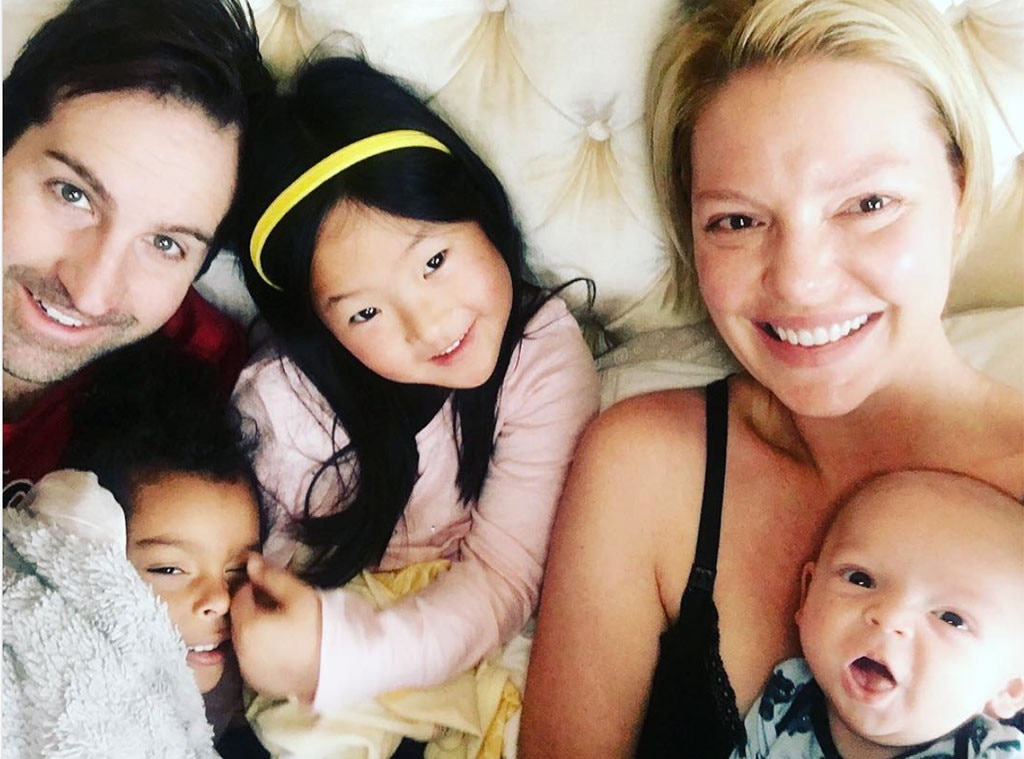 Katherine Heigl grew up in an adoption friendly family. In fact, her older sister, Meg, was adopted from South Korea. So Katherine always knew she would grow her family through adoption, and she and her husband decided to begin right away. Their oldest daughter, Naleigh, was born and adopted from the same country as her aunt!
Katherine and her husband went on to adopt their second daughter Adelaide when Naleigh was four years old. They began the adoption process thinking internationally. But out of the blue, their lawyer called them to inform them that there was a birth mother in the United States ready to give birth in four weeks. They knew it was right for them.
This family went on to have a son biologically, but Katherine has said that due to the hormones pregnancy and the postpartum period brings, she much prefers the adoption process.
10

Was Adopted: Marilyn Monroe
Marilyn Monroe is a true Hollywood icon. She was a movie star, first nude Playboy model, and believed to be JFK's mistress. She was beautiful, blonde and unafraid to use her sexuality to get ahead in a cruel world. And believe it or not, the world she knew was very cruel.
Norma Jean Baker, as she was known then, spent the first seven years of her life in foster homes as her mother was single, working and unable to care for her. She did live with her mother for a brief period of time but her mom was soon hospitalized due to mental illness. Her mother's best friend adopted Norma Jean at that point. Unfortunately, it didn't keep her from bouncing from foster home to foster home. She was sexually abused at the age of 8. Norma Jean married at 16 to escape the abuse.
Marilyn Monroe passed away at a young age when she overdosed on sleeping pills.
9

Adopted: Angelina Jolie And Brad Pitt
Angelina Jolie has never been one to follow the "rules." She was always paving her own path and marching to her own beat. It makes perfect sense that she builds her family in a non-traditional way.
She began her parenting journey in 2002 when she adopted Maddox. Three years later, Jolie adopted her daughter Zahara.  It was shortly after that when she began to date her Mr and Mrs Smith co-star Brad Pitt, and it didn't take long for the relationship to turn serious. Pitt formally adopted the kids after about a year. The famous couple had a child biologically, named Shiloh. They adopted their son Pax. And then Jolie gave birth to fraternal twins, Vivienne and Knox.
Not all is well in this fairytale. Angelina filed for divorce from Brad in September of 2016. Brad Pitt admits he was drinking heavily and has allegedly quit booze cold turkey in hopes of winning back his family.
8

Was Adopted: Nicole Richie
Known for her wild and crazy days back in the early 2000's, and for being BFFs with Paris Hilton, Nicole was adopted as a young child by famous crooner, Lionel Richie. Nicole's biological father, brother to musician Sheila E, played in Lionel's band while they were on tour with Prince. Seeing as how they were friends, and knowing Lionel and his wife could better provide for toddler Nicole, they entrusted her care to them. Lionel supported Nicole through some really difficult times. With dad's help, Nicole has really changed her life around. She's also struggled with body image, and has been slaughtered by the press for her small body size.
Now a mother herself to two young children, Harlow and Sparrow, and married to Good Charlotte rocker Joel Madden, Nicole has had her own TV show, authored a book, and enjoys a successful career in fashion.
7

Adopted: Madonna
Madonna may have used sex and pushed boundaries to boost her career in her younger days, but nowadays the Material Girl is more like a Maternal Woman. She has two biological children, 20 year old Lourdes, and 16 year old Rocco. In 2006, she adopted son David Banda and daughter Mercy from Malawai. Adding to her brood, Madonna announced this spring her most recent adoption of 4 1/2 year old twin girls, Stelle and Estere, also from Malawi.
To say that the country of Malawi and its people have become a passion for Madonna would be an understatement. "Raising Malawi" the charitable foundation that she started works diligently to fight poverty and hunger in the region, especially amongst the orphaned population. Her work also draws attention to the country, their culture, and how special and important adoption is to all involved.
6

Was Adopted: Jack Nicholson
His story seems like it should be a screenplay for a dramatic film he'd be sure to win an award for. But it is no screenplay, it is actually his life. Jack Nicholson was raised in an average American family with parents and siblings. Totally normal.
It wasn't until he was 37 years old, and after his parents passed away, that he learned the truth. The woman he knew as his mother was really his grandmother. And his sister June? His biological mother!
In 1937 June found herself pregnant illegitimately. There were few options during that period of time, and to save heartache and shame, the family banded together to ensure this new life and child would be loved and cared for. Not even on their deathbed did these remarkable ladies confess the truth. It is not surprising that Nicholson wholeheartedly disagrees with abortion. After all, had a different decision been made, he may not be here today.
5

Adopted: Tom Cruise And Nicole Kidman
When they were young and in love, Hollywood super couple Nicole Kidman and Tom Cruise were excited to start their family. Unfortunately they suffered through infertility and miscarriages. So they turned to adoption to complete their family. Isabella and Connor are now in their early twenties, and have followed their father into Scientology. The cult-like religion lead to the dissolution of Tom and Nicole's marriage and drove a wedge between Nicole and her children.
Nicole married country music star Keith Urban and together they had two daughters, Faith Margaret and Sunday Rose. Tom Cruise married Katie Holmes, and they had a daughter they named Suri. It didn't take too long before Scientology and Tom Cruise's outrageous behavior forced Katie to flee the marriage with little Suri.
All are very private people, and live their life outside of paparazzi spotlight. It would seem that their family lives are healing and mending, and the relationship between the estranged parents and their children are moving forward to a good place.
4

Was Adopted: Jamie Foxx
Born Eric Marlon Bishop, Jamie Foxx was sent to live with his grandparents, who adopted him, when he was only a few months old. He was very close to his grandmother in particular, and she did a wonderful job in raising him. Jamie has a beautiful soul and is always mindful of helping others. People magazine quoted him from saying, "In the end, if I don't use my success for good and it's only about furthering my career, I will have failed myself and the people who raised me."
Jamie is well known for his blockbuster action movies, as well as dramas. He's also very talented musically. He has released multiple albums, collaborated with other artists such as Kanye West. Music and movies came together for Jamie Foxx with his role as Ray Charles in the movie Ray.
Currently, he's in a relationship with Tom Cruise's ex-wife, Katie Holmes.
3

Adopted: Hoda Kotb
After a battle with breast cancer left Hoda unable to have biological children, and a particularly difficult divorce, she felt a hole in her heart. She knew that she wanted to be a mother, and it was a role she could no longer put off. She went to her longterm boyfriend, Joel Schiffman, and bore her heart. He agreed fully and said, "Let's get this ball rolling."
At the age of 52, and in a very hushed process, Hoda became mother to baby girl Haley, who was born around Valentine's Day. She said the family spent the first 10 days at home just acclimating to each other and finding a routine, and it was wonderful. Anytime she speaks of  her daughter, Hoda gushes with pride and so much love.
Interestingly, to speed up the adoption process and to simplify things, Schiffman's name was left off the adoption paperwork. But Hoda said he will be known as Haley's dad. In any case, baby Haley is blessed with two parents who are dedicated and fully in love with her.
2

Was Adopted: Snooki
Nicole Polizzi, aka Snooki, was adopted by an Italian American family when she was about six months old. She was born in Santiago, Chili to a family that already had 10 children. Snooki has been trying to learn more about her family since becoming a mother herself. She says she can understand the position her biological family was in, and is open to meeting them all someday.
Snooki is well known for her role on the MTV show Jersey Shore that showcased her younger partying days, troubles with substance abuse and multiple arrests. She's either loved or hated by the massive fanbase of the show. In the years since the show's end, Nicole has pulled her life together. Today she's married with two children, Lorenzo who is 3 and Giovanna who is 1.
1

Adopted: Denise Richards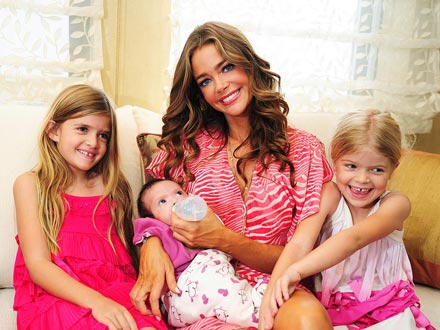 Denise Richards, better known as Charlie Sheen's ex wife than for any of the roles she's played in movies, is another celebrity who turned to adoption. She and Sheen had two biological daughters together, Sam and Lola. She had also taken in and raised Sheen's twin boys when he and their mother, Brooke Mueller, were having some serious hardships in their personal lives. Today, Denise and Charlie continue to co-parent and be there for their daughters. I give them so much credit for that because exes are not always this understanding and supportive.
Denise is a devoted mom with a strong maternal instinct. She tells People magazine that she didn't feel like she was done having children, and decided to grow her family on her own as a single mother. She adopted Eloise in 2011, after a two year process. Her daughters were very helpful, and the transition was seamless.
Sources: People.com, consideringadoption.com, abcnews.go.com, usmagazine.com, usatoday.com, adoption.com, thisisinsider.com, snopes.com, dailymail.co.uk