Christmas Eve 2002 -  the world watched in horror as a pregnant woman vanished into thin air in Modesto, California. Her name was Laci Peterson and her disappearance became a media frenzy as Americans everywhere were hugging their loved ones tight, thankful this was not their tragedy.
Laci grew up like many of us. Her parents divorced when she was very young. Her father and step father were both in the farming industry. Farm living seemed to agree with Laci, as she was always smiling. She has a bubbly personality and was the perfect cheerleader. It wasn't a surprise when Laci decided to go California Polytechnic Institute for horticulture.
She met classmate Scott Peterson one evening when he was waiting on her table when she and a friend had a night out. They began dating, even living together. After Laci graduated from college, they finally married. They worked together running a successful restaurant, but decided to sell their business, and move to their hometown of Modesto, California to begin their family.
Laci worked as a substitute teacher and Scott was a fertilizer salesman. They lived in a modest home, and seemed to enjoy their life together. Early 2002, they became pregnant with a little boy and they gave him the name Connor. Laci was excited to be a mom. Their lives were just beginning. That is until December 24th, 2002.
That Christmas Eve, Laci Peterson, 8 months pregnant with baby Connor, went missing. Her disappearance shook a nation. Movies and television shows were made to capitalize on the drama. Twists and turns of the case kept it front and center for months. Here are 15 crazy facts, twists and turns that we all should know about Laci Peterson's disappearance and murder.
15

The Disappearance
December 24, 2002, Christmas Eve, started just as any other day. Laci and Scott woke up, ate breakfast and watched some TV. Scott went fishing and Laci decided to take their dog for a walk. When Scott came home to an empty house, he thought maybe Laci went to her mom's house, so he went to the office to do some paperwork. When he came home and Laci still wasn't back, he called his mother in law. Laci's step-father called 911 about a half hour later.
Later in the day, the family's dog was found wandering the neighborhood with his leash still attached. Laci's purse was left at home. Family and friends immediately went out to search for her, hoping beyond hope that the worst case scenario was that she had fallen and was in need of assistance. Her family held out hope, pleaded with the media, and put up a reward. They wanted what anyone would want: their loved one home with them, safe and sound.
14

Scott's Odd Behavior
It is well known that the spouse is the first suspect if someone goes missing or is murdered. Immediately, law enforcement noted Scott Peterson's odd behavior in regards to pregnant wife's disappearance. Expecting a distraught husband desperate to find his wife, they found someone calm, collected and a bit defiant. During their first interview with Mr. Peterson the day of Laci's disappearance, Peterson refused a polygraph, and continued to refuse throughout the investigation. He asked very few questions in regards to the investigation, seemingly more concerned with little details unrelated to Laci's disappearance. And he was reluctant to hand over needed evidence.
The day after Christmas, police executed a search warrant to do a thorough investigation of the Peterson home. Only two days after Laci disappeared, Scott seemed more interested in protecting himself and his property than in finding his wife or helping with the investigation.
13

Media Frenzy
A white woman, pregnant, living in an afluent area in California, missing on Christmas Eve - It makes for the perfect story. And the media ran with it. Most of America can relate Laci to themselves or someone they love. Being so close to giving birth brought so much more heartbreak to the situation. Laci's family, desperate for answers, desperate to see and hear their loved one again, turned to the media to spread the word.
At a press conference, Laci's brother, Brent Rocha, pleaded into the cameras, "Whoever has her could have compassion. She's a human being. She's pregnant. She needs to take care of her baby. She's a wife, a daughter, a sister. Please return her." Scott was quiet and reserved saying, "She will be giving birth real soon. We need to bring them home and I think that's the best way we can do it all."
12

Candelight Vigil And Press Conferences
Days following Laci's disappearance, a $125,000 reward was offered according to flyers plastering Modesto and surrounding areas. Thousands of acres in parks, rivers and other wetlands were meticulously searched. On New Year's Eve, a week after Laci disappeared, the community of Modesto came together and held a candlelight vigil. Media kept their eyes on Scott Peterson and his behavior made headlines. He was seen several times with a smile on his face, or sharing a quick laugh with someone. Who are we to judge how people mourn? My family will share a laugh at a funeral, or a smile of reassurance with our loved ones.
Thanks to the media frenzy that followed, Scott Peterson's every move relvealed that he was having an extramarital affair. During that somber vigil in honor of his missing wife and son, he had called his lover.
11

Amber Frey
In November, only a month before Laci's disappearance, Scott was introduced to Amber Frey by an acquaintance. It wasn't long before they began an intimate relationship. At first, Scott told Amber he was single. But at a Christmas party, he had changed his story and told her he was recently widowed and this would be his first Christmas season without his wife. Their relationship couldn't have been going better. But on December 30, 2002, just one day before the vigil, Amber had seen Scott on TV. She immediately called the tip line and began helping the investigators.
Little did Scott know, that when he called Amber from the vigil held for his wife and unborn son, the conversation was being recorded. Amber recorded over 29 hours of phone calls and conversations she had with Scott. Amber only came public with the information of their affair when The National Enquirer planned to leak a photo of her and Scott together. Up to that point, Scott didn't know law enforcement knew of Amber, and neither Scott or Laci's families knew of the affair.
Oh and the call he made to Amber during the vigil? He told her he was ringing in the new year in Paris with his buddies.
10

More Press
Once Laci's family learned about the affair, their public support of their son in law was non existent. They immediately turned their suspicions to him. Meanwhile, Amber went public in a news conference. It was about that time that Scott decided to let Diane Sawyer interview him. The interview did not go well. He referred to Laci in the past tense, claimed that his wife knew of his affair and was alright with it, and that it wouldn't have torn their marriage apart. He also lied saying that the police knew of the affair. He denied he hurt his wife, and had this to say, "Violence towards women is unapproachable. It is the most disgusting act, to me."
Laci's mother, Sharon Rocha, told Good Morning America, "There's other questions we have that if he wasn't truthful about that, it makes us wonder if he's been truthful about everything else."
9

Laci's Due Date
The weekend before Laci's due date of February 10th 2003, another massive search effort was made by law enforcement, professionals, friends, family and volunteers. Over 5,000 tips had been called in and sifted through by law enforcement. $500,000 has been raised as a reward for information leading to the arrest of the person responsible. Laci's family asked all hospitals to be on high alert, just in case she showed up unexpectedly to give birth. It was the last hope.
This was the day Laci was supposed to birth her baby boy. Conner was supposed to make his way into the world crying and safe. Instead of throwing a baby shower, her friends were searching ditches for their bodies. Instead of holding her daughter and grandchild in her arms, Laci's mother Sharon, was facing the very real possibility that they were no longer alive. On a website set up to help search for Laci, Sharon said, "It means the world to me. There are no words to even describe it." She said the weekend search efforts helped her endure the horrendous time.
8

Laci And Conner's Bodies Are Found
On April 14 2003, the partial corpse of a woman and a baby boy was found, washed ashore in the very harbor Scott Peterson was known to be fishing in the day his wife went missing on Christmas Eve. Laci's body was in horrid state of decomposition, making it impossible to determine her cause of death. Conner was determined to have been protected more than Laci. The coroner determined Laci was pregnant when she was murdered, and her body expelled the baby.
The Rocha family waited anxiously for the remains to be identified, saying they had conflicting feelings. They needed closure, but this is not what they wanted. Scott Peterson's home, that he shared with his pregnant wife, sat quietly with a reward sign in the yard, curtains closed tightly. It was a stark contrast to what should have been, which was a happy family at home with their newborn son, with happy celebrations.
7

Scott Finally Arrested
Four days after their bodies were found, the DNA results confirmed the bodies were that of Laci and Conner Peterson. Officially, the disappearance turned into a homicide investigation with suspicions solely focused on Scott Peterson.
Scott was arrested while he was playing golf in San Diego. He was found with blonde hair, a grown out goatee, $10,000 in cash, multiple cell phones, camping gear and his brother's passport, giving the impression he was about to run.
On April 21, 2003, Scott was arraigned in court and plead Not Guilty to two murder charges. A few days later, the District Attorney's office announced their plans to seek the death penalty in this case.
6

Laci And Conner's Memorial Service
Thousands and thousands of people filtered through the First Baptist Church in Modesto, California on May 4th 2003 to pay their respects to the beautiful Laci Peterson and her baby boy, Conner. Laci's family and friends paying tribute in the only way they knew, through tears, music and love.
The remains were not released to the family until August, when they finally were able to lay them to rest. Baby Conner and his Mama shared a single casket that was draped in flowers. Two doves were released with twenty more to follow. Laci's stepfather, Ron Grantski, explained, "The two were Laci and Conner, and the rest were angels sent to help follow them to heaven." Ron had more to say, "She was the light of my life. The animal that did this to her is going to pay."
5

"Laci And Conner's Law"
Almost a year after Laci and Conner's remains were found, President Bush signed into law the Unborn Victims of Violence Act, also known as Laci and Conner's Law. This law makes it a separate crime to harm or kill an unborn baby during a violent act. President Bush had this to say about Laci and Conner, "All who knew Laci Peterson have mourned two deaths and the law cannot look away and pretend there is just one. They have laid to rest their daughter, Laci, a beautiful young woman who was joyfully awaiting the arrival of a new son ... This little soul never saw light but he is loved and he is remembered and his name is forever enjoined with that of his mother." The law is only in effect for federal crimes, and was a win by the pro-life lobby, as well as the unborn victims of violent crimes.
4

The Trial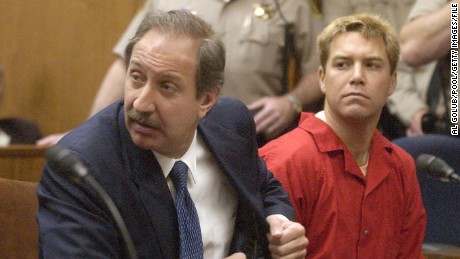 Sharon Rocha, Lacy's mother, filed multiple lawsuits against Peterson. As the executor of Laci's estate, she needed to make sure Peterson didn't receive any of her policy payouts, and that Laci's possessions remained safely in her family's custody. Meanwhile, multiple court dates and actions were happening in preparation for the murder trial against Scott Peterson. Jury selection began in March and the trial began June 1, 2004.
The prosecution showed jurors pictures of Laci and Conner's remains and in a rare show of emotion, Peterson appeared to weep at pictures of his unborn son.
Scott Peterson's defense was mainly alternative theories that pointed away from him. One theory being a possible kidnapping by a satanic cult. Another theory was that Laci became involved in a robbery that was happening around the time of her disappearance and it was all linked to a brown van. However, the prosecution's case was very strong. Scott Peterson's trial lasted five months.
3

Scott Peterson Convicted of Murder
After a week of juror deliberation, on November 12, 2004, Scott Peterson was found guilty of the first degree murder of his wife Laci, and second degree murder of his unborn son, Conner. Cries of relief, sobs of anguish, and even cheers filled the court room as the conviction came in. Outside the courthouse, the crowd was elated and roared with victory. Flowers and candles were placed in the important areas of Laci's life.
On March 16, 2005, the judge formally sentenced Scott Peterson to death by lethal injection. He was transferred to San Quentin, a prison that overlooks the very bay where he disposed of his wife's body. And where he resides on death row to this day. He is currently working towards his automatic appeal.
2

Scott Peterson Breaks His Silence
After over 12 years of sitting on death row, Scott Peterson has recently broken his silence in a phone interview with A&E for a documentary that premiered August 15th. Scott describes how he felt when the conviction came in, and how odd the sensations were. He says, "It was just like this amazing, horrible, physical reaction that I had. I couldn't feel my feet on the floor. I couldn't feel the chair I was sitting in. My vision was even a little blurry. And I just had this weird sensation that I was falling forward — and forward and down and there was going to be no end to this falling forward and down, like there was no floor to land on. I, I was staggered by it. I had no idea it was coming."
1

The Aftermath
Scott Peterson has a blog that his family helps keep up for him. He writes them letters and they post it to the blog. It seems like life on death row is decently comfortable for the convicted murderer. Scott's father Lee says that Scott has adjusted well to life behind bars. He has a loyal following, and receives letters and money from them, women especially. With that money, he can buy luxury items like vitamins and a $17 extension cord. Scott Peterson has his own cell, and can interact with other prisoners, although his life is quite confined. He maintains his innocence.
Sharon Rocha, Laci Peterson's mother, has written a book dedicated to Laci's life. Proceeds of that book will help fund the foundations she has created to help fund search and rescue efforts in missing persons cases. She says holidays are always a hard time, and memories tend to take over. She has made it her mission to ensure that Laci and Connor's memory stay alive and their legacy lives on.
Sources: www.rollingstone.com www.eonline.com www.nndb.com hollywoodlife.com abcnews.go.com www.cnn.com www.findlaci2003.us cnn.com www.fox news.com  www.nbcnews.com intouchweekly.com