Heidi Montag became famous when she appeared on the sun-soaked reality TV show, "The Hills", which co-starred Lauren Conrad and Kristin Cavallari. Many people remember watching that show when it was a big hit and thinking that Heidi was a very attractive woman with a clean-cut, natural look. Heidi hadn't embarked on her big plastic surgery journey at that point. I personally felt that she didn't need to get all of that work done, but she felt otherwise, and she does look great today, she just looks different.
Now, it's time to talk about Heidi's pregnancy and family. There are a lot of stories about both out there online.
To find out if these questionable facts were true or not, I did plenty of research and looked for reliable sources. Dependable online sources prove that a lot of the rumors about Heidi's pregnancy and family are not fake news. Heidi and her hubby, Spencer Pratt, don't shy away from the spotlight too often, so they have weighed in on a lot of topics that I'll cover here today.
If you're curious about Heidi and what's she's been up to following The Hills, you'll probably enjoy this list. She's lived an interesting life and, like most people, she does have some skeletons rattling around in her closet. What is a sure thing is that she adores her cute baby son, Gunner and takes good care of him.
We think of her as Heidi Montag, but she's actually Heidi Pratt now. She's a married woman who is all about family these days.
15

She Had Anxiety After Her Son Was Born
After Heidi gave birth to her son, Gunner, she was definitely stressed out. According to the Daily Mail, she wanted to be the perfect mom and worried about making mistakes.
She tried to talk herself out of anxiety and stress because she felt that giving into these negative feelings would take away the joy of being a new mom. These comments make her more relatable. Most moms do feel nervous when they are caring for newborns.
The baby was born in October of 2017 and mom and dad (Speidi, in other words) made sure that the little guy has his own Instagram account (@gunnerpratt).
I checked Heidi's official Instagram (@heidipratt) and she promotes some products to make a bit of cash. She's providing for her baby by posing with the products. There's also a lot of pictures of her cuddling Gunner and looking blissfully content.
Motherhood agrees with her and that's great. It's probably a lot more meaningful than her reality TV experiences were.
14

She Went On Bed Rest Before Her Son's Birth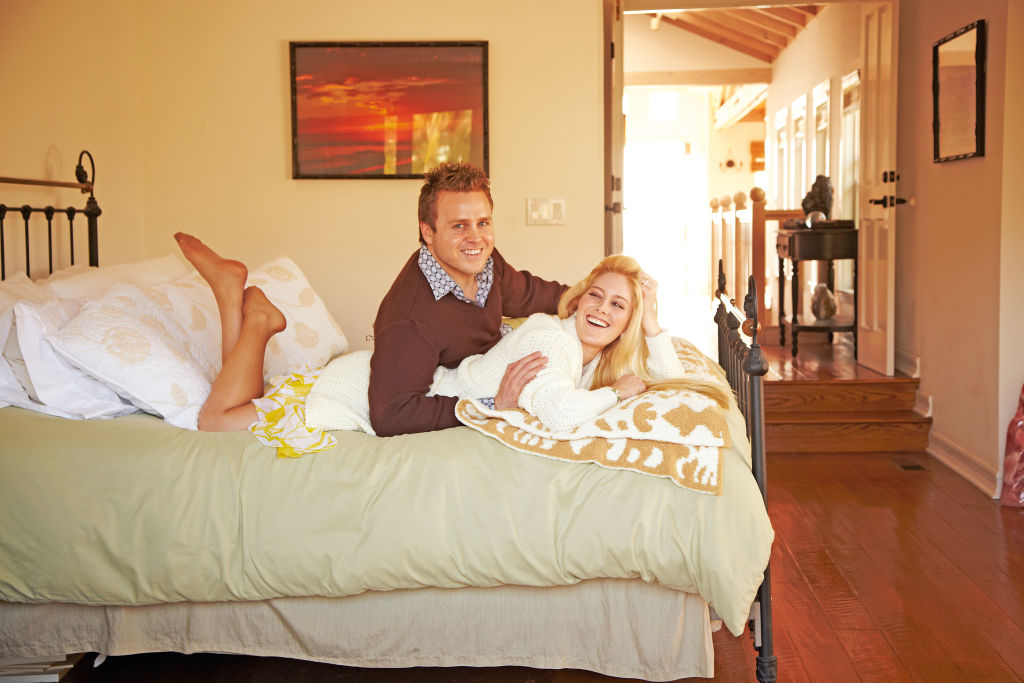 Sometimes, doctors recommend bed rest when women are very pregnant. It's the best way to ensure that they have healthy, full-term babies.  According to E Online, Heidi had to go on bed rest during month nine of pregnancy in 2017. This was a time when her hubby, Spencer, was going through some pregnancy-related anxiety of his own!
According to the American Pregnancy Association,  bed rest during pregnancy is designed to decrease the risk of premature labor. It may also be prescribed to decrease bleeding in the intimate area. Another advantage of bed rest is that it drives more blood flow to the placenta.
Heidi's baby weighed six pounds and twelve ounces. Little Gunner Stone Pratt was nineteen inches in length. That's a good weight and length for a newborn. Evidently, the bed rest was a good decision. Information about birth weight and height of the baby comes from People online.
13

She's 10 Million Dollars In Debt
Could "Speidi" really be that hard up? This rumor was interesting to me. I wanted to see if it was true or just a fabrication. Ten million dollars is a lot of debt. There needs to be some pretty heavy spending involved.
According to the Huffington Post, Spencer Pratt revealed that the couple spent all of their money (about ten million), on purpose, because they believed that doomsday was nigh! Yes, that's right! They felt that the earth was going to be wiped out by an asteroid and began spending wildly, because why not?
When life on earth continued past the assumed "doomsday" date in 2012, Heidi and Spencer were hard up. Plus, they weren't the hot commodities that they used to be. Now, Heidi promotes products on Instagram and does reality TV (often, with her hubby), such as Marriage Boot Camp, to drum up cash.
Of course, Spencer could be telling a tall tale about why the couple lost all of their money. The point is that they spent money like crazy, on fancy handbags for her, cars for him and the whole "rich Hollywood" lifestyle.
12

Her Husband's Ashamed Of All He's Done On TV
Spencer Pratt was the guy that people loved to hate on The Hills. These reality shows need villains or they are just bland. Spencer was there to shake things up. When he got close to Heidi, her friendship with Lauren Conrad started to come apart at the seams, and didn't we all love watching that meltdown?!
Now, according to the Daily Mail, Heidi's hubby, Spencer, says that he's "pretty ashamed" of his on-camera actions. Spencer is a dad now, he's not in demand like he once was, and his life has changed in general. He may be gaining the wisdom that usually comes with age.
I looked at a few message boards online to see what regular people have said about Heidi's husband and it's safe to say that a lot of people think he's a nutcase or worse. It's possible he exaggerated his worst traits to entertain his reality TV audiences and now regrets it.  With reality TV, it's so hard to know what's real and what isn't.
Do we know the real Spencer Pratt or not?
11

Heidi's Father May Not Be Such A Great Guy
This really isn't a rumor. Heidi's dad faced criminal charges for predatory conduct with a minor female. TMZ reported it and information about it is everywhere online. The criminal charges were real. Heidi's dad is Bill Montag and he was accused of predatory conduct which went on from 1993 to 1998. The details are pretty nasty.
When I read about this stuff, I felt bad for Heidi. I know that her dad deserves a fair trial like everyone, but these criminal charges against him were really detailed and didn't paint a very nice picture of Bill Montag.
If your dad was accused of stuff that bad, it would be harsh, wouldn't it? We all want to believe in our parents and think the best of them. Bill hasn't made this easy for Heidi.
10

Heidi Has A Turbulent Relationship With Her Mother
Heidi has some mommy issues. She and her mom have a relationship that isn't perfect and was not very good for a very long time. Her mom is Darlene Egelhoff, and according to the Daily Mail, Heidi's mom agreed to go on a mom/daughter therapy TV show called, The Mother/Daughter Experiment (Celebrity Edition).
This show brought up some intense drama. The show featured a "shared house" set and Heidi ended up getting drunk at supper and then spending the night getting sick in the bathroom. Her mom helped her out, but what must Darlene have thought?
There are plenty of reasons why Heidi and Darlene clashed. One of them was Spencer Pratt, but that just scratches the surface. It's interesting to look at things from Darlene's side - would you want your daughter to be on reality TV? Most parents probably don't.
9

Heidi's Changes Upset Her Mom
I'm a mom and I can understand why Heidi's mom was upset. Heidi changed her face and this was the face that mom loved! According to TooFab, the relationship between Heidi and her mom Darlene reached a low point when Heidi went to her mom's house to recover from a whopping ten plastic surgery procedures, all of which were performed at one time.
Darlene was too harsh when she told her daughter what she thought of the plastic surgery. What makes me feel bad is that I thought exactly the same thing.
Darlene said that Heidi was "fresher", "younger" and more beautiful beforehand. I'd had exactly the same thoughts! Mom hoped that some of the effects of the plastic surgery would wear off a bit over the long run.
These brutally frank comments from a frustrated parent were too honest. It wasn't the right time to share them, because Heidi was recovering from plastic surgery. It took a couple of years after these comments before mom and daughter became close again.
8

Spencer Had An Unusual Baby Naming Strategy
Spencer wanted to give the baby a name that was available on social media. According to The Cut, this was basically his baby-naming strategy! Some names that Heidi and Spencer considered were already taken.
I suppose it's more commonplace these days for couples to look at the social media availability of baby names before making final decisions about what to call their kids. I know a lot of celebs grab social media accounts for their kids before they are born. So, Spencer wasn't really doing anything too crazy.
He's looking ahead and it seems like he wants his son to continue on with the family legacy of oversharing and putting yourself out there.
The name chosen for the baby was Gunner Stone Pratt and Gunner's Instagram is already up and running.
7

Spencer And Heidi Put Crystals In The Delivery Room
You may already know that Heidi's hubby is fascinated by crystals. You may or may not know that the couple put tons of crystals in the delivery room. When their son, Gunner Stone, was born, he was surrounded by sparkling crystals, which some believe have magical and/or healing properties.
According to The Cut, the couple borrowed twenty-seven thousand bucks' worth of crystals for the delivery room. The crystals came from a shop called Crystalarium. Spencer's been into crystals for a long time now, and he's not alone. Crystalarium caters to people who appreciate the beauty of crystals and believe that crystals have special powers. Apparently, a crystal called unakite is supposed to make labor easier.
Heidi's labor lasted for only five hours. That's a really fast labor for a first baby, so maybe the crystals did work!
6

Spencer Has Hinted That Heidi Is Pregnant Again
Is Heidi Montag expecting baby number two? According to CafeMom, Spencer remarked that they'd probably have a second baby in "9 months". Was he hinting, or just implying that "Irish twins" would be the preferred setup for him and his wife? We'll found out soon enough, I guess.
When Spencer isn't teasing the press with pregnancy rumors, he's feeding his hummingbirds or arranging his crystals. It's hard to say if Spencer is a bit kooky or crazy like a fox!
On The Hills, he was viewed as a manipulator who tore Heidi away from everyone that she was close to and then began to control her and change her. However, that may have been a persona for the cameras. Spencer does seem excited about his baby, Gunner and that's a good sign.
5

Heidi's Sister, Holly, Appeared On The Hills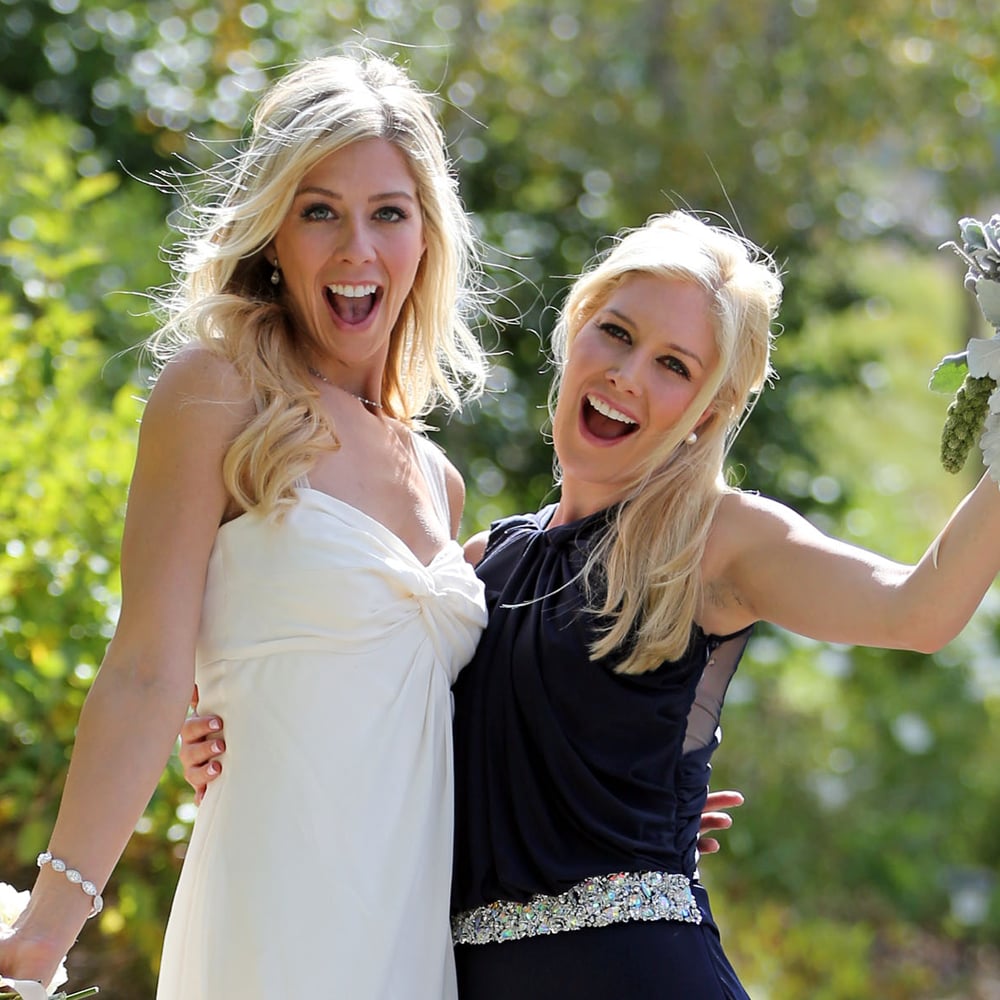 If you watched The Hills, you already know that this fact isn't questionable! Holly is Heidi's sister and she did appear on The Hills. According to Wikipedia, Holly Wilson (née Holly Montag) is older than Heidi and the elder sister appeared on The Hills, plus, "I'm a Celebrity...Get Me Out of Here!".
With "I'm a Celebrity", she was pulled in to replace Spencer Pratt and Heidi, both of whom quit the show after controversial appearances which included a few diva fits. The show is a competition and Holly ended up in sixth place.
Holly appeared in tons of episodes of The Hills (25 in total). She got married in Colorado in 2014 and Heidi was there with her on the big day. Of course, Spencer Pratt was also there, making faces for the photographer at the reception. What else did you expect?
4

Her Family Abandoned Her Dad
The family apparently shunned Bill Montag after he was charged with predator conduct. According to the Daily Mail, Bill Montag needed to post fifty grand in bail in order to get out of jail and he was charged with four nasty crimes. That's a big downward spiral from when Bill went on The Hills and walked his daughter down the aisle on her wedding day.
Bill was at daughter Holly's wedding in 2014 and he was criminally charged a year later. Heidi has said that she doesn't believe the charges, but Bill's wife took off from the family home after the arrest.
The Daily Mail reports that nobody visited Heidi's dad in jail, including Heidi herself. I've searched high and low online and I can't find information about what happened in this case. It's kind of strange. I'd like to know if Bill Montag was convicted or not.
3

Spencer Pratt Is The Alex Jones Type
Are you into Alex Jones? Do you believe in the Illuminati, chemtrails and the like? If so, you might enjoy hanging out with Spencer Pratt. He and Heidi are buddies with Alex Jones. Spencer Pratt enjoys crystals, hummingbirds and talking about the New World Order!
According to Page Six, Spencer and Heidi put the blame for their increasing lack of popularity squarely on the shoulders of the New World Order. This "order" is an elite group of stealthy and powerful people who pull the strings by making plans which will culminate in an authoritarian government.
Do you think that members of the New World Order found out that Spencer and Heidi talked trash about the NWO and then planned to hinder Speidi's comeback? Are the crystals a way to secure their future popularity? We'll never know...
2

Heidi's Hubby Healed A Big Rift With His Sister, Stephanie
According to The Sun, Spencer Pratt and Stephanie stopped their vicious feud in winter of 2017. This must make life easier for Heidi! Stephanie provoked Spencer by labeling family members as poisonous and vicious on her Twitter. Everyone thought she was talking about Spencer. Stephanie and Spencer decided to bury the hatchet in time for the winter holidays.
Why was Stephanie, who's also been on reality TV, so angry with her own brother?
According to HeatWorld, Stephanie's reality TV scenes with her brother, Spencer, were real, but those between Spencer and Heidi were totally fake. Stephanie chose to disclose this stuff, which may or may not be true. She clearly had an ax to grind! She supposedly feels "left out" of Spencer and Heidi's lives now and this may be the reason that she was mad and talked trash about the couple. However, things have calmed down and peace is restored.
1

Heidi's Mom Hates Spencer Pratt
Heidi's mom does not perceive Spencer Pratt as an ideal partner for her daughter. Part of the tension between Heidi and her mom is about the fact that Heidi is so devoted to Spencer. She seems to be crazy about him.
According to Bustle, Heidi's mom, Darlene Egelhoff, found Spencer Pratt challenging and frustrating. Maybe she didn't like the way he controlled her little girl. Maybe she thought that Heidi's extreme plastic surgery has something to do with him, and as we know, Darlene hated Heidi's new look. A lot of people had issues with Spencer, so Darlene was one of many who found him unlikable. Spencer says that the cash he earned playing the villain was worth the hate that he gets, although he's ashamed of some of it.
References: Daily Mail, Americanpregnancy.org, People, Huffington Post, Daily Mail, TMZ, Daily Mail, Daily Mail, TooFab, TheCut, CafeMom, CafeMom, Wikipedia, Daily Mail, Page Six, The Sun, HeatWorld, Bustle