There are some celeb pairings that just leave us scratching our heads. Height differences, age differences, culture differences. Some of their personalities and values even seem worlds apart. Although these factors don't really matter in the face of love, they can sometimes throw us off-guard for a little while, wondering what they saw each other in the first place. As outsiders, we sometimes have a hard time seeing certain celebrities with their real-life significant others when we're so used to seeing them with their on-screen lovers.
It's a difficult adjustment for us commoners to reckon with, I know!
Sometimes, those odd celeb couples even go on to have children together! And the Internet has a hard time containing all our comments. Sometimes these unlikely couples just fit so perfectly together. Sometimes an oddball couple will come along that leaves us wondering how they could ever be apart when divorce rumors start surfacing. Sometimes the mismatched pairs just don't end up working because they weren't good for each other in the first place.
Because we should know.
The 15 couples below prove that love is blind! It knows no age or appearance. It has no boundaries. The first couple on our list though? Probably should have set some boundaries.
15

Woody Allen Married His Own Daughter!
This relationship is difficult to talk about without grimacing, but Woody Allen essentially married his own daughter. Woody Allen began a long-term relationship Mia Farrow around 1980 and officially adopted her two underage, adopted children Dylan and Moses in 1991. He had become a father figure to them, as well as Soon-Yi Previn, who was already 21 at the time and had been adopted by Mia Farrow and her previous husband André Previn. Ok, so Soon-Yi wasn't Woody's actual adopted daughter, but he practically raised her!
Unbeknownst to anyone besides the couple, Soon-Yi and Woody began a relationship as soon as Soon-Yi turned 19. This mismatched couple married in 1997, making a huge uncomfortable leap from their father-daughter relationship into lovers. They've also adopted two daughters of their own, a circumstance that would make anyone a little squeamish.
14

Beauty And The Beast, Hayden and Wladimir
The last person any outsider would have pictured Hayden Panettiere with is Ukrainian fighter Wladimir Klitschko, to whom she got engaged in 2013. The dainty 5-foot "cheerleader" and the 6'6" heavyweight fighter. Beauty and the beast. Even standing next to each other, they look like an unlikely couple with him crouching and her straining even with the help of stilettos just to put their arms around one another.
In 2014, they had a daughter named Kaya together that left Hayden with such traumatic postpartum depression she couldn't handle alone and had to check herself into a treatment center. Not much more has been reported about her health since she left treatment, although more recent pictures appear to show the unlikely couple as one happy family. Kaya's gene pool is going to make her one gorgeous, perhaps towering, woman one day!
13

 Not The Man We Saw With The Titanic Star, Kate Winslet
This might give you one of those "I didn't realize they had a kid together" moments. Kate Winslet is, of course, the soft ivory beauty we'll always remember for her performance on The Titanic. Her ex-husband and baby daddy, Sam Mendes, isn't quite the man we pictured her with after her enamoring relationship with Leonardo DiCaprio.
I'm willing to bet that if I hadn't attached the picture of Sam Mendes, you probably wouldn't have even known who he was. When you hear Kate Winslet, you picture her with Leonardo DiCaprio. Us common folk can't help but compare movie stars' acting flames to their real-life flames. However, Kate and Sam met in real life in 2001, married in May 2003, and welcomed son Joe Alfie Winslet Mendes in December 2003. Sadly, the marriage broke up in 2010 after nearly 7 years of marriage, or approximately a lifetime by Hollywood standards.
Perhaps this odd pairing underscores Winslet's feelings of normalcy. She says she struggles with the idea of being considered a movie star. As she told WSJ Magazine, "I just don't feel like one, and I don't live like one either--not the way I imagine a proper movie star living."
12

Angelina Jolie's Foray Into Parenthood Started With Billy Bob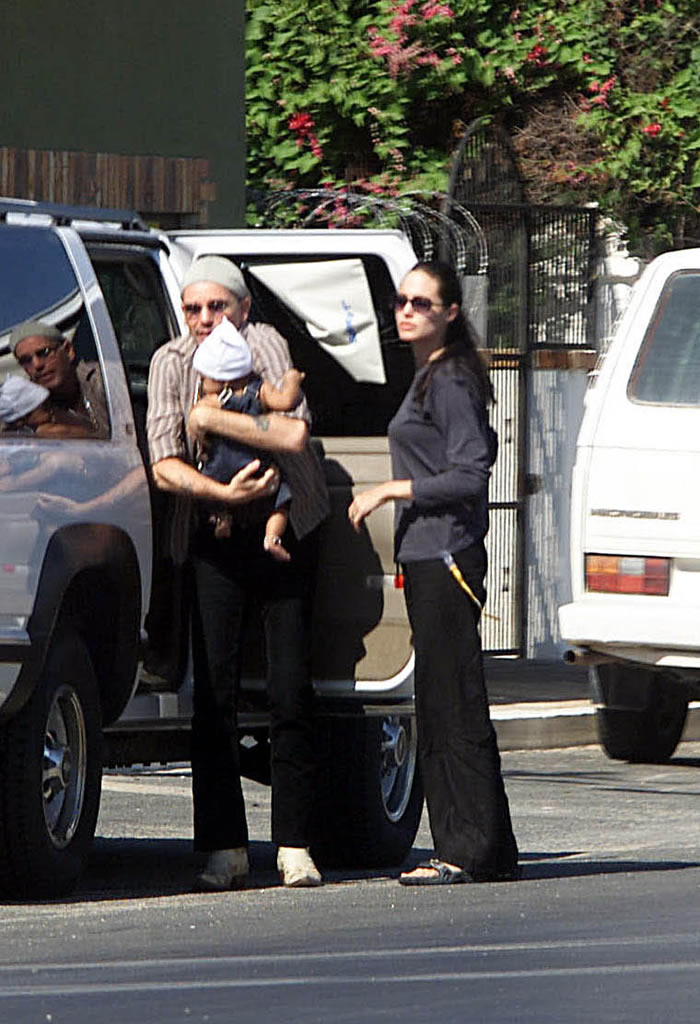 I'm willing to bet that you didn't realize Angelina Jolie began her quest to adopt all the babies while she was still married to Billy Bob Thornton. We all know that Brad Pitt adopted Angelina Jolie's non-biological children, but you might not remember that the adoption process for Maddox was originally started by Angelina Jolie and Billy Bob Thornton. Maddox's adoption is likely what caused the Thornton-Jolie marriage to succumb. Angelina was ready to start a family. Billy Bob was done with fatherhood.
Billy Bob and Angelina were married in 2000 and divorced in 2003 shortly after announcing the adoption. The couple met Maddox together in Cambodia in 2001 when they began the adoption process. In 2003, Jolie took custody of Maddox after the couple announced the adoption. However, three months later, when the couple broke up, Jolie became Maddox's sole parent. When Maddox was adopted, Jolie changed his name to Maddox Chivan Thornton Jolie. Although they originally planned to adopt him together, their divorce must have interfered with that plan. Only Angelina's name is on the adoption papers and Jolie took sole custody of Maddox. To this day, it appears that Maddox has no relationship with Billy Bob or ever did. Brad Pitt went on to adopt Maddox, with his last name changing once again to Jolie-Pitt.
11

The Comedian And The Serious Face
The commentary about oddball couple Melissa McCarthy and Ben Falcone is hilarious, and they find the humor in their relationship themselves. A spoof of their relationship is even portrayed in the movie Bridesmaids. Even when you see the couple together giving interviews, their giggly wit takes over as they put their quirks on display. Their hilarious marriage dynamics are undeniable.
Despite their odd pairing, they appear happily married with two daughters, Vivian and Georgette. Melissa's pregnancy with Vivian had to be written into the final season of Gilmore Girls, and Vivian ended up playing a younger Melissa in the 2016 movie, The Boss. Even though the couple dated for nearly a decade before getting married in 2005, their lives have been heavily intertwined with both of them performing in each other's films and always showing up to support each other at events. They just work together.
10

America's Sweetheart Sandra Bullock And Her Bad Boy
One of the most unlikely marriages of all was the marriage between tattooed biker dude Jesse James and America's sweetheart Sandra Bullock. The playboy who was formerly married to a porn star somehow married into the Hollywood elite in 2005. Perhaps their dichotomous personalities are what made their split inevitable.
Right before they split in 2010, Jesse and Sandra brought home their adopted son, Louis for whom they had begun the adoption process four years earlier. When Bullock learned of James' prolific cheating, she carried out the final adoption process alone. When asked if she would be including Jesse in the relationship, she said "I will be adopting as a single parent. Anything else will be taken day by day." The world was shocked first by the news of their secret adoption and soon after by the news of their divorce. Jesse James admits that losing "my son" was the hardest repercussion to overcome after his divorce to Bullock.
9

The Odd Couple It's Now Hard To See Apart
Even though Heidi Klum and Seal at first appeared to be quite the mismatched couple, the world soon couldn't see the pair apart. After years of seeing them renew their vows in the most over-the-top yearly celebrations and having beautiful children together, we all thought they just seemed meant for each other. Their split soon became harder to process than their odd pairing.
The flawless German-American model and the scar-faced English singer started seeing each other in 2004 while Klum was pregnant with Flavio Briatore's daughter. Seal was even present for Leni's birth and became the only father she ever knew, as Flavio never became a part of her life. Seal adopted Leni in Dec 2009 and changed her name to Leni Samuel, giving her his surname. Seal and Heidi wed in Dec 2004 and had three more children together: sons Henry and Johan and daughter Lou. Four kids and 8 seemingly fairy-taleish years later, Klum filed for divorce in 2012. Their union was officially severed in October 2015. The world held its breath hoping the pair would reunite, but that wish finally seems to have disintegrated.
8

An Unlikely Duo-Turned-Trio Of Parents
So, once upon a time, in 1999, Kate Beckinsale had a daughter named Lily with Michael Sheen. The odd couple were together from 1995 to 2003 and had their love child somewhere in between. For the last three years, Michael's flame has been Sarah Silverman, who has pretty much stepped into the role of step-mom for Lily. And this is all A-OK by Kate. The little trio of parents are all friends to this day.
Though the unlikely pair split over a decade ago, Kate and Michael are still very close, Beckinsale saying "I've known him since I was 22, we're basically family." Michael even makes appearances on Kate's Instagram account from time to time, especially at events that involve their daughter. Of Silverman, Kate says she's glad Sarah's part of the village that's helping raise her teenager and "building up the fabric of [her] experience of becoming a woman."
7

Eddie Murphy's Illegitimate Child With A Spice Girl
Perhaps the drama that unfolded when Mel B (aka Scary Spice) fell pregnant with Eddie Murphy's child is a testament to their unlikely pairing. After announcing her pregnancy with Eddie Murphy's baby, Mel B came under scandalous fire, being called a "gold digger" after Eddie Murphy denied paternity of her daughter. A huge paternity battle ensued in which Eddie Murphy turned out to be the confirmed father. The whole story is worthy of a Jerry Springer episode!
Even though the battle was ugly, the product of this unlikely couple was a beautiful daughter named Angel, born in 2007. Although Eddie Murphy didn't have any involvement in the first few years of his daughter's life, he appears to have an amicable relationship with Mel B and Angel now. Most recently, Eddie helped Mel B secure custody of Angel in a bitter custody suit against with her estranged husband, Stephen Belafonte. The judge ruled in Mel's favor saying the courts don't have any jurisdiction to grant Belafonte rights to see his stepdaughter.
6

This Couple Met When She Was 12 And He Was 38
The age difference between Celine Dion and her late husband René Angélil has been discussed at length, online and elsewhere. Considering Celine was 12 when she met her 38-year-old future husband René, it's strange to think about how that girl and that man would one day wed despite the 26 years between them.
Dion was born in 1968, the same year as René's eldest son, Patrick. She was a child and he was a man nearing middle age when she sent him a tape of her singing and he subsequently mortgaged his house to finance her first album. Their romantic relationship didn't start until she was 18, and they got engaged in 1991, the same year he suffered a heart attack. They married in 1994 and used IVF in 2000 to conceive their son René-Charles. Again in May 2010, the couple announced they were expecting twins after six rounds of IVF. Even though nature seemed to be against the couple, they found themselves a happy family of five before René sadly passed away in 2016 from complications of his throat cancer.
5

Hey Girl, I Want You To Have All My Babies
Ok, let's talk about Eva Mendes and Ryan Gosling. While it's not weird that the two prettiest people in Hollywood got together and had babies, their pairing has ambushed any likelihood of every woman in America having their "Hey Girl" crush answered. So yeah, it's an odd pairing when you consider how every woman saw Ryan with herself.
Esmeralda Amada was born in September 2014, much to the female world's surprise. Not even a year later, Eva was pregnant again with their second child. Amada Lee was born in April 2016. Since Eva is in her 40s, perhaps the couple were eager to build their family.
Eva and Ryan kept the world in the dark about their impending progeny. Maybe it would've been bad publicity for Ryan to break hearts everywhere by admitting to having a family since his entire image is based on his "Hey Girl" do-anything-for-his-love persona. Okay, maybe the couple just wanted to stay out of the spotlight. But hey, I guess we can all agree that this gorgeous couple could only have the prettiest babies ever.
4

Four Babies In Four Years With Two Baby Mommas
Just when we all thought Hugh Grant would always be a childless bachelor, he fathers four babies in a span of four years with two different non-celebrity women. While this might sound like more fodder for late-night trashy talk shows, Hugh appears to be one of the happiest daddies!
Hugh's first baby was the product of a fleeting affair with receptionist Tinglan Hong. Daughter Tabith was born in September 2011. In Feb 2013, the pair had a son named Felix together after reuniting. Here's where the plot twists though. Swedish television producer Anna Eberstein was pregnant with another of Hugh Grant's children at the same time as Tinglan. That made three babies within 15 months for the 53-year-old actor and the two unknown mothers in their mid-30s. At the time, both baby mommas appeared to be living in apartments worth over $1 million, presumably paid for by Hugh, within walking distance of the actor. Once again, in 2015, Hugh and Anna had another baby girl. It appears that once Hugh got a taste of fatherhood, he loved it.
3

The Head Scratcher That Is Rob Kardashian And Blac Chyna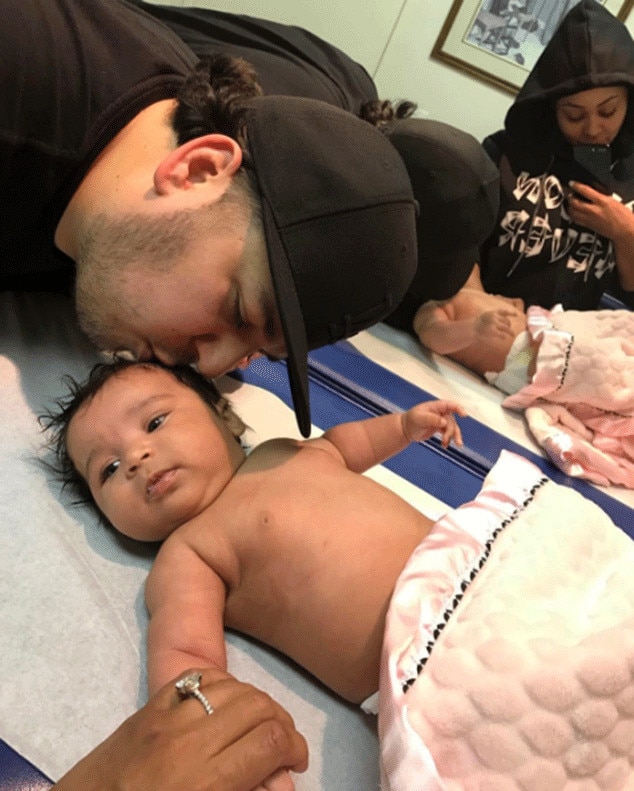 Rob Kardashian and Blac Chyna, a most unexpected pairing. Where do we even start? First of all, Blac Chyna and her ex Tyga already had weird ties to the Kardashian family. Blac Chyna had once been a friend of Kim's and Tyga had started dating Kylie Jenner. Rob and Blac's budding romance led to Kylie feeling super betrayed, and the whole relationship left everyone feeling pretty uncomfortable.
We weren't sure Rob was ever going to become a proper adult. Then, within four months of dating Blac Chyna, he learned he was going to be a dad and felt pretty good about his life. Blac seemed to have lifted his spirits and some of his depression. But just as quickly as Blac rolled onto the Kardashian scene, she rolled back out, taking newborn daughter Dream with her. The sheer love we witnessed on the family's faces in the delivery room makes the split seem so heartbreaking, with Blac taking baby Dream out of Rob's life and seeking sole custody.
2

Hollywood Royalty And The Commoner
Despite their unlikely story, Matt Damon and Luciana Barroso's relationship embodies everyone's dream. A celeb walks into a bar and ends up marrying his bartender, a common woman. They live happily ever after and have three more kids together. Famously infamous, Luciana is breathtaking in her own rite, but she has never used Matt's fame to catapult her own career. You can hardly even find anything about her online other than pictures of her accompanying Matt to events.
Luciana didn't know who Matt was when he walked into the bar that day, and he was the nervous one, intimidated by prospect of talking to the lovely lady he noticed across the bar. As they say, the rest is history. Their love story is an enduring one. Their 11 years of wedded bliss is something few movie stars can top. The pair renewed their vows in 2013 in St Lucia to make up for the little city hall marriage they had while pregnant with their first child together. Matt says Luciana keeps him rooted and guards their life from scandal. He's a stud with a huge world of women vying for his attention, and he only has eyes for the woman of his dreams and the momma of his babies.
1

The Diva Superstar And The Nickelodeon Alum
Mariah Carey and Nick Cannon are quite the unlikely pair. He's 11 years her junior and has quite a different persona than she does. She was diva superstar, while he was a little-known Nickelodeon alum with a boyish grin. Mariah's first marriage was to a much older Tommy Mottola, so it was strange to see her fall for a much younger lover this time. Well, it was just strange to see her with Nick Cannon to begin with, but the age difference makes it even stranger. So strange, in fact, that it led many to wonder if their marriage was just a publicity stunt. Their 6-year marriage proved to everyone that it couldn't have all been in the name of publicity.
Although they were happily married in 2008 after a quick engagement, the couple filed for divorce at the end of 2014 and finalized it in 2016. In 2011, Mariah gave birth to their twins, Monroe and Moroccan. Despite their split, Nick and Mariah still have an amicable relationship and often get together for the sake of their twins. There are always rumors that the couple is getting back together, but nothing has been verified...yet!