Irrespective of their age, cast, color or creed parents love giving advices to their children. Hearing advice when we were kids and dishing the same out them when we got the chance - it almost seems like a legacy being passed on. Some parents go little more beyond giving mere advices. That's when the 'RULES' come in. Some parents, especially mothers, are very specific about something things and those become their parenting rules. Many of us have kept followed such rules and hope our kids will abide by ours.
At the age of 44, what would be the advice you give to your children? There would be many depending on our life circumstances and experience. A celebrity like Victoria Beckham, a fashionista, a high profile working businesswoman and a proud mother of four children ranging from teenagers to 7 year old - what would be her parenting rules, if there are any?
A net $450 million worth lady (not mentioning her footballer husband David Beckham's asset here!) the 'Posh Spice' is not going to take things easy when it comes to the life of her children. Her children with the footballer husband David Beckham are Brooklyn Joseph Beckham(19 years), Romeo James Beckham (16 years), Cruz David Beckham (13 years) and Harper Seven Beckham (7 years).
Obviously, there are some interesting yet noticeable parenting rules she has put forward for her children. Many of them are worth following by anyone. Here is a quick look on fifteen of those Victoria's Parenting Rules which she makes sure her kids follow!
15

Brooklyn Found Out About His Dad's Fame At 13
When you are a celebrity, you are under media 24*7. What you dress, what you eat, whom do you hang with, where you go, what shopping you do, how many aids you have, how you treat them, how you maintain your public relation, how you manage your social media.. and the list never ends.
Though you have the glitz and glory, leading a celebrity life is not that easy. Though many of them enjoy the celebrity status, it also a pressure on them for being publicly scrutinized all the time. Not forgetting the drastic end of Princess Diana following an unfortunate car accident after being chased by the paparazzi!
Victoria and Beckham never wanted their children to be under this pressure. They always wanted their kids to have a normal life like any other child. The whole world knows the English Soccer star David Beckham and his equally famous pop star wife Victoria Beckham.
But it seems there was one person who did not know the celebrity status of his parents until the age of 13.
Beckhams' oldest son Brooklyn never knew that he was the son of celebrity parents!
He had said "I went to a football game and people were shouting my dad's name and I was like, 'What?! Oh my God.' I don't look at them like that." Sounds impossible but truly amazing!
14

Can't Post On Social Media Without Dad's Approval
The social media is extremely useful and helpful, don't you agree? We feel that the world is at our fingertips and we have the access to anything and everything in seconds. Facebook, Whatsapp, Twitter, Instagram etc. are the ones which consume the major chunk of everyone's life nowadays. Being a celebrity the usage of social media is a necessity more than an entertainment. It helps them to converse with the public. They can make their presence felt and it also helps to increase the number of their followers and finally build up a strong fan base.
But the Beckhams seems to be very strict with the usage of social media by their kids. As their oldest has turned 19 and definitely on that age, Beckhams had made it clear that they have the complete control over Brooklyn's accounts.
As per the marieclaire.co.uk, the younger kids are not allowed on social media, the Beckhams are super protective. Brooklyn already has fans in millions.
David said, "I'm constantly on at my son who is 16. He doesn't post anything [on Instagram] without showing us [first]. He talks to us about everything, so we are very lucky."
It is nice to know that the famous parent duo has complete control over their kids Instagram and Twitter accounts.
13

There Are Strict Dating Rules
Dating is a crucial and unavoidable part of everyone's life. But Beckhams are not easy with their kids' dating, like many other parents. They are aware of the fact that they are not normal parents and their kids will be under the strong media attention 24 / 7, especially when it comes to dating. Who loves to make a controversy and stir up gossips or lose talks? Clearly, not the Beckhams!
That is why they have laid down strict dating rules for their older boys. They had already set the dating rules for Brooklyn their 19-year-old. It seems his two younger brothers will also have to follow the same suite as per joe.co.uk. It has been also reported that Beckham saying "We are strong parents and strict parents, but we're like most parents. We love our kids and we want the best for them, so we will see."
Definitely, all parents need only this. Brooklyn's parents are celebrities. They ensure that Brooklyn has a set of strict dating rules and guidelines to follow. When Beckham was asked if the rules stand for even Harper their daughter when she turns of that age, he laughed and said 'That will definitely be different." Yes, Girls are different!
12

No Excuses On Family Day
They are one of the busiest couples - David Beckham and Victoria Beckham. They have four children ranging from a young adult of 19 years to a senior infant of seven years. Many have wondered about the secret behind this close-knit family. Well, I should say it is the quality time they spend with each other.
We all want to excel in our lives and in our relationships. But how much effort we put into this sincerely?. We can not just blindly hope that everything would fall in place on its own.
Family day out might be set as a rule for the kids by Beckhams, but actually, it is the quality time Beckham and Victoria get to spend with their kids.
It will make the life much happier, easier and memorable. Their weekends are usually packed with family outings irrespective of kids' other plans if any.
According to Victoria, all the kids want to jump on their skateboards during weekends. But they prefer taking their kids to art museums and visit extraordinary exhibits. The kids might not always enjoy it, but that seems important to the parents. Victoria added, "I took all of them to the Tracey Emin exhibition not too long ago, which they loved, for about 10 minutes, then they wanted to go jump on their skateboards."
11

Not Allowed To Miss School
Being possible to lead a wealthy and healthy life is a blessing. I have always felt that the life becomes meaningful when I see the goodness in my kids. At a young age, people calculate our success seeing the profile or pay we have. But at an old age, success relates to the life of our children. If our children are successfully settled, then we are considered to be successful. How relative!
Victoria and Beckham have always enforced their kids to be respectful and to be polite. Brits are famous for their manners and Beckhams are not an exception. The kids with strict parents may behave differently at school, thinking they can enjoy liberty there. But it seems Victoria is a mother who never wants her children to miss her school even if it is snowing while other kids are taking a leave. She has recently shared the snaps on Instagram showing her kids getting ready for school in midst of heavy snowing. Mockingly it was captioned as 'Terrible mother'. This shows how determined she is, as a mother.
As parents, they want their kids to be well behaved in school too. Whenever they meet teachers of their kids on parent interactive sessions, it has been quoted that this is something Beckhams have to ask - "That's one of the first questions that we ask when we go for meetings at school is about their manners: and it's one of the first things their teachers say - that they've got impeccable manners."
Happy parents! Hope their kids never cause or get into any trouble at school.
10

Their Fragrance Was Named "Respect" For A Reason
Respectfulness and thoughtfulness are central to David Beckham's mindset. Beckham has also bottled up a new fragrance in the name 'Respect'. About the name of the scent, Beckham has said, "The name is hopefully something everyone can relate to and have their own interpretation of" and this is true. Give respect and take respect.
It is hard to raise kids in complete discipline now. To raise celebrity kids is much more difficult because of the public scrutiny. Both of the Beckhams had seen their own parents hardworking and valuing the family relationship and the quality time they spend with their kids. Beckham has been quoted saying "Their upbringing is a lot different to my upbringing so I think there is always a kind of fear factor… I mean, the first day that you have kids, you constantly worry."
But I feel there is not much for them to worry. The Beckhams were brought up with strong discipline by their parents. It was important for them to have respect for people. Both of them has already proved that in their public life really well. What we sow is what we reap. Dailymail.co.uk reports that Beckham kids have definitely got that.
9

Working Is A Must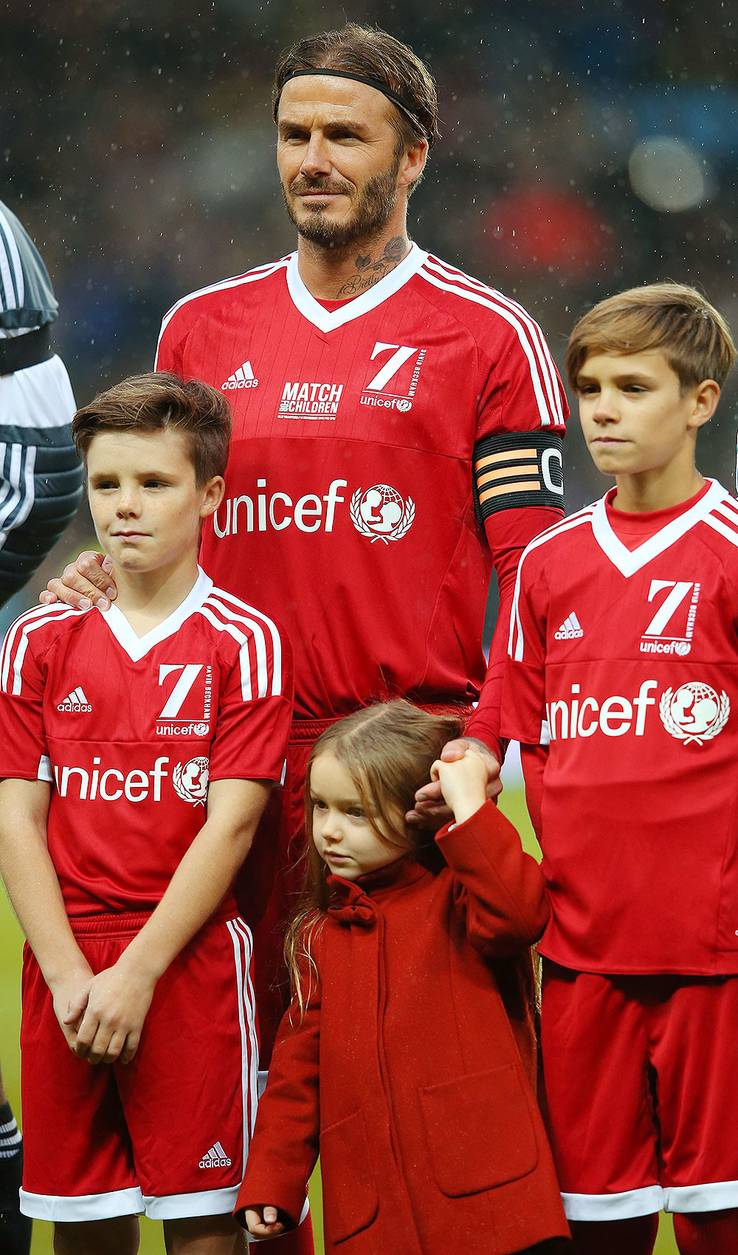 Doctors' kids are usually doctors. Engineer's kids are mostly engineers. Teacher's kids are usually teachers. This was the norm for quite some time. In that way, actors kids must be actors. Hollywood parents usually try their level best to open an account for their kids. But the Beckhams are an exception. There is no compulsion from the parent side on the kids for choosing the right path in their life.
Brooklyn has got his father's soccer skills, photography talent and eye for art. He has been quoted saying "I love football, but I'm also very passionate about photography and film. I'm keeping my options open right now." (source: VogueUK)
Their third child, Cruz is venturing into the elaborate music world as a matter of fact. We would wait and watch whether he closely follows his mom ('Posh Spice') in the music world. Beckhams want their children to choose a career that makes them happy, but they have to work.
Victoria noted, "They won't be these children that stay at home and don't do anything. They will definitely work."
The Beckhams are making it clear that life cannot be taken for granted and should be happy. The kids are free to do that leaves them happy but parents have made it clear that in order to achieve the bliss kids have to sweat it out!
8

Always Say Please And Thank You
David Beckham and Victoria are one of the hottest and most strict parents among the celebs of Hollywood. It is very true that when kids have the privilege of a wealthy lifestyle, it is easy for them to get spoilt.
But David and Victoria have enforced strict rules and the importance of manners on the kids from a very young age.
The magical three words - 'Sorry, Please and Thank you' are loved by them very much.
According to the Dailymail.co.uk, the Beckhams had trained their kids to use these words lavishly from a very young age and thus made sure that their kids are polite enough. David had said earlier "They've been saying their please and thank-yous since they were two or three years old. They're very polite boys." The same training has been given to Harper, their youngest daughter so that she can have impeccable manners.
Though only 7 years, she has proved to be a well-mannered girl and is appreciated well even by the media.  A famous quote says "Treat everyone with politeness even those who are rude to you. Not because they are nice, but you are." I believe this is what the
Beckhams want their kids to be. A parenting principle worth following!
7

No Football Inside The House
Being parents, we all impose rules on our kids. We feel that it is our birthright or duty and we expect our kids to strictly follow that, even though it does not happen that way always. It is funny that we never realize how strange our rules might be felt to others!David Beckham is the one of the well-known world-renowned soccer players of all time. His soccer career is not only acclaimed by the British, but by the whole world! He is a cultural icon and highly regarded next to the royal family! His impact and influence on the current generation and gen next is massive.
But being parents is altogether a different ball game for the Beckhams. Their oldest son Brooklyn who has turned 19 has revealed that:
"They are both strict, but about different things. Mum is constantly telling us not to play football in the house." How cute!
Victoria seems to be powerless to stop the soccer playing in the home. After all blood is thicker than water and genes are stronger than anything. The soccer father's genes must have passed on to his kids. Dailymail.co.uk reported she been saying, "That seems to be the one area I can't discipline them, they will not stop playing football in the house!" Different households, different rules!
6

A Soccer Career Wasn't Enforced On The Kids
It is amazing to note that many of us are not in a career related to our field of study. In a recent discussion forum attended by the school heads they realized that, though they themselves are in the field of Academics, more than 90% of them were trained to become something else during their time of study. How interesting!
It is very true that parents have a great voice and impact on their kids' life. Many times, we tend to completely control their lives wherein we tend to forget that they too have their own interests and dreams. Many parents wish to make their dreams fulfill through their children. In one way, don't you think it is rude? Beckhams have made it very clear that they are not going to interfere in their kids' life choices and decisions. They want their kids to follow their own passions as long as they work hard at it.
David Beckham has an illustrious soccer career to put forward. During his soccer career in the nineties, he was a star not only in the England national team but also in many other popular teams including Real Madrid, Milan and Manchester United. Victoria, on the other hand, proved her mettle being a rock star and now a very successful businesswoman. This doesn't mean that they want their kids to follow soccer or fashion. David has said, "One of my boys turned around to me the other day and said, 'Daddy, you know, I'm not sure I want to play football all the time'…It broke my heart a little bit."
Obviously, public want the soccer star's son to show his caliber in that field. But the cool dad David's response was "Okay, stop right there... You play because you want to play." (Independent). How great a dad!
5

No Entitlement Here!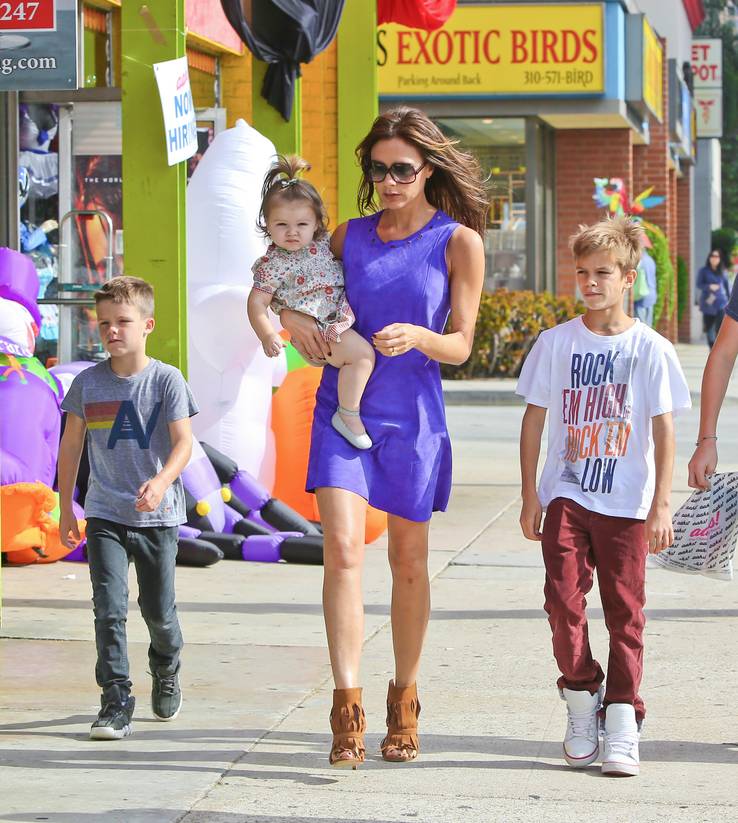 Having famous parents - is it a bliss or curse? I can not take a perfect stance on this since both has its own pros and cons. But having famous wealthy parents may turn kids to be spoilt children. Parents might not get enough time to instill the good values in their kids and these small things are usually forgotten in midst of their hectic schedules.
The Beckham kids are really lucky to have David and Victoria as their parents. David had said earlier, "They are very privileged and they have a lovely life, and I want to protect them from anything that goes on outside the family." In spite of the fact that they both are damn wealthy and kids have a very privileged life, they want their kids to lead a humble, polite and respectful life helping others.
They leave no stone unturned in making sure that their kids follow this principle in their life. The proof is that the kids have already started participating in charity events and helping to raise money for the less fortunate.
Victoria has said, "Romeo ran the children's marathon earlier this year and raised an amazing amount of money through sponsorship, which he divided between David's charity and UNAIDS."
This is how it should be, raising the perfect children for a better tomorrow!
4

The Kids Must Stay Grounded And Unspoiled
Victoria Beckham is well known for her hardworking. She believes that hardworking is the best thing she can show her children. According to nytimes.com, 'she has never missed a birthday (in spite of her busy schedule as a thorough business woman), and that it is important for her to keep the children grounded and unspoiled.
Both she and David come from close, hard-working families: David's father was a gas-company engineer, and hers was an electrical wholesaler. She contrasted her attitude toward that of some of their friends in L.A.'
So hardworking nature is there in their genes and it is what they want to pass on to their kids. It does not mean that kids are not being gifted with lavish platters. Though they maintain the celebrity status, they follow a humble lifestyle. "We have what I consider to be normal birthday parties," she had said. "I've been to parties in L.A. that are mind-blowing. I mean, quite literally mind-blowing. People get cellphones in the party bag, that sort of thing. Fabulous, fabulous parties. Ours isn't like that. They are normal kids' parties. We'll have a bouncy castle, a face painter." Beckhams set an exemplary path for their kids to follow, indeed!
3

The Beckhams Follow Their Own Rules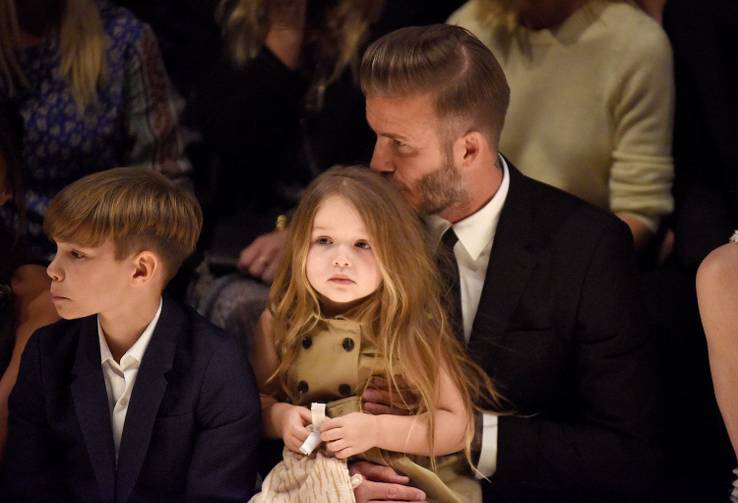 Like all of us parents everywhere, David Beckham and Victoria Beckham have set specific rules for their children to follow. It is obvious that celebrity status and lifestyle have not got into their heads and they want their children to be brought up as any other normal child in very good manners. That is the style of their upbringing!
They want their kids to feel good and for them, that is most important and are least bothered to please the public in this matter. Why this has been brought up here because, some time before, the Beckhams had to deal with a great deal of criticism when they let their then 4 year old daughter Harper to use a pacifier. It is sad that giving a pacifier to the kid itself is scrutinised, the result of being a celebrity! Many critics felt that Harper was too old to use a pacifier. But the protective dad David defended their choice of giving her a soother.
He had said, "Everybody who has children knows that when they aren't feeling well or have a fever you do what comforts them best and most of the time it's a pacifier so those who criticize think twice about what you say about other people's children because actually you have no right to criticize me as a parent." (CNN)Cool, isn't it?
2

Always Work Hard
This is something which we don't get to see in the younger generation. The importance of work and the value for work.
I really wonder how Beckhams were able to encourage their older son Brooklyn to manage a part-time work in a coffee shop!
The net worth of the couple would be roughly around $900 million and yet they could persuade their son to go for a job at the coffee shop. That is greatness. Kids should know the importance of work and they should understand how hard it is to earn even a single penny. Everything cannot be taken for granted.
Victoria has been quoted saying "David and I explain to the children what privileged lives they lead. We tell them that in many places in the world children are hungry, homeless and sick." She has also said "We try to lead by example, by showing them it's important to work hard." This is simply sweet.
Redonline.co.uk reported recently that in a TV show Victoria had been saying, 'So when you see that your kids are turning out to be really good, kind, happy human beings, you know, what more could you ask for really?' Yes very true, dear mamma!
1

Living By Example
Out of all the rules the Beckhams have set for their children, this is the most impressive one. Lead by example. It is always easy to advice anyone. To practice what you preach is difficult. This is where David and Victoria become different. They not only set rules for their kids and force them to follow it, but also practice it in their own life as an example to the kids.
Both of them were born in normal common families. They never had any stradom to boast. It is only through sheer determination and hard work they have become what they are now. They want their kids to realise this and follow the same path. Victoria has said, "David and I both have a strong work ethic and I believe that's a good example to set our children." (Source: E!News) David too has said about their working culture, "That's one of the key things me and my wife have always done, (both) before we had children, and now we have four children." (Source: HuffingtonPost UK)
The strong relationship the Beckhams share, the beautiful family and the successful careers they have - everything is the result of a well disciplined, honorable, loving and respectful life they lead. No doubt, they have set a great example by their own life and has shown their kids how to be the 'Achievers' in life. David had said, "My children are my motivation. Simple as that. I want to prove to them that if you work hard you can be successful."(Source: the Closer)
We really hope the Beckham kids to be grown up as wonderful young adults who make their parents proud!
Referenes: sun.co.uk,  Hellomagazine,  mirror.co.uk,  businessinsider.in,  closeronline.co.k