Paulina Gretzky is a beautiful woman sure to turn heads. The eldest daughter of Canadian ice hockey player Wayne Gretzky (who was himself an icon, often referred to as "The Great One") and American actress Janet Jones, she made it to fame by, well, being famous! At least that what being a 'celebutante' is- girls who happen to be heiresses, gaining fame for not any particular identifiable reason; perhaps it is because of the famed status of her family. Think the likes of Paris Hilton or Kim Kardashian. But just look at dear Paulina: her dashing good looks definitely help hold the industry's spotlight! She, not just a pretty face and body either- she started modelling around 2005, has released a song which premiered on MTV's Laguna Beach, and also had a minor acting role in Grown Ups 2.
Paulina is also one sizzling hot momma. After getting engaged to professional golfer Dustin Johnson, she gave birth to a son named Tatum; around February just this year, she announced that they are expecting another boy. How exciting! But what's amazing about all of this is that sometimes we forget that Paulina is actually already a momma! Browsing through her Instagram feed and looking at her magazine spreads, it's as if her body is exactly like it was before she had any kids at all! Let's look at 15 pictures that show just how gorgeous Paulina Gretzky is
15

Golf Digest Cover
Damn, girl! Our hot mom Paulina is definitely smokin' hot in the cover of Golf Digest in their May 2014 issue. Her toned arms, tight abs, and perfectly tanned, glowing skin are all highlighted by the simple white sports bra and white tights as she gazes sultrily at the camera. The camera just loves her!
So what's she doing on the cover of the magazine? Well, in Jerry Tarde's (Editor-in-Chief of Golf Digest) own words: "Paulina ranks at the high end of the golf celebrity scene today, and she has a compelling story to tell." In her photo shoot, she demonstrates golf-improvement exercises and talks about her connections to the sports world. And she is definitely more connected to the golf world because she's engaged to professional golfer Dustin Johnson, with whom she has two children (which we sometimes forget because she's too damn hot).
14

Maxim Shoot
Maxim magazine is the gift that just keeps on giving! The hottest, sultriest, and sexiest ladies often appear on the pages of Maxim, sure to exalt the numerous bombshell beauties of our time. It's no wonder, hot momma, Paulina graced their covers around October 2014 (which is shortly just before she gave birth to her first son- impressive!). Even their gallery description reads: "The daughter of ice hockey great Wayne Gretzky goes from queen of the selfie to Maxim bombshell." That sounds right, folks.
Clad in a skimpy black bikini, black gloves, black nails, and killer high heels, Paulina sends the message that she's just that little bit naughty. The black backdrop brings the soft blonde of her hair in a nice contrast, and her fierce look is sure to make viewers tremble. Paulina (yes, a mother of two, now!) is nothing short of gorgeous in this photo!
13

Amazing Post-Baby Body

[caption id="" align="alignnone" width="1200"]
via: nydailynews.com[/caption]
Maintaining a good shape after going through many long months of pregnancy and after giving birth surely seems unattainable to most. But too hot celebrity momma Paulina, it seems only a piece of cake (or no piece of cake, ha ha)! After only giving birth to her first son Tatum Gretzky Johnson on January 19, 2015, Paulina showed off her drop-dead gorgeous post-baby body a few months later; clad in an even skimpier black two-piece bikini (yes, even skimpier than her Maxim photo shoot!), holding what seems to be some healthy green concoction, Paulina looked sizzling and savvy.
Half reclining on a black and white couch, pout in place and eyes unreadable behind huge shades, dark and bright blond hair falling down her shoulders- Paulina can be said to be the epitome of the "what baby?" body. We'd just love to know her secret to keeping in shape after a pregnancy! Maybe it's something in the green drink in her hands? Hmm.
12

Happy Halloween

[caption id="" align="alignnone" width="1001"]
via: freshtildeathtv.com[/caption]
Did Halloween or Christmas come too early? Because it looks like we've been absolutely blessed with the gift that is Paulina Getzky's racy and gorgeous Halloween costume! Donning a sexy cop attire- complete with the police cap, handcuffs, 'booty' shorts, and aviator shades- Paulina is sure to send the bad guys running (er, in the same direction, maybe)!
Every Halloween party is a concoction of the sexy, the scary, and the crazy. It looks like Paulina herself knows and loves to turn up the party with her costumes. HuffPost, in their article featuring throwback photos of Paulina in various costumes, Halloween or not, described Paulina as someone who really has a love for dressing up. Well, it looks like with this well-put-together cop costume, that's something that's quite certain! So for all of you out there who want to turn heads during Halloween, look no further than Paulina Gretzky.
11

Gladiator Goddess

[caption id="" align="alignnone" width="1134"]
via: wordpress.com[/caption]
Apparently, model, Halloween enthusiast, and selfie expert Paulina Gretzky is so multi-faceted that it is not just police work she's getting herself into- she can be a gladiator warrior (maybe princess?) too! Oh and did we tell you she just absolutely adores dressing up? Yeah, that's what we're seeing here in her 2016 Halloween Costume. She just slays it, year after year!
In her Snapchat account, Paulina posted a selfie- emphasizing the black straps and silver studs and her very, very full bosom- captioning it with "I'm a gladiator…duh". USA Today, while comparing different costumes from different celebrities (Floyd Mayweather dressed up as Iron Man, for example), called Paulina's gorgeous gladiator get-up as "one of the better celebrity costumes so far." You knock 'em right out of the park, girl! Oh, and did we tell you she's already a momma? WOW.
10

Revisiting Roots

[caption id="" align="alignnone" width="900"]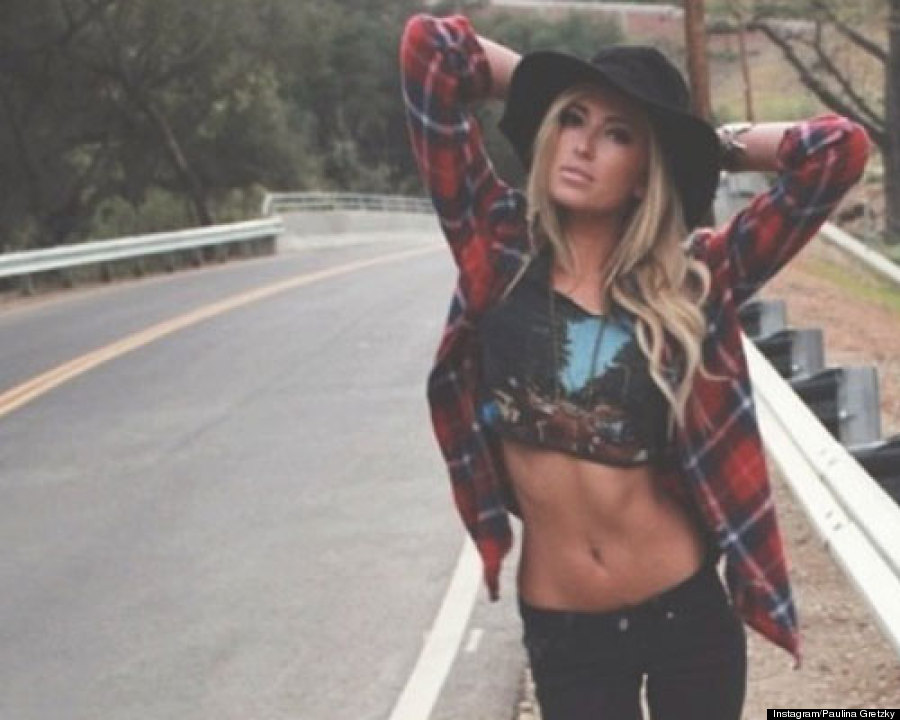 via: huffpost.com[/caption]
Paulina Gretzky is sizzling even in the cold climates of Canada! In a "classic" Canadian fashion, Paulina dons the versatile plaid! But of course, being her fashionable self, her outfit is not just what you can call plain and simple. Wearing a red and blue plaid polo on top of a crop top (which seems to be designed with The Beatles' Abbey Road), her curvy waist and flat stomach bared, Paulina is sexy and grunge with her outfit. To complete her look, she also wears a brown hat and metallic necklace.
According to HuffPost, which seems to be a big Paulina fan, she mixes her Canadian fashion well with her "Californian" side- her "beachy" blond hair is loose and relaxed around her shoulders. Indeed, since her father comes from Canada, her outfit would be very symbolic of her Canadian roots.
9

"Still The Champ"

[caption id="" align="alignnone" width="640"]
via: cdninstagram.com[/caption]
Okay, remember how this article is titled "Pics of Paulina Gretzky That Make You Forget She Has A Kid?" Well, it looks like this photo takes the cake when it comes to that line of thought. In a sultry photo showing all her assets in the right ways, Paulina reminds everyone that she is the queen of the hottest moms (and so does Busted Coverage, with their appropriately titled "Pregnant Paulina Gretzky Reminds All The IG Pretenders Who's Still The Champ").
Paulina is wearing a slightly pouty look along with her yellow bikini and denim vest. Her signature blond waves are loose and free over her shoulders, and her smouldering brown eyes just can't help but captivate us. Busted Coverage describes this photo (which was apparently just taken a few days after her and Dustin's announcement that they're having another boy) with "Paulina's posting the [above] photo to remind all the losers out there that she's still the champ even though she's become a baby factory". Still the champ at showing everyone who the hottest momma is? Still the champ indeed.
8

Welcome To The Circus

[caption id="" align="alignnone" width="1086"]
via: barstoolsports.net[/caption]
Did we already tell you Paulina just loves to play dress up? It looks like we already have, but we simply can't help and show you all of her best Halloween Costumes. She seems to be the queen not only of the hottest moms, but the queen of even the best Halloween Party-goers. In this version of "what did Paulina wear to Halloween?" it looks like she is a sexy lion tamer.
Naughty lions, looks like you've met your match! In an equally (if not more) naughty outfit, Paulina is all laced up with a black corset-like tube top, with matching black boots, and black whip! To accentuate her blacks, she has the red with gold circus jacket (the one that looks like those we see in marching bands as well), and a tiny red top hat. How absolutely fabulous!
7

Little Black Dress(?)
What is better than just a Paulina Gretzky photo? It's Paulina Gretzky in a photo that looks like a it has a Californian beach backdrop behind her as the sun shines in the sky. In this photo we see Paulina in an all-black, extremely short outfit which highlights her long, long legs and her full chest. Her low-cut tank top perfectly complements her shiny short shorts and black strap sandals.
In what looks like a dramatic pose, to focus attention on her lean and long body and the side profile of her face (just look at that long sinewy neck and jawline!) she looks on at the beach behind her, beyond the glass as she leans on the window ledge. Her simple black outfit is accentuated by her metallic silver necklace and neat hair bun. She's truly very good at picking fashionable choices.
6

Laidback Look

[caption id="" align="alignnone" width="600"]
via: pinimg.com[/caption]
Paulina has never been conservative with her Twitter on Instagram photos. In fact, as reported by Inquisitr, Paulina mentioned she had to lay off Twitter for a while because of her father's request; "Having a nice sit down dinner with my dad about social media." And then: "Taking a break from Twitter for a bit," she wrote. But it doesn't mean she'll stop being able to post on Instagram! Her Instagram feed really, really is blessed with the scorching heat that is Paulina Gretzky in numerous hot outfits.
In an Instagram photo, it looks like Paulina is having a great time listening to music (or was listening to music before she snapped a photo) in just her undies. Wearing a shiny bright green bra, headphones around her neck, her signature blond her artfully messy, Paulina snaps a photo in front of a mirror, her reflection showcasing her laidback and sexy self, a slight smile plastered on her face.
5

Camera Cutie

[caption id="" align="alignnone" width="600"]
via: latimes.com[/caption]
Paulina was almost (note: almost) unrecognizable in this particular photo. Maybe it's because her hair is a dark brown instead of her usual beach blond. But the wide, hazel brown eyes, the pouty soft pink lips, arched brows, and rocking body- are all there. And they scream "Paulina Gretzky" very clearly!
In a relaxed but still somewhat provocative photo, Paulina lies on her stomach on a plain white bed, equally plain black shirt covering her top half. But it is not a Paulina photo if it doesn't have a bit of sexy in it! So in true Paulina form, her midriff is once again bared; we can see the soft curves of her lower back, a tattoo teasing the line of her lower back, only slightly covered by black underwear. She looks teasing and youthful in this photo of her!
4

Ms. Gretzky is Ready to See you Now

[caption id="" align="alignnone" width="634"]
via: dailymail.co.uk[/caption]
If there are two other things besides Halloween costumes that Paulina loves, they are bikinis and lingerie. In a carefully crafted black and white Instagram photo (which looks very professionally shot, mind you), Paulina looks like she's in a magazine spread with her dramatic lingerie and jewellery.
The set-up of the photo is quite nice and dramatic. Ms. Gretzky half sits on a simple chair in front of a floor-length glass windows; she is not looking at the camera, but somewhere to the side, her mouth slightly agape in a silent gasp/pout. But most striking of all is what she's wearing (or what she isn't wearing!?). She is all done up nicely in a lingerie set that is strappy and just the right amount of revealing. To bolster her look she wears sheer black stockings and gorgeous high heels. To top it all off, an intricate metallic necklace adorns her neck as her hair flows long and free past her shoulders. And this photo is all to cheer up her husband Dustin after a "bad break" in the PGA Championships! Full of effort and effortless at the same time, Paulina just slays.
3

Poolside Hottie

[caption id="" align="alignnone" width="634"]
via: dailymail.co.uk[/caption]
Can Paulina Gretzky get any cooler (or hotter, for that instance)? In an outrageously sizzling photo, Paulina shows off her cool, punk side. And yes, through the use of swimwear yet again! In this photo, Paulina chills on the side of a cool, blue swimming pool, the sun glaring (but she's not bothered, oh no) on her tanned body.
Her one-piece swimsuit is colored black (one of her favourite colors maybe?), composed of an intricate design that has systematic, geometric cuts on the part where it covers her abdomen (so yes, her flat belly is once again exposed), framing her body once again to show off her assets in the best way possible! She's curvy, sexy, and cool. Not to mention the earphones she has sticking in her ears, connected to a music or phone device, plus her huge shades, slicked back hair, and the slight crease to her forehead- she is way too cool for us.
2

"Baby Driver"

[caption id="" align="alignnone" width="634"]
via: dailymail.co.uk[/caption]
It seems like Paulina manages to look absolutely stunning no matter what she is doing or where she is. Even driving a car- or just sitting on the driver's seat- Paulina already manages to look like she is way better and blessed than all of us mortals. If Paulina would be a designated driver, count me in to hitch a ride in that car!
In this photo Paulina shows off her silly side. Wearing what looks like an athletic outfit- black tank top and black shorts paired with black and white sneakers (it appears she has an affinity for black indeed)- Paulina makes a silly face with her tongue out at the camera as she sits innocent-like on the driver's seat. Shades on the armrest next to her, earphones wound around her neck, beach blond hair flowing carelessly around her shoulders, it looks like she's just on her morning errand drive, or even just a leisure drive. Whatever she may be doing, it doesn't matter, 'cause she looks hella good doing it!
1

Blazing a Trail in Mexico

[caption id="" align="alignnone" width="718"]
via: tmz.com[/caption]
Who can honestly say this woman already has a kid with her gorgeous beach body?! In a photo posted around 2016 (which TMZ article is aptly titled "Bae Watch in Mexico"), Paulina, along with a friend, scorched a fire in Mexico not even the sun glaring down on them could match.
In matching red bathing suits (with the words "Tequila Sunrise" printed in bold, white letters on the front), Paulina and her friend Kristina pose on a balcony somewhere in Cabo, the sun glinting off their shades, their hair slightly blowing in the breeze, the view of the cool beach and tiled roofs behind them really screaming "vacation". Paulina's beach blond hair looks even more appropriate with this environment, beady-looking necklaces finishing off her Baywatch look. Her soft smirk really caps off the hot momma vibe that she's sending our way. "Bae Watch" indeed! Could Paulina get any hotter than this?
Sources: Golfdigest, Huffingtonpost, USAToday, Bustedcoverage