What is every mom's wish? We all know that moms want to be loved and appreciated for the role they play in the family. They have the responsibility of taking care of everyone's needs in the family and we all tend to praise our moms for their unceasing care and devotion. However, what we sometimes forget is that moms also want to be appreciated for their looks.
Moms comes in all sizes and shapes, but whose mom does not secretly desire to have the perfect body? Even the curviest of moms would like to make an effort to get in shape and try to look her best. But carrying and delivering a baby requires no small effort and many mothers tend to gain extra weight, but especially during pregnancy. Naturally, moms tend to hate those who seem to defy the very natural process of gaining weight while pregnant.
Sarah Stage is one such mom who brings out the negative feelings from most moms. She is a model and that makes it her job to look good. She takes it a notch further and does not let pregnancy stop her from her rigorous workouts. As a result she has an unbelievable figure, which she kept even up to and through her third trimester. Below are 15 pics of Sarah Stage that will make every mom cry.
15

Six-Pack Mom
Sarah Stage made news around the world and made many moms feel embarrassed about their bodies when she first posted this pregnancy photo on Instagram. She is a lingerie model and sports a perfect figure with very well chiseled abs that would put even the average man to shame. As her job demands, she has to train regularly to maintain her perfect figure. Marriage and getting pregnant did not deter her from doing her regular workout.
But Sarah carried it a bit further, too far for some people, when she continued working out even while pregnant. The result was her sporting a six-pack even up to her ninth month of pregnancy. She has been called the "Six-Pack mom" by some commentators. In this photo, taken in 2015 at the time of her first pregnancy, she commented that it was only ten days before she met her baby. Wow!
14

Stayed Curvy

[caption id="" align="alignnone" width="5401"]
via: attractmag.com[/caption]
Most mothers would definitely tell you that it takes a lot of work and effort to get back into shape after delivering a baby. Many women tend to gain weight during pregnancy and then continue to be curvy even after the birth of their child. However, Sarah Stage defied all this when she posted this picture of herself nine days after the birth of her first son, James Hunter. Many moms would cringe on comparing this picture to their own.
On this photo that she shared, Stage is seen with an unbelievably toned stomach sleeping with her baby on their bed. Her baby bump is all gone and she looks as fit as a fiddle. No one would have guessed she gave birth less than two weeks ago. It seems she is back on track with her workout routine. What a show-off!
13

Loves Her Workouts
In this recent photo, taken from a video clip that Sarah Stage posted on Instagram, she is working out while her son James is playing beside her. Social media was abuzz with her photos when it was revealed that she was pregnant for the second time. It has been two years since the birth of her baby, James Hunter, and she is due again in mid-October this year. The video was taken when she was seven months into her pregnancy.
Stage was heavily criticized during her first pregnancy by many people who lambasted her for her lack of sensitivity towards her baby. They said that she did not care for the baby but only wants to look good in front of the camera. In her defense, Stage said that she listens only to her doctor and not to "Instagram medical experts." Which is good advice for everyone!
12

Out And About

[caption id="" align="alignnone" width="1320"]
via: wp.com[/caption]
It is normal for a mom to pick up her son from school just as Sarah Stage picked up her two-year-old son, James, from prep school when this picture was taken. She looks smoldering hot in a black T-shirt and blue torn jeans, carrying her son's school bag and mobile phone in one hand. It would seem like just another photo of the lingerie model who is sporting a perfect figure, as usual.
But look closely and you might see the tiniest of baby bumps beginning to show. You would not believe this mom is in her eighth month of pregnancy. Looking hot as ever, and not the least bit fatigued as some moms might feel in their third trimester. Some moms might feel it sucks to be living in this age of social media where someone like Sarah Stage is out there nonchalantly flaunting her perfect physique.
11

Life's A Beach
Taking your two-year-old son to the beach is a delight. If you could sport a figure like Sarah Stage and look stunning in a revealing denim bikini then why the hell not post it on Instagram. Well doing just that got Sarah Stage a series of backlash comments. Maybe it had something to do with the fact that she revealed she was seven months pregnant at the time this photo was taken?
Disbelief and astonishment were writ large as one commentator asked whether she was seven minutes pregnant and not seven months. She is making it hard on all moms around the world. Perhaps social media might have seemed like a good thing when it first became popular. However, many mothers are feeling the negative effects brought about by this photo which makes them red-faced and ashamed of their body.
10

Baby Shower Dreams
This is a photo of Sarah Stage with her husband, Kris Jason, attending a baby shower as the guest of honor. For those who are confused as to how Stage can be a guest of honor at a baby shower, please note that she is expecting another baby again. It is hard to believe that this model can still have such a figure and hardly show a baby bump when she is due in mid-October! This time too, she is expecting a baby boy.
Stage looked glamorous in a dress they said was designed by Walter Mendez and Ashley Lauren. It is a welcome change from the all-too familiar photos showing her lingerie and perfectly toned body and chiseled abs. However, many moms would still be deeply envious of how great she looks. Eight months pregnant and still looking hot as ever!
9

Yes, She's Pregnant Here
A baby shower photo of a mom-to-be who does not look like she is carrying a baby in her belly! When Sarah Stage first showed off her pregnancy photos with a less than visible baby bump showing she drew comments from many wisecracks on social media from both supporters and detractors. Someone actually asked whether she was carrying her baby in her butt. Looking at this picture, it is not hard to imagine which one shows more bump.
We are told that this baby shower was planned by Sarah Stage's best friend Isabel Alysa. She sure did a splendid job of throwing a dream baby shower party for a friend who looks like a Barbie-doll figure just taken off the shelf. It's likely that most moms look a tad different in the photos they have of their baby shower party. Can anyone beat this?
8

Exudes Confidence
This photo is one of the most provocative ones that the model has shared. Showing off her belly when she is a full nine months pregnant and wearing nothing. It is indeed hard to believe that a pregnant woman about to deliver a baby could still have that figure and display herself with such confidence. Many moms would think twice about posing nude in front of the camera even without being pregnant.
This is one reason why Stage gets so much hate mail. Many people have criticized her for torturing her body and depriving the baby of the required nutrients when she continued with her diet and workouts during her pregnancy. However, she proved her critics wrong when she delivered a perfectly healthy baby with a normal weight. For Stage it seems like no big deal, but for many moms she is a heartbreaker.
7

6-Months Pregnant Here

[caption id="" align="alignnone" width="1024"]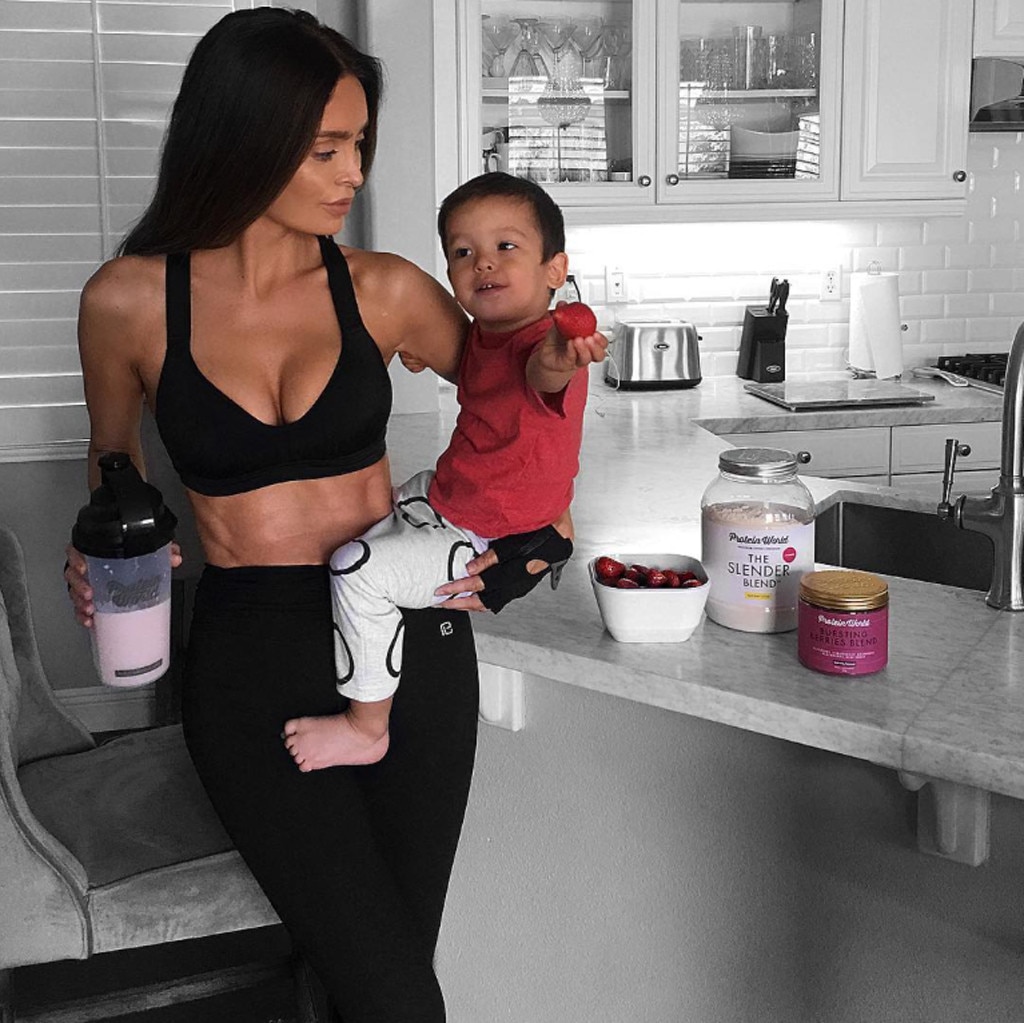 via: eonline.com[/caption]
This is a photo of Sarah Stage with her son James Hunter. It looks like a normal photo of a young boy with a mother who is maintaining a perfect figure through a regular workout regime. However, there is more to this than meets the eye. Sarah Stage was six months pregnant when this picture was taken.
Perhaps every mom who experienced pregnancy would want to remember what they look like six months into carrying a baby in their womb. Not everyone would have the same bump, but Sarah Stage is not showing even the tiniest of a pimple in her well-toned chiseled abs. It is not hard to believe why so many think she uses a surrogate to carry her child. Please moms, control yourselves, nothing in this world is perfect. Would she be able to keep up with this act forever?
6

Show Off
Another photo of a pregnant Sarah Stage "showing-off," as her Instagram critics would say. Stage loves to pose showing off her baby bump and posting the pictures on social media, much to the chagrin of many mothers who seem jealous of her figure and rant about her lack of sensitivity. However, Stage says that she is not the odd one out.
Stage points out that many pregnant women are showing off their baby bumps on social media. The reason why she is being singled out is because she maintains a perfect figure and stays committed to her workouts well into the last stage of her pregnancy. But she says that the doctors approved of her exercise and she would not do anything that would harm her baby in any way. She says that she plans on working out till she is too tired or feels uncomfortable.
5

Steamy As Summer
Many people think that pictures like this are photoshopped. Stage claims that she is eight months pregnant while posing in this picture. One can of course see a small bump that would definitely not look like a baby bump on any other expectant mom. However, this is Sarah Stage we are looking at, and anything is possible. She could be eight or even nine months pregnant and still look better than the average mom.
Stage, however, tries to dispel her skeptics by posting videos of herself. Her representative Anthoni Allen says that she would never photoshop any of her pictures, maintaining that they were all authentic. This seems like bad news for moms who will not give up on their belief that Sarah Stage is tricking everyone. Never fear ladies, all good things must and will come to an end. Meanwhile, there is no use in moping around.
4

Rockin' The Bikini

[caption id="" align="alignnone" width="3717"]
via: pinimg.com[/caption]
Just another shot of Sarah Stage in a yellow bikini at the beach. She is looking good as ever with her well-toned abs and perfect figure. Perhaps many people would think that there is nothing special about this particular photo, she is a model and it is her job to look this way. However, what is vexing many moms is that this photo was taken just five weeks after Stage delivered her baby.
Everybody knows that during her first pregnancy she was constantly working out even up to and through her third trimester. Though many skeptics feared she was endangering the life of her baby, she stuck to her guns and true to her word she delivered a healthy baby boy. Post-delivery it seems she has not quit working out. One month later and who would have guessed this stunning beauty had just delivered. Life is not fair to everyone.
3

Strong Selfie Game
Sarah Stage will not stop posting pictures like this on Instagram, no matter what kind of comments she gets! Taken in August 2017, when she was seven months pregnant with her second baby, this photo does reveal that she has gained "some" weight. When she commented that her baby is kicking like crazy, one "concerned" commentator replied that the baby might be kicking because there is no room for him.
Used to a flood of hate mail, Stage does not let her spirit get dampened by such comments. She says that she focused more on the positive comments and encouragement given by well-wishers. With over 2 million followers on Instagram, she must have a good number of supporters. The best thing would be to say "keep it up Stage, do not let a few bad eggs take you down to their level."
2

Hanging Around

[caption id="" align="alignnone" width="1020"]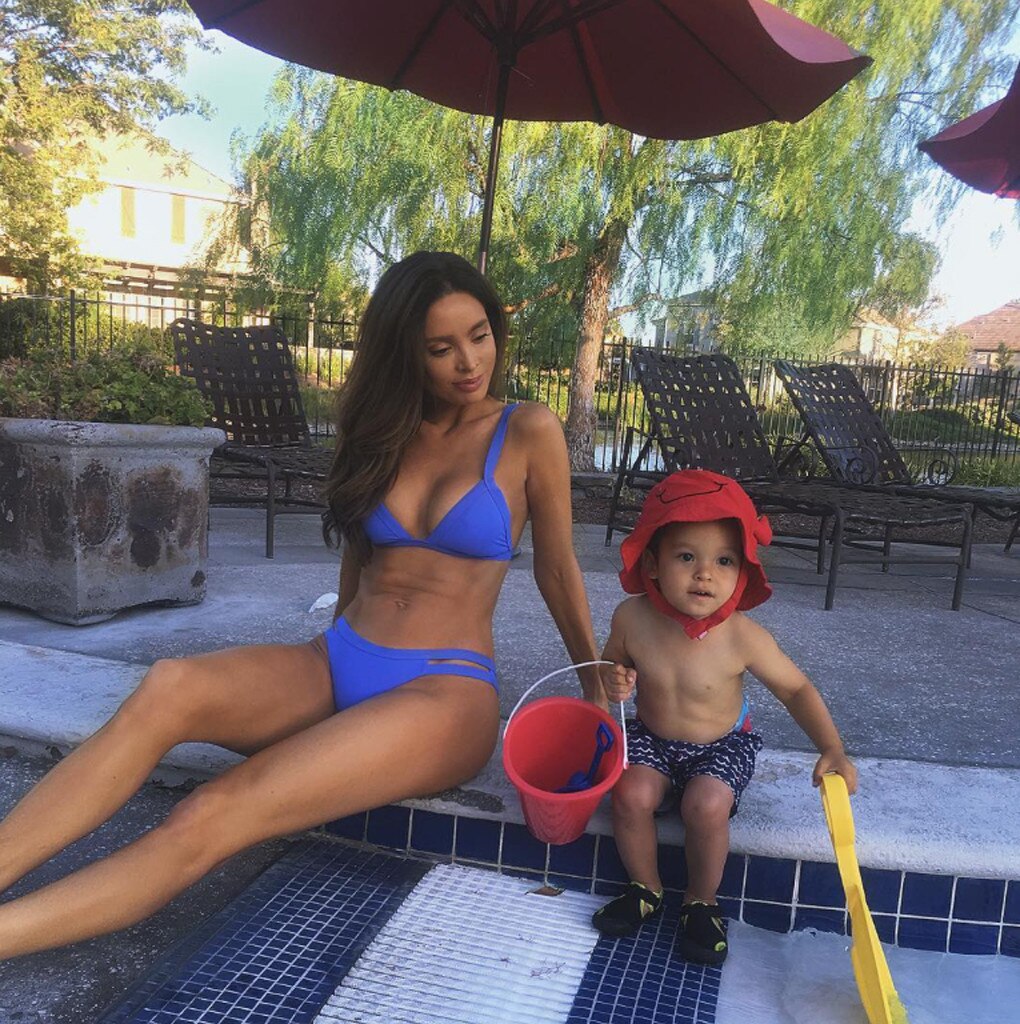 via: eonline.com[/caption]
This is a photo of Sarah Stage and her son James, just hanging out together and enjoying the moment. Many women find it difficult to stick to a fitness regime, but even fewer do so after starting a family and while bringing up a baby. Stage has managed to do all that and seemingly not gain an ounce after undergoing her first delivery. Looking trim and at the same time sporting the right curves, it is not only the moms, but women everywhere who would give just about anything to look like that.
1

Rooftop Gaze
Of course this is Stage, already six months pregnant and not showing one bit of a bump. Internet trolls and "Instagram medical experts" as she refers to her critics, thinks that she ought to be like other "normal" moms. Getting her fair share of negative reactions, however, Stage still has managed to stick to her resolution.
It is normal for every working mother to go back to work some time after delivering their baby. The same goes for this lady! In this photo she was back at work after delivering her baby barely a month before. Sarah Stage delivered her first child in 2015 through a C-section but had an amazingly short recovery period. Two weeks after the baby was born, her belly was back to being slim and trim.
Stage said she gained 28 pounds during her first pregnancy and then managed to lose all of that two weeks after the baby was born. Having a C-section did not seem to deter this young mother from working out as soon as she could. But what do you expect when your claim to fame is your body. Every mom please take note, everyone has got to make a living.
Sources: DailyMail, USMagazine, Mom, NYDailyNews, People