Mo' money, mo' problems? Maybe. But wouldn't we like to find out for ourselves, instead of having to guess? I know I wouldn't mind trying out these kids' problems for a day or so!
Having a rich dad or mom is not necessarily the same thing as being rich yourself, but that is typically the case.
Only a few toughies refuse to indulge their kids or cut them off at adulthood. Sink or swim is not a regular way of the upper crust, let's be honest. However, there are some wealthy folks who want their kids to earn their own money. For instance, Sting says no to passing on his sizeable wealth. Same goes for Warren Buffett, Bill Gates, George Lucas, and Jackie Chan.
These people see immense money as creating difficulties for their children, rather than being a blessing. They have to earn their own according to these folks. Of course, most won't leave their kids penniless or on welfare, by any means. But the old bank accounts and holdings won't roll over into their kids' hands. But generally, most spoiled kids grow up to be spoiled adults. Can you imagine Suri Cruise working at McDonald's? How about Blue Ivy shuffling around shoes at the Finish Line? No, me neither!
15

Jolie-Pitt Kids - World Travelers Extraordinaire!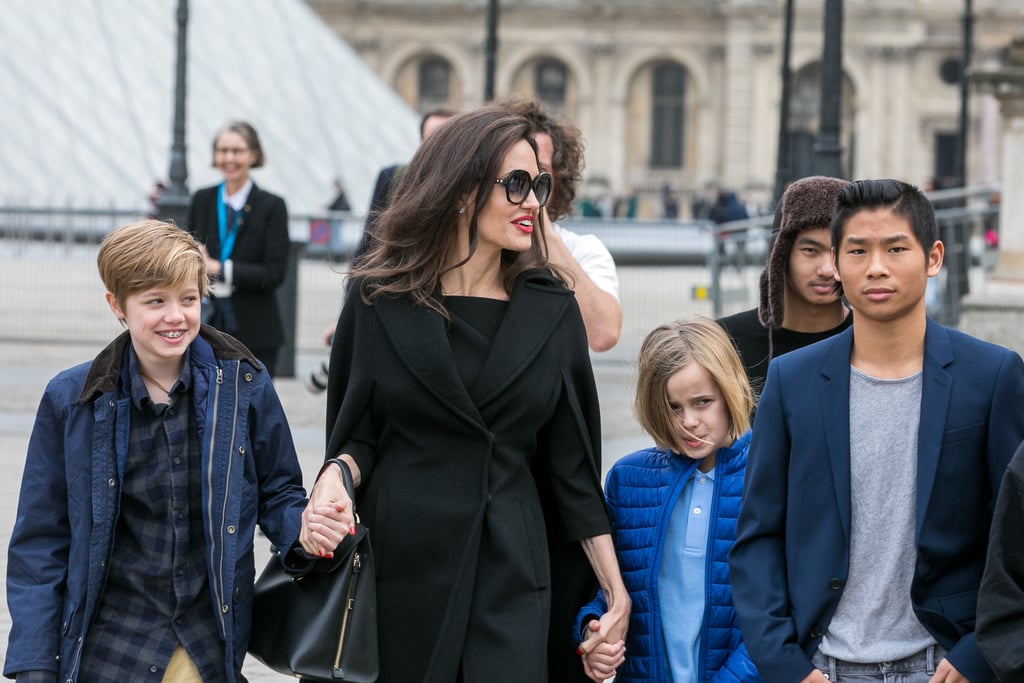 No kids want or deserve to be in the midst of a messy or even an amicable divorce, but the Pitt-Jolie kids have experienced some of the best of life up until the family crumbled. Here are a few highlights for us to contemplate. See if your list of family travels compares. Their country getaway was a 16th-century Scottish castle, for you know, some quiet family time. They had a great family vacay in Malta, hitting the big theme parks in paradise. Pax celebrated his 7th birthday in Paris, with a tethered hot-air balloon on the Left Bank. What? No bouncy castle? Afterward, he enjoyed a luxury riverboat ride down the Seine. They indulged in gelatos and rode water taxis in Venice. Maddox was in London for his 10th birthday and got to go to the premier 250-year-old toy shop, Hamleys. This was just a smattering of examples from a couple years of their globetrotting.
14

Seinfeld - From A Show About Nothing To A Whole Lotta Dough
Jerry Seinfeld went from stand up to a "show about nothing," that netted the star a net-worth of $900 million. That's right; just in the shadow of a billion. Jerry married Jessica in 1999, and the couple share three children; daughter Sascha, 17; and sons Julian, 15, and Shepherd 12. While Jerry quips that when his kids ask if they are rich, he responds, "I am. You're not." The kids are not living in trailers eating boxed mac n cheese by any means. They had a custom built mountain mansion in Telluride, Colorado which they listed for over $18 million a few years back. Jerry is not a big hobnobber but pics show the fam enjoying skiing together, and hey, courtside seats for a Knicks game is not bad. How much will the kids inherit? The couple actually is quite generous and known for philanthropy, so the $900 million will not be divided up three ways, we are guessing. However, don't expect the Seinfeld kids to need a paper route, either.
13

Cruising Through Life. Literally.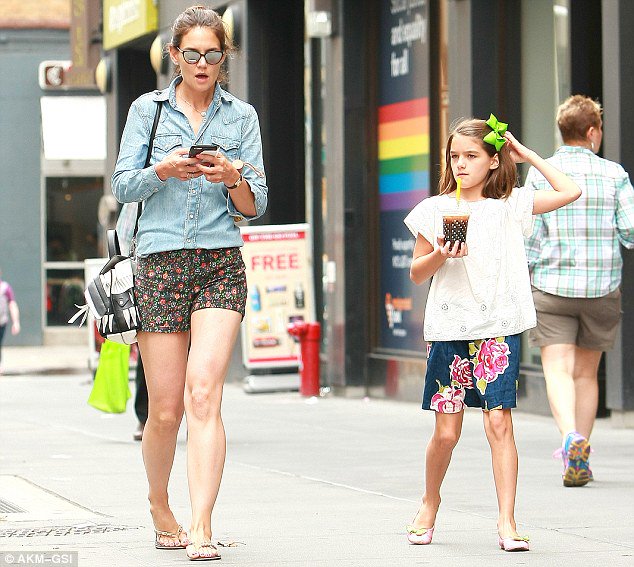 Suri Cruise is another poor little rich girl, but in this case, at least she only has one absent parent. While she has not seen her father in years, mom Katie Holmes is very present and adamant that Suri has a secure foundation and is doted on. Of course, being doted on doesn't usually mean having such an expensive wardrobe. When Tom and Katie were still together, the then 3-year-old reportedly had a closet worth in the neighborhood of $2 million. Later, mom seemed to clamp down on the over the top designer duds, but don't worry about Suri's limited lifestyle. For instance, this past December she had the honor of introducing her favorite music artist, Taylor Swift, alongside her mom Katie, at the Jingle Ball at Madison Square Garden. How many tweens would kill for that? With her dad's estimated worth at $500 million and mom's at $25 million, it's reasonable to assume Suri will never have a blue collar or perhaps any job.
12

Spend It Like Beckham
Soccer legend David Beckham and wife Victoria of Spice Girls fame have built a family dynasty together and it is one that is estimated to be worth $450 million (and growing). Baby girl Harper is 6, while brothers Cruz, 12, Romeo, 15, and Brooklyn, 18, round out the bunch. In 2015, both David and Victoria reported in separate interviews that their kids would take jobs. Apparently, before landing a dream job as a photographer for Burberry, Brooklyn worked as a busboy. Brother Romeo worked the same job a couple of years later. Romeo has modeled for Burberry, and Cruz has a penchant for singing. Little sis likes fashion, but still seems to prefer her dad's line of work, soccer. While the talented, blessed and beautiful kids of a golden couple seem destined for dream type jobs, at least their folks want them grounded in reality and connected to real people, and insist the kids take typical teen jobs before jet-setting careers and brands take over.
11

K-West Reality Show - It's Unrealistic But True
It's estimated that Kim Kardashian and Kanye West have a combined net worth of $320 million, or a figure somewhere in that neighborhood. Their three children, North, age 4, Saint, age 2, and now Chicago, born in January 2018, will likely want for nothing material in their lives. It's hard to imagine that the children will grow up with a strong work ethic. After all, mom got rich from being a rich girl's (Paris Hilton) friend and stylist and then that legendary "leaked" sex tape with Ray J. Now she has businesses and brands and her reality shows, but what was the job or talent? What real work was involved? Dad is a successful rapper and music producer, and of course, now has all his brands and businesses in his portfolio as well. I imagine the kids will continue to milk that celebrity teat in the coming years, as they've seen done their whole lives. Real jobs? Don't hold your breath!
10

Salma's Stupendously Wealthy Daughter
Salma Hayek is a Mexican-American actress who acted in small films until starring alongside Antonio Banderas in Desperado. She went on to star in and produce the critically acclaimed Frida. She became the first Latina woman nominated for Best Actress for that role. She produced TV's Ugly Betty, and found personal success in her 2009 marriage to French entrepreneur Francois-Henri Pinault. The couple had a daughter, Valentina, who is now 10. Valentina has shown a penchant for business, as the proud mom shared has shared that her daughter was very into making slime and making a profit from it (something probably all moms of tweens can relate to). Will little Valentina ever venture into the arts like mom, or is she destined to be an entrepreneur like dad? Dad is no small potatoes business guy, either; Pinault is worth $23.9 billion--yes billion with a B! Will Valentina need a job at the movie theater? Not likely. Will she work? Maybe, since Mom and Dad seem to enjoy their careers and have worked hard for their achievements.
9

Anna Nicole's Daughter, Dannielynn Inherited Looks And Dollars
This past November, Larry Birkhead took his and the late Anna Nicole Smith's daughter to the Bahamas, where she was born, and unfortunately, where her mother died from an accidental drug overdose while grieving her 20-year-old son's similar death. Birkhead showed her places important to her mom, and the now 11-year-old found swimming with dolphins to be a trip highlight. He also showed her the courthouse where he fought for custody of his daughter. Birkhead states he gets offers constantly for his young daughter to model, but he discourages her from starting work so young. There's plenty of time for that. Little Dannielynn looks like a mixed plate of both parents, but as she grows you can glimpse more and more of her glamorous mom in her looks. Will she model or act one day? It's hard to say now, but her dad seems determined to keep her grounded and safe. Her net worth is approximately $10 million, so we will see.
8

Jaden And Willow: Will They Ever Know Hard Work?
Will Smith, a multitalented actor, producer, and music artist, married Jada Pinkett-Smith, an actress as well, in 1997. The couple had a son, Jaden, in 1998 and daughter Willow, in 2000. The children have been raised in the heyday of their parent's success. No struggling artist days that these kids can remember. They've also been raised differently than most kids today. They were given near carte blanche to make their own decisions and face responsibility for them from the earliest of ages. Punishment was pretty much nonexistent. The kids for their parts have dabbled in acting, modeling, and music with varying levels of success. But perhaps their penchant for being outside the box has brought them the most attention, from Jaden's appearance in a skirt to Willow's gender-bending looks. Will Smith stated he'd find it ridiculous to tell a grown-up to clean their room, so he won't tell his kids to. Um, OK. I don't know how that's working out for them, but we are not trying that here. The kids already have sizable net worths all their own: Willow's at $4 million, and Jaden at $8 million. So regular work? Unlikely!
7

Julie-Louis Dreyfus Kids: Heirs To More Than Comedy
Julia Louis-Dreyfus has made us laugh, from SNL at age 21, to the smash Seinfeld, to The New Adventures of New Christine and now on Veep. She recently finished her chemotherapy for breast cancer and is enjoying family time with sons Henry, 25, and Charlie, 20 as well as hubby, Brad Hall. Julia has a net-worth of $200 million, while comedian, writer, director, and actor Brad is worth $10 million. That alone should ensure that their kids have a nest to fall back on. However, her father died last year, and at that time was worth an estimated $4 billion! So while the kids may not need to work, it appears they aren't sitting on their keisters, either. Both boys went to college, and Henry is now a songwriter, stand up and singer. The younger plays basketball at Northwestern and (surprise!) is a radio/TV major. Both have reportedly got the family comic chops and can't help but go into the family business.
6

An Adorable Carter Trio Mired In Money
When it comes to the upper stratosphere of stardom, you find the Carter family, comprised of Beyonce and Jay-Z, and their daughter Blue Ivy, age 6, and twin sibs Rumi and Sir, born in June of 2017. These kids are growing up in such ridiculous wealth and opulence it's beyond most comprehension. For instance, this month Blue Ivy was at an art auction and created a ruckus when this first-grader bid about $20k for art. After all, Mom and Dad are worth over a billion. I guess giving little Blue Ivy 20,000 bucks is pocket change, right? It'll be tough to teach this trio the value of money in such settings, but Jay-Z is quoted as saying the most important thing he wishes to teach them is empathy and understanding what others have done that have allowed their successful life.
5

Madonna's Kids And The Realities Of Riches
Madonna, singer, actress, dancer and media monster, is 59 and the mom to 6 kids. Lourdes, her oldest, is 21, attended the University of Michigan and has modeled, designed clothing lines and such things thus far. Rocco, Madonna's son with ex-Guy Ritchie is 17 and living in NYC with pal Brooklyn Beckham, studying photography at Parsons. The other 4 children are adopted from Malawi, and are David, 12 (a soccer star) and also a son of Guy's, Mercy (twin to David), and 5-year-old twin girls, Estere and Stelle. Madonna's kids that are old enough seem to be heading into careers in the arts or fashion, and the younger ones are too young to know. But would they really need jobs with Mom being worth $800 million? For the ones she shares with Guy, his net worth is a respectable $150 million so mom or pop can soften any blows life has for them.
4

Alec Baldwin's Lucky Kids
Alec Baldwin, 59, shares a daughter, Ireland, 22, with his ex Kim Basinger. This beauty has become a successful model and acts, as well. But now Alec is in phase 2, raising 3 kids under 4 with wife, Hilaria; daughter Carmen, 4; son Rafael,2; and son Leonardo, 1. Alec is worth an estimated $65 million but is still working all the time. He starred most recently in TV's 30 Rock, makes hilarious appearances as Trump on SNL and has too many projects wrapping up or airing to name individually. He turns 60 very soon and shows no signs of letting up, personally or professionally. Kim, his ex-wife and mom of Ireland is worth $36 million, so Ireland could have been a reality show bum had she wanted to. But she shares her mom's looks and modeling skills, so it was a no-brainer. What will the younger Baldwins become? Way too early to say, but with Dad's work ethic, it may be hard to suck up the family dough and do nothing.
3

J-Lo And Marc Antony's Twins Are Set For (Any) Life
When Jennifer Lopez and Marc Anthony had their twins together, it seemed like a perfect match. They shared a culture, a love of family and music. But alas, things sometimes change. But when twins Emme and Max recently turned 10, their parents reunited for the big event. Jennifer Lopez has turned her singing, dancing and acting earnings into quite a fortune: $360 million, to be precise. Ex-hubby Marc is worth $40 million. Her new boyfriend, Alex Rodriguez is worth even more than them combined. So will Max be an usher at the multiplex and Emme slop shakes at Dairy Queen? Doubtful! Their nursery looked like something from a palace, if that's a clue! Or maybe the diamond-encrusted rattles? They've jet-setted through the world and have lives few will ever have a glimpse of. But having grown up far differently, Jennifer Lopez wants her twins to experience gratitude along with the privilege. Can she pull it off? Time will tell.
2

A-Rod's Adorable Girls Are Sure To Not Strike Out
Alex Rodriguez was a natural athlete, excelling at baseball and football. By 18, he was in the pros. In 2001, he became the highest paid baseball player so far in history, signing a 10-year deal for $252 million. He logged records and stats that ensure him a long legacy in the sport. But things soured after he was accused of using performance-enhancing meds. His marriage to wife Cynthia dissolved, reportedly due to an affair with Madonna. Later he was linked to other high-profile celebs. But he says it made him a better person, and father, and today he is on the upside. He is worth $480 million, according to Forbes, and he is a doting father to girls Natasha, 14, and Ella, 10. He now shares a Bel Air mansion with Jennifer Lopez and her twins, as well as his daughters. It seems like with that kind of lifestyle, it'd be hard to go off track now. Especially since Dad takes time during the drive to school to teach his girls about the stock market, real estate and being financially frugal. Will they heed Dad's advice?
1

Will Mayweather's Kids Know How To Earn Money?
Floyd "Money" Mayweather, Jr. didn't have an easy upbringing. His dad was a drug dealer, and once used his young son as a human shield during a shooting incident. His mother coped with addiction issues, as well. Violence was one side of his life, but boxing ran through his blood and family tree, as well. When he retired recently, he did so as one of the best of all time, with a record of 50-0. He has four children now, all in their teens: Iyanna will turn 18 this spring; son Koraun was born in 1999; daughter Jirah is 13 and son Zion is 17. Mayweather is an extravagant spender and that extends to his children. His older kids had the top 16th birthday parties with entertainment provided by rappers like Drake and Young Thug. They've gotten luxury cars as presents and live a crazy indulgent life. They've also witnessed domestic violence from the champ's hands, so it's not exactly a charmed, perfect life. What does Mayweather teach his kids about money and work? He now is working in building real estate holdings and has businesses such as gyms, fight promotions and products, and strip clubs. I don't see his kids ever pinching pennies!
Sources: Daily Mail, Vanity Fair, E Online, Nusports.com, CNBC.com, Networth.com