When your mother is the governor of Alaska and a vice-presidential candidate, it is impossible not to be in the limelight. The very instant Sarah Palin was introduced to the world, Bristol Palin was right there beside her. Bristol, Sarah's daughter, has been in and out of the news for all the wrong reasons. In 2007, during her mother's campaign, she was an outspoken seventeen-year-old advocate for sexual abstinence before marriage -- until she got pregnant towards the end of that same year. Critics say that she was the reason her mother lost the election, but the truth is that Sarah Palin was just not that likeable. Bristol ended up giving birth to baby boy named Tripp and spotlights were thrust in her and her baby's direction at dizzying speeds. Bristol was young and confused. The media, along with mother Palin's detractors, hounded her like a pack of wolves.
Since then, Bristol has had two kids with two different fathers. She's been a contestant on Dancing With The Stars and a runaway bride, and she's made a career for herself as an author and a public speaker. Not exactly in that order. These are all common knowledge, but does Bristol still have skeletons hidden in her closet? Bits of information, not even her politician mother or her newly minted husband are privy to? Let's find out with 15 things you didn't know about this young mom. Enjoy!
15

Spot The Difference
Did she or didn't she have plastic surgery on her face? If you stare hard enough, you just might figure it out. By looking at the hundreds of photos she has online, there are some noticeable differences between the "Old Bristol" and the "New Bristol." Rumor has it, she has had jaw reconstruction, among other procedures. Other obvious areas of the face -- the nose, chin, and cheeks have clearly been augmented and altered. Let's admit she did lose the baby fat, too.
14

She Was On Dancing With The Stars

[caption id="" align="alignnone" width="1536"]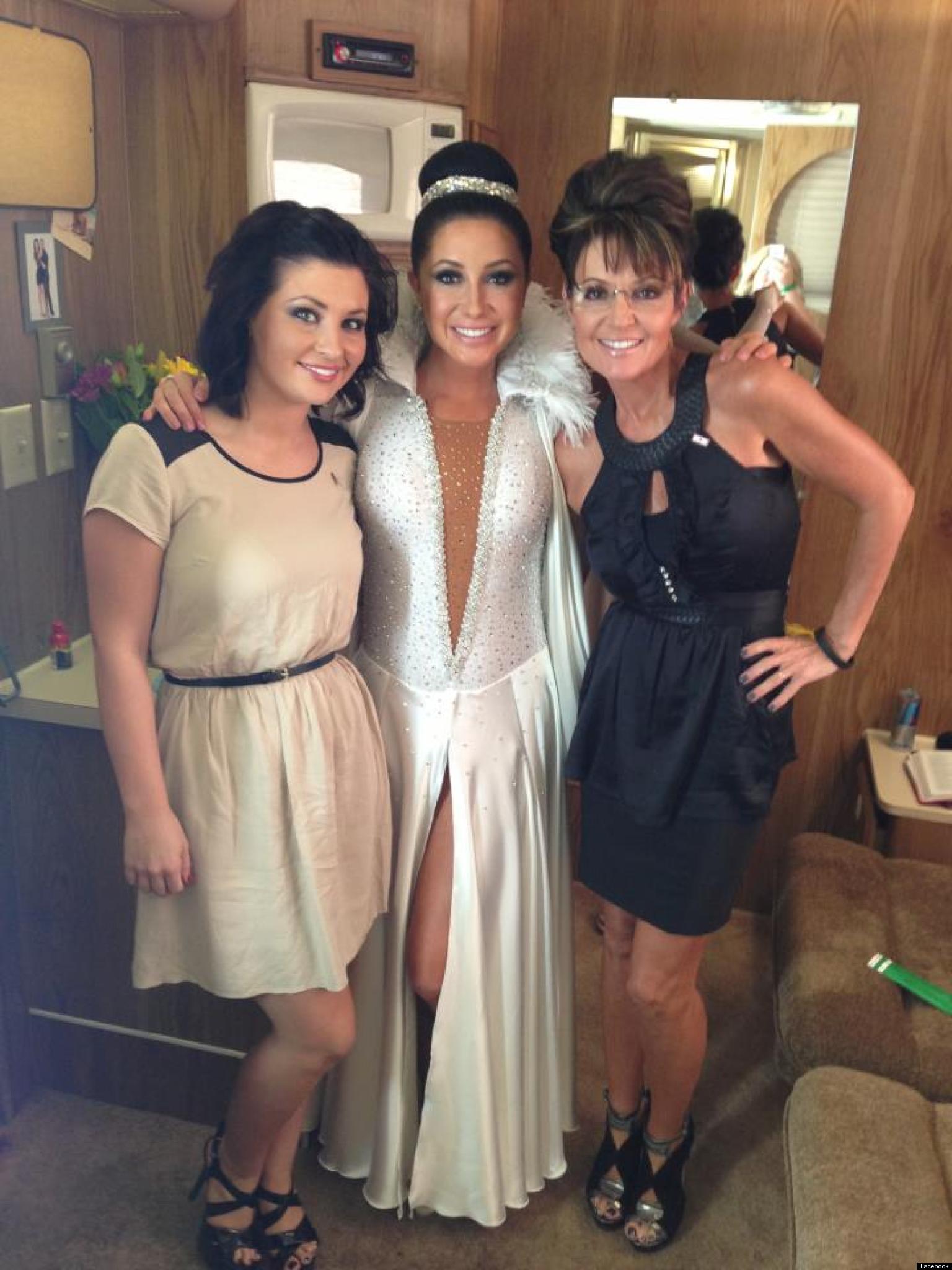 via: huffpost.com[/caption]
13

Public Speaker With A Hefty Price Tag
For a whopping price tag of 20-30 thousand dollars, Bristol Palin can be available to impart her expertise on teenage pregnancy, pro-life advocacies, young motherhood, and sexual abstinence. We're guessing that the last one is a joke. Sexual Abstinence? Really? Thomas Van Flein, the Palin family attorney confirmed Briston signed up for Single Source Speakers and is available for conferences, special events, and fundraisers.
Bristol has expressed countless of times that by sharing her stories and experiences, she reaches out to others who feel lost, just like she was. In 2011, she was scheduled to speak before the students of Washington University in St. Louis, but got uninvited due to her hefty speakers' fee! One student went on to say that she too was a teenage mother and could have spoken about the topics herself, with a much smaller price tag. Maybe Bristol should find something else to do with her free time.
12

She Penned A Memoir
11

Baby Daddy #1
Levi Johnston, Bristol Palin's #1 baby daddy is one weird ball of crazy. After getting her knocked up and while they were going steady, he still dated other young girls -- much to the ire of the entire Palin family. When she was in the delivery room he refused to cut the baby's umbilical cord and called childbirth "gross." And just when we think he can't get any worse, he proves us wrong. A few days after Bristol's delivery, he was discovered going out with a much younger girl at their school.
At the start of their love affair, he got Bristol's name tattooed on his finger. Let's add more weirdness to this story by telling you about his sister Sadie. Out of spite and jealousy, and reacting to the Bristol finger tatt, she too gets his name tattooed on her wrist. It is now confirmed -- the Johnston siblings have won the weirdest sibling award. 
10

Catfight Alert
9

Short-Lived Acting Debut
8

Her Own Reality Television Show
Bristol Palin: Life's a Tripp was a reality television show that debuted in June 2012. The series, which ran for more than a month, premiered on the Lifetime cable television network. Like any other reality-based special, cameras followed Palin everywhere as she adjusted to life back in Alaska after being in California for a while. Palin was contracted to originally do 14 episodes.
The pilot of Bristol Palin: Life's a Tripp garnered around 700,000 viewers, translating to about 0.2 viewership in the United States. With sharply declining ratings, producers were forced to move it to a different timeslot. Riddled with lawsuits from featured guests and a huge budget disagreement, producers had to can the show after the fourth episode. Conservatives also slammed the series for glamorizing teenage pregnancy and promoting a privileged and misguided lifestyle. Entertainment Weekly called it "weird and miserable."
7

Material Dor Kathy Griffin

[caption id="" align="alignnone" width="3047"]
via: q103albany.com[/caption]
6

Concert Proposal

[caption id="" align="alignnone" width="1222"]
via: justjared.com[/caption]
At a Rascal Flatts concert in Las Vegas, while the band was playing, "Bless the Broken Road," Dakota Meyer proposed to Bristol Palin. In an Instagram update she posted, "The lead singer, Gary LeVox, dedicated 'Bless the Broken Road' to us, and then Dakota got down on one knee and proposed! It's amazing to see what happens when you place everything in life in God's hands."
Dakota flew to Alaska to ask her hand in marriage and the Palin's were ecstatic. Sarah Palin had wonderful words for her future son-in-law saying, "Our families couldn't be happier for Bristol and Dakota! We're honored to welcome Dakota into our family. He's an American hero and patriot whose service to our country -- like all his fellow Medal of Honor recipients -- has been above and beyond the call of duty; but even more important is he's a good and kind man who loves Bristol and Tripp, and is loved by them."
5

Runaway Bride
4

Pregnancy Part Two

[caption id="" align="alignnone" width="1080"]
via: akamaihd.net[/caption]
A month after she called off her Memorial Day Kentucky wedding, Palin announces in a blog post that she was pregnant with her second child. With a lengthy post, she candidly confessed at being heartbroken at causing so much disappointment to her family. No mention of the father of the child. Many people suspected the baby daddy was ex-fiancé and Medal of Honor awardee, Dakota Meyers.
She was also quick to write that the pregnancy was planned and that she and her little family was doing just fine. "My little family always has, and always will come first. Tripp, this new baby, and I will all be fine because God is merciful."
"At the end of the day there's nothing I can't do with God by my side, and I know I am fully capable of handling anything that is put in front of me with dignity and grace. Life moves on no matter what. So no matter how you feel, you get up, get dressed, show up, and never give up. When life gets tough, there is no other option but to get tougher."
3

Baby Girl
Sailor Grace was born on December 23, seven months after Bristol canceled off her wedding to Dakota Meyer. With still no word on who the baby's father was, Bristol kept things secret when she decided to use "Palin" as the baby girl's last name. Soon after the birth and much to everyone's surprise, Dakota announced via social media that he was indeed Sailor's father. "Best Christmas present ever," he wrote on Instagram.
Self-proclaimed dad, Meyer also declared he was going to court to grant him the right to take care of his daughter. After a 3-month battle, an Alaskan judge ruled on the case. Meyer was granted joint custody, which Bristol strongly refuted, and visitation rights with a set schedule for him to spend time with Sailor. As a truce was reached, both parents agreed to keep matters private in the interest of the child.
2

It Was A Secret Wedding

[caption id="" align="alignnone" width="1280"]
via: etonline.com[/caption]
In June 2016, a full year after breaking off her wedding to the father of her second child, Bristol tied the knot with Dakota Meyer. After all the hype and coverage of the first wedding (that didn't happen), they made sure the second one was more low-key. Good call! Bristol and Dakota exchanged vows in a hush-hush celebration amongst close family and friends in an undisclosed location.
The June wedding was so exclusive that people did not get wind of it until a few days after it happened. Entertainment Tonight broke the story after an interview they did with Bristol's mother, Sarah Palin. She had nothing but kind words about her new son-in-law,"I love having a new son-in-law!"He's a wonderful young man, Medal of Honor winner. Such a patriot! I love Dakota." Dakota Meyer, a veteran of the United States Marine Corps was awarded the Medal of Honor in 2011.
1

Baby #3
Sources: <strong> </strong>TheRichest, EOnline
Give BabyGaga a Thumbs up!
Looking for an AD FREE EXPERIENCE on BabyGaga?
Get Your Free Access Now!