It is a fresh, sunny day. You are wearing a nice, frilly dress to match the warm summer's breeze, prepared to enjoy the experience today will bring. It is the day to go out with your best college friends; to eat brunch at a fancy Italian place, order bowls of pasta complete with breadsticks, have a slice of pizza or two. There are tinkling laughs, exchanges of stories, and lots of margaritas and Esse cigarettes. Finally, it is time to get the bill and say goodbye; one of your girls' husbands, who came to pick her up, sees you and his eyes widen in delight. "Hey, how many months is the baby?" Your eyes widen too, cheeks flushed; you think to yourself: "What the f***?!"
Ever heard of the term "food baby"? When eating one too many chicken wings; or when we have one too many pints of beer. Sometimes, on a very good and lucky day, nobody notices the belly bump we so desperately try to hide behind layers of clothes and high-waist pants, especially after a big meal. But on especially bad days, simply drinking a glass of water makes us bloat like a whale, and worst of all, someone else just has to point it out. Oh sure, just because I'm at the ripe age for having a child doesn't mean I am having one! But of course, people will never stop assuming, so we might as well clear some names as to which women are really pregnant or just really bloated!
15

Gemma Atkinson

[caption id="" align="alignnone" width="810"]
via: mirror.co.uk[/caption]
Gemma Atkinson, ex-glamour model and Hollyoaks and Emmerdale star sent Twitter positively flying with pregnancy rumour buzz and congratulatory remarks everywhere. In her vacation in Cuba, she posed in a black and yellow bikini, standing sideways clutching her (relatively) huge belly with a smile on her face.
But she clearly does not intend on fooling anyone; instead, she deliberately posted the picture as a light hearted joke. She said she appeared to have "eaten a space hopper". She went on to say, "So I ate too much bread and I have a wheat intolerance.... Food baby on board! I look like I've eaten a space hopper!" Yikes! To further prove that she was not pregnant, she posted later in the day wearing the same thing, but without the bloated belly, ending with: "Defo is a food baby and not a real baby!!!" Well, that settles matters; she was not preggo, her belly was just really big from all the pizza and pasta!
14

Imogen Thomas

[caption id="" align="alignnone" width="1200"]
via: mirror.co.uk[/caption]
When you are a model, it really is easy to spark pregnancy rumours when a usually-flat stomach is replaced instead by an explicitly visible bump. "What is that?" people would point out, and often they would answer their own questions by intriguing: "It must be a baby!" Well, to be fair, that would be my first thought too. But who knew such swollen bellies could be caused by just bloating!
This seems to have been the case with Imogen Thomas, a model and TV personality from Wales, who gained popularity after winning Miss Wales in 2003 and joining Big Brother. In her Instagram, she posted a picture of her clad in a skin-tight white dress clutching a visible bump in her lower abdomen, and captioned it with a mysterious "Oh…..!" But really, it was just a 'food baby' as confirmed by her reps; something she picked up on while dining in a steak house!
13

Tiffany Brien

[caption id="" align="alignnone" width="620"]
via: usmagazine.com[/caption]
Tiffany Brien, former Miss Northern Island and beauty and fitness blogger would know what to do to keep herself fit; after all, past pageant days and being a fitness blogger would warrant knowledge and expertise in keeping those abs toned and that waist slim. Imagine everyone's surprise when she posted a picture of her stomach bulging!
In her Facebook post, which went viral later on, she posted "before" and "after" pictures of her belly (the former having a huge bump, the latter being as flat as ever)- but not to spark and pregnancy speculations, just to show off her extreme bloating! She addressed that she was definitely "not 6 months pregnant" but just had a "food baby", which she joked usually appeared in inconvenient times (while wearing a tight dress on a nice dinner night out, perhaps). She also assured her followers that having a bloated stomach is a normal part being female, and gave tips on how to prevent bloating, like getting adequate sleep and drinking peppermint tea.
12

Lindsay Lohan

[caption id="" align="alignnone" width="962"]
via: dailymail.co.uk[/caption]
Lindsay Lohan was pregnant? "Yes" according to her dad Michael, which is actually weird because it is totally not true (even if Lindsay herself earlier texted him saying "Daddy, I'm pregnant")! Instead, it seemed Lindsay was just really bloated, perhaps from a really nice, big lunch as she enjoyed a holiday with friends in Corsica. Even her mother Dina denied such rumours and instead said that Lindsay merely "overreacted" when she dropped the pregnancy bomb.
She was spotted going around on a yacht, a Stella beer in hand and a cigarette in between her lips (and if she really was pregnant, this would not be something she should or would be doing, of course!), donning a striped one piece bikini, her belly protruding like an anomaly from her otherwise skinny body. Looks like it is just extreme bloating though because it's already 2017 (the photographs surfaced around last year) and still Lohan remains childless.
11

Lea Michele

[caption id="" align="alignnone" width="620"]
via: vibe.com[/caption]
"Is Lea Michele hiding a baby bump?" headlines asked when around late 2012, the Glee star was photographed on her way to a nail salon holding a huge handbag in front of her somewhat swelled abdomen, beneath the layers of a grey cotton shirt and denim jacket. It could just be the position of her handbag and the angle of the photo, but of course naturally, the media would zone in on the pregnancy rumour at the sight of a slight stomach bump. Haven't the media thought that maybe she's just hiding her really bloated stomach (perhaps after she's just had a huge lunch)?!
Of course, the answer to the preggo rumours would be a big no, Lea was not pregnant, her belly was just bloated, that's all (as if Hollywood stars can't have stomachs sometimes?!). To dispel the rumours, her rep told RumorFix that it was "completely false". And in a charming way to address the photos, Lea tweeted "My first fake pregnancy rumour! I've finally made it :)". That's right honey, just keep smiling at them for your unapologetically bloated belly!
10

Pink
The media just can't stop but stare and make a fuss when they chance upon a slightly-bulging midsection beneath a tank top, or a loose, flowing blouse (to hide the belly bump, perhaps?!). This is exactly what happened to pop rock icon Pink when photographed looking like she had a slight baby bump beneath a thin, white cotton shirt. Rumours sparked that she and husband Carey Hart might be expecting another child.
Pink was "coy" about the rumours, but her reps firmly denied them: "Pink is not expecting." Welp! Looks like she just had a big breakfast, is all. She also is more on the buff side, so it may be that her body is just chunkier than others'; she even joked on twitter: "off to the gym. lord knows when this 600 lb baby comes out that I've been growing for 8 years, I better be strong and physically prepared!!!"
9

Chloe Madeley
It looks like Chloe Madeley was definitely happy on her 28th birthday! Deviating from her usual posts revealing her fit and toned physique, the television presenter, freelance journalist, and fitness expert posted a photo of herself on her Instagram account instead of showing a bulging bare midsection beneath a tank top. She was not pregnant, however, and made it very clear so. "When carbs knock you up," she captioned her picture.
"You know them food baby feels," she continued in her post. Taking a break perhaps from the fitness regimes and nutritional diets, she showed everyone how she enjoyed her birthday bash by following up her bloated belly picture with a snap of her dinner: a scrumptious, definitely carb-loaded lobster mac n' cheese. Staying true to the bloated belly, she even said "Obviously I crawled out of bed at midnight to celebrate my birthday by eating crumpets, drinking beer and watching TotalDivas in my underwear." Nope, definitely not pregnant, just really bloated!
8

Halle Berry

[caption id="" align="alignnone" width="1024"]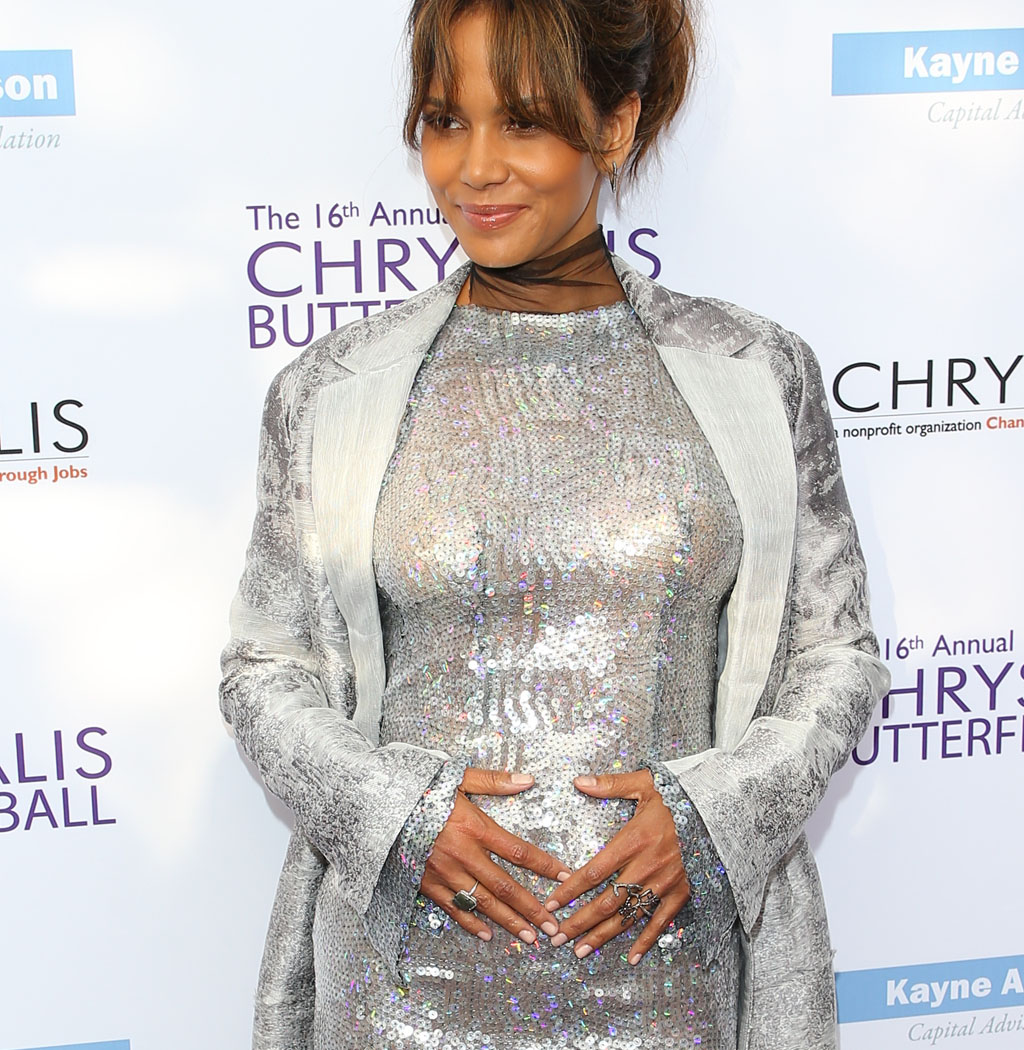 via: static9.net.au[/caption]
Halle Berry, A-list Hollywood actress known for her roles as Cat Woman and Storm in the X-men franchise, is surely one of the hottest, sexiest women out there. So it would be no surprise that media would turn all their cameras towards her belly (and consequently spark pregnancy rumours) when she showed up at the Chrysalis Butterfly Ball in Los Angeles wearing a tight, silvery sequin dress as she cradles a bump-y looking abdomen. In all fairness, Halle, the way you cradled your midsection is very reminiscent of "baby bump" photo poses.
But hey, it turns out she was just really bloated that day! Her rep definitely denied pregnancy rumours to the media. Maybe she had one too many cakes at the buffet table? Or a lot of delicious burgers, perhaps? Later on, she herself addressed the issue once and for all in her Instagram account, joking "Can a girl have some steak and fries???"
7

Anna Victoria

[caption id="" align="alignnone" width="525"]
via: mdpcdn.com[/caption]
Anna Victoria is a fitness influencer known in the Instagram world. She often posts photos of her fit body while capturing the realities of nutrition and what it means to be fit. She would caption posts with encouraging messages; for instance, she posted a photo of her "transformation" (from a not-so-toned body to a fit physique with rock-hard abs), telling everyone that the real transformation is what happens behind the scenes, and that life should not be wasted comparing oneself to others.
So it would be no surprise at all that it is no problem for her to show off her bloated (but definitely not pregnant!) belly poking out of her sexy, slim-fit black dress after dinner! "I bloat very easily, even with eating healthy foods and I can go from lean to looking 4 months pregnant after one bad meal," she explains. So here we have one more woman who is most surely not pregnant, but just had a bloated night after a particularly big meal!
6

Eva Longoria
When you go on a lovely holiday, it would be wise to enjoy it to the fullest; maybe drink some wine while lounging on a yacht, soaking under the sun, eating a nice holiday meal- Eva Longoria definitely would! The Desperate Housewives actress was photographed during her holiday in Honolulu sporting a visible bump beneath a grey dress and white cardigan.
According to the Hollywood star, she was just really bloated because of eating too much cheese! Pinning it on lactose intolerance, Eva humorously denied the pregnant-looking belly with her remark of "Yes I look pregnant, but it was just a ball of cheese, a ball of cheese in my stomach". Afterwards, she even posted pictures of her clad in a teal bikini having a nice sunbath; she also uploaded a short video of her jumping around the beach sands- stomach totally flat.
5

Gabrielle Union
Gabrielle Union was surely slaying in her beautiful blue and white Prada dress on her way to the Amfar Gala with her hubby Dwayne Wade in tow. In a slow-mo video she uploaded on her Instagram account, she showed off her beautiful dress and handsome partner; but that's not all she showed! In the video, there appeared to be a visible lump around her midsection, causing speculation that she might be expecting.
But Gabrielle was quick to dismiss rumours. She clarified she was just really bloated; upon posting the video she saw the belly bump, but just hoped no one else noticed. She thought people would comment on her bloat, but did not expect them to comment that she might be into her second or third trimester! She laughed the whole situation off "with a series of tweets and a cocktail".
4

Adele

[caption id="" align="alignnone" width="634"]
via: dailymail.co.uk[/caption]
Adele is one of the biggest names in the Hollywood industry. The English singer and songwriter has won numerous awards, including the Grammys. Undoubtedly, she is one of the most talented artists and one of the most beautiful women out there. She posted a black and white photo of her on Instagram, appearing to be singing and clutching her midriff in front of a bathroom mirror, so certainly the first things fans do is go crazy wondering if she is pregnant (with her second child) or just really bloated.
And the answer is? Ding ding ding! She's not pregnant, guys, she was "just bloated"! In a hilariously charming way to shut down the preggy rumours (as she also told everyone she turned down the Super Bowl halftime show), she said to anyone who would listen, those are "f****** stupid rumours". You go, Adele! Tell 'em that being bloated is something that just happens sometimes, you know?
3

Jennifer Aniston

[caption id="" align="alignnone" width="900"]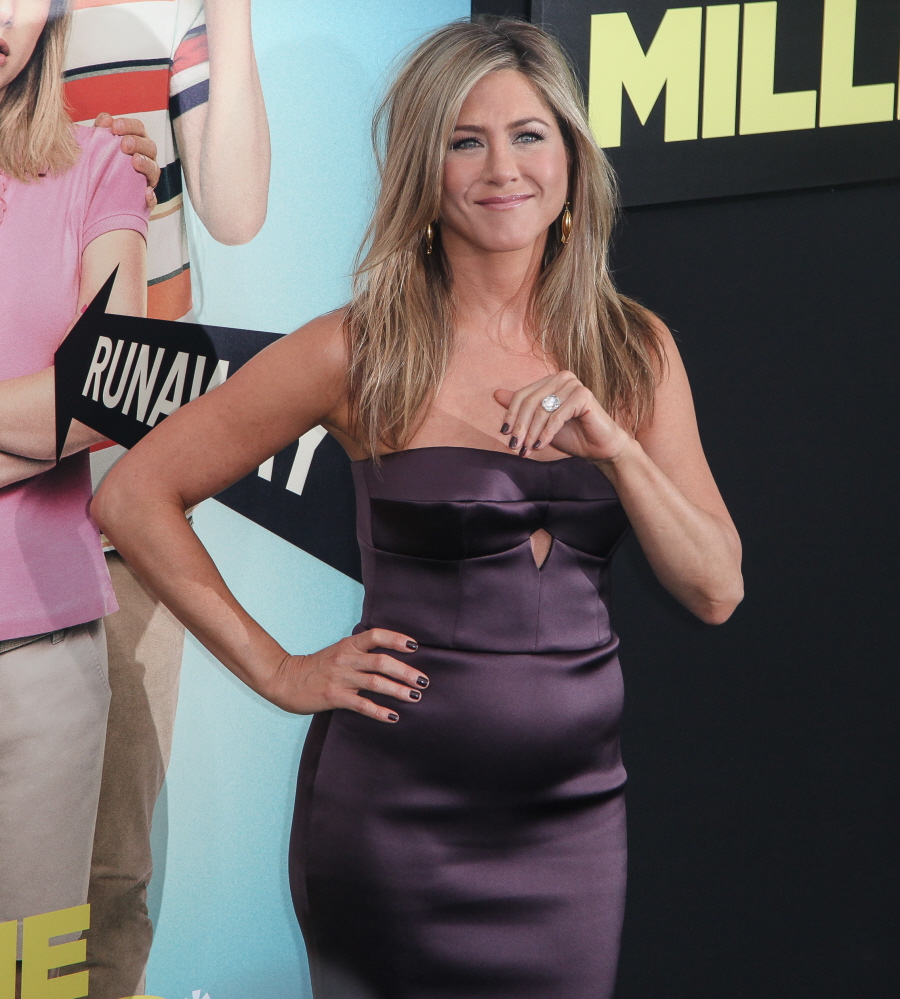 via: celebitchy.com[/caption]
"Finally, pregnant!" "Yes she's pregnant" and some other such phrases signifying that Jennifer Aniston is finally having a baby are abounding in the celebrity magazines. On more than one occasion Jen has been photographed with a swollen belly; one time when she was wearing a sparkly silver dress, another, a black baby doll dress that could pass up for a maternity dress. There was also a time on the beach, her belly swollen beneath her skimpy bikini top. And much, much more.
Turns out though, in all those occasions she was just really bloated! She lambasted body shamers and the media for spinning stories about her bloated body. "And it's like, actually no, it's just my body. Not that it's any of your business, to begin with," she states firmly. Looks like Jen is not having any children soon, just really good meals!
2

Rihanna
Our girl Ri Ri is looking curvier and fuller than usual. The Barbadian singer and actress was rumoured to be pregnant around May just this year after she was spotted donning a blue collared top and some ripped jeans that clung to a fuller looking body. The Instagram post captioned "#Rihanna's been eating good" threw fans into a frenzy trying to guess if she was pregnant (with Drake?!)
Looks like the post is really just what it is: Rihanna has been eating good- real good. And it may be that her bloated body was a result of some really nice, heavy meals and a baggy top. Clothes can deceive, after all. Even more recently, she donned a huge red gown during the Valerian premiere that sent people flying into the rumour mill again. But perhaps it's no baby, but still the burrito this time.
1

Lady Gaga

[caption id="" align="alignnone" width="1000"]
via: mirror.co.uk[/caption]
Did 'Mama Monster' Lady Gaga just get pregnant with her own "little monster"? In 2014, rumours of Gaga's pregnancy sparked when she showed up in a tight, red sequinned dress with an obvious lump marking the front of her midsection; she looked decidedly curvier than before. OK! Magazine even dished out the speculations by saying how Gaga's (then) recent wardrobe choices "seem to be more than just about fashion".
Lady Gaga definitely looked like she packed a few pounds (perhaps it was due to the relationship bliss with hubby Taylor Kinney?), but perhaps that's all they were! Her rep also denied the rumours, saying they were "not true". Apparently, she was photographed in another outfit (also tight, but a blue onesie this time) on the same day, but without the same bump. She was just hella bloated that night in her red dress!
Sources: News, Celebdirtylaundry, Mirror, Usmagazine, People