Tia Mowry is a producer, author, actress, and famously known from her teen-acting role in the hit series, Sister Sister. She is a mother of two children, Cree, and her newborn baby girl who's name has yet to be released. Her journey to the second pregnancy has not been an easy one, to say the least.
After being diagnosed with endometriosis, it became really hard for Tia to be able to become pregnant. She has been very vocal about her fertility issues saying, "I was in denial, to be honest with you. I probably went through 20 pregnancy tests," the 39-year-old confessed to Mini Magazine "It was hard for me to get pregnant, so I wanted to be super positive before I got too excited."
Tia's husband, Cory, could not hide his joy of having a little girl. He told Essence "I've always wanted a little baby girl, riding around in my car, looking in the back at her car seat, [seeing] her little burettes and all that. I want to see all of it, her hair done really nice and some good ultra sheen and you take it back to the green grease, you know what I'm saying? I want to enjoy and cherish all those moments just being a father and raising a beautiful Black young queen in this world."
In November, Tia took to Instagram to announce that she was pregnant. She posted a beautiful picture of her husband and son kissing her growing belly. It was heartwarming. After the first image surfaced, Tia has been posting pictures of her different maternity looks and documenting it for the world to see. Here is a list of 25 times Tia Mowry rocked her pregnancy gear, which, ultimately, wowed us the most.
21

The Highly Anticipated Baby Announcement
Tia took to her personal Instagram account to announce that she is expecting her second child! She posted a picture of her husband, Cory, and her 6-year-old son, Cree, kissing her noticeably growing baby bump. It was such a beautiful picture accompanied by a heart emoji to express how she felt.
Over the summer, she showed off her gorgeous figure after losing a whopping 20 pounds. After being diagnosed with endometriosis, she had a change in a diet and followed her cookbook to a T. Tia had previously admitted to using weight loss pill. However, the medications she were on didn't do much too after indulging in junk food.
She wrote in the book Whole New You: How Real Food Transforms Your Life For A Healthier You And More Gorgeous You, that her biggest motivator was that she wanted to get pregnant. Then, after six months of dieting, she realized that her eczema and migraines disappeared, and she lost weight easily.
Slowly, Mowry started to "find natural foods delicious and truly satisfying," she wrote."As if that wasn't enough, I got a bigger surprise about a year after I began eating this way,
"I started to feel deeply, thrillingly alive," she added, "I had more energy than I remember ever having…"
And those weren't the only positive results, "The cherry on top of this dairy-free sundae is that I got pregnant. Quickly," she explained after finding out she was pregnant with her son, Cree. "Given all of my health issues, I hadn't expected it to happen so fast — if at all — but after I'd been following my new regimen for just twelve months, Cory came to visit me in Atlanta, and a few weeks later, we got the happy news!" She shared with People.com
20

Tia's Work Out Gear
Tia was spotted out and about, attending a work out session in the LA neighborhood, Studio City, Ca. Even in her pregnancy, she is doing her best to keep fit and doing so in a gorgeous maternity style at that. Tia sported a black zipper jacket with animal print leggings and a pair of sneakers. She accessorized this fit-mama look with a pair of shades, hoop earrings, and a cute black bag.
Tia has been going to the gym, consistently, especially after being diagnosed with endometriosis. She proudly lost 20 pounds earlier in the year, before announcing she was pregnant. It was her way of dealing with stress. "I'm really, really into yoga," she told The Cut in March. "Because my work can be hectic — being an actor, being a working mom, I wear all these hats — I needed to find a workout that didn't get me all riled up and stressed. I needed a workout to decompress myself."
She has also been going for private dancehall moves with the famous choreographer, Lorenzo Hann. She has shared a few of her videos absolutely slaying these new moves. Her trainer had sweet things to say about Tia, "If you look a little closer you can see her little baby girl jamming with us. Teaching steps like #PyroPree #SwirlUp#TES #Fling and more in LA making nice, unforgettable memories and I hope she inspires more pregnant moms to dance Dancehall."
So do we, Lorenzo, so do we.
19

Still Proudly Rocking The Red Carpet
Tia looked adorable in an all black off-the-shoulder dress grasping a simple black clutch. She accessorized with a shocking red lipstick and dangling black earrings. Her husband looked dashing in an all black suit, as he complemented Tia's look. They are so much in love and their smiles are all the proof we need.
They shared with People.com about their future daughter's name,
"Names show some strength and some power behind it," Cory Hardict shares. "It has great meaning. So that's what we're looking for."
Tia followed up with, "Yes, and he's the one that names," says the Sister Sister alum. "He named Cree and he's going to name her too." "I'll give you the initial: It's a C. So that's what it's going to be," Cory adds. "And the middle name will be a T for my name, Tia," explains Mowry-Hardrict, 39. "So it's C.T.H."
Her son is receiving the news positively, but he's got his reservations too. Cree is "very excited" to become a big brother, but according to his mom, he definitely has his reservations about this whole sister thing. "He's very excited. I can sense a little bit of jealousy" Mowry-Hardrict says. "I had her clothes laid out on the bed, and he goes, 'Mommy, why are my sister's clothes laid out in the bed? … Did you do that?' "I'm like, 'Yes.' And he goes, 'Why? See you later!' I think he's getting a little jealous of the baby,  but we're trying to make him feel as comfortable as possible."
They are such a beautiful couple.
18

Better Food Choices Before Becoming Pregnant!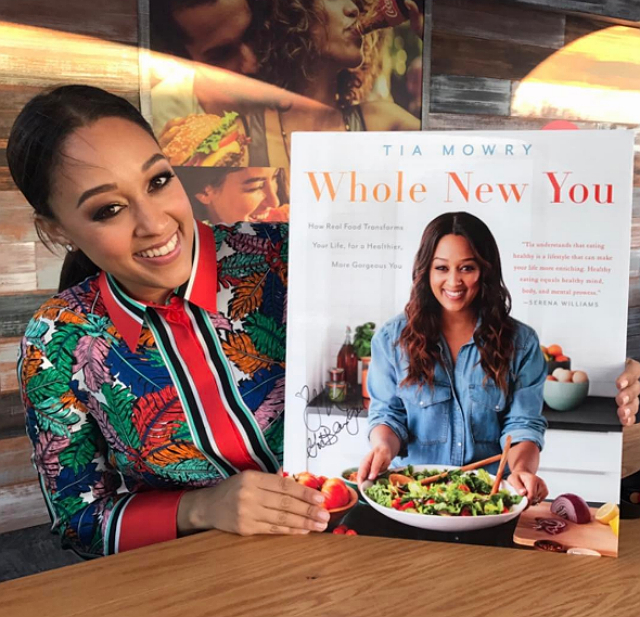 Weeks after surgery, Tia sat on the examination table when her doctor came in and gave her the ultimatum of a lifetime: If she wanted to have more kids one day, she would have to change her eating habits immediately. After hearing those words from her doctor, it was time for her to do something about it without delay. Having always wanted to have kids of her own, she had to change her diet completely and adhere to what her doctor had advised her to do.
In her book, Tia shares her experience suffering from endometriosis which nearly caused her to have an ectopic pregnancy. "One of the main reasons that I decided to write this book is to inspire and to encourage other women; and to help educate the masses about how food is medicine," Tia told Ebony before her book's debut.
"I was diagnosed with endometriosis in my mid to late 20's. I had no idea what it was. I had just gone through having very painful menstrual cycles," the actress explained.
Although she had two surgeries to correct the issue, her unhealthy eating habits contributed to her illness. Once she got her new lifestyle in order, everything else became easier and the condition slowly disappeared. "So that's when I finally got on the diet; which is basically the things in my cookbook. I ate these same types of foods. I didn't have any more endometriosis symptoms." She says.
This is what paved way for both of her pregnancies.
17

Another Day Just Looking Gorgeous
Tia looked stunning at the First Ever Life Hack Academy Live Event, hosted by Ford EcoSport. She wore an off-shoulder grey dress with black pumps. Tia spoke to People.com as she was dishing on how her second pregnancy had been filled with challenges.
"I didn't think I'd be able to have a second child, and it's been over seven years since my first pregnancy," said Tia, who is referring to her son, Cree. "I put it off, but I did want to have another child. I didn't let my fertility issues define me or define what my goals were and what I wanted out of life," she continues, opening up about her challenges with.
"We did try for a long time. It was hard. But I didn't give up."
"That said, I just feel so much joy with [this pregnancy.] Also, who knows if I'll ever be able to get pregnant again? So I am embracing and enjoying every moment. Even with my fashion, I'm like, 'I was a fashionista before — I'm gonna still be the one even in pregnancy," Tia said,
"I'm not gonna force myself into pregnancy pants! I just wanted to really embrace every moment and also keep moving. My first pregnancy, I was afraid to do anything, and I feel better [now] because I'm moving, dancing."
How much more relatable is that?
16

Celebrating Tia's Pregnancy In African Attire
Tia looked beautifully authentic in an off-shoulder African print dress, while her husband, Cory, chose to complement her look in an African print shirt, pair of blue jeans and white sneakers. Tia chose comfortable brown flat open-toe shoes to complete her look. She accessorized with hoop earrings which seem to be her go-to earing design.
Tia and Cory met as they were filming a movie together. After dating for six years, they became engaged on Christmas of 2006. The couple got married on April 20th, 2008, in California and announced they are expecting their first child in January 2011. They have been together ever since and looks like we are going to enjoy seeing them together for quite a long time.
The pair renewed their vows in April 2013, in an intimate beachside ceremony in Malibu. "Cree was my motivation and inspiration to renew our vows," she told Us Weekly. "Cory and I have been together for 13 years and married for five. However, we now have this new miracle in our lives and I wanted to celebrate our love, and what our love together created - Cree!" Cree is not almost 7 years old and has just welcomed his new baby sister!
15

Six Months In, Three To Go
"God, I thank you." Tia expressed her gratitude on her personal Instagram page, as she celebrated six-month pregnancy mark. The Sister Sister alumn star wore a black dress, long pink kimono and a pair of knee-high boots. She wore a wide brim Fedora hat to tie the whole outfit together. How gorgeous does she look, channeling her inner Queen B look?
"I'm officially six months," the actress wrote online. "I never thought I would be able to have another child and here I am. God, I thank you. Cory, I thank you for being there for me emotionally. Taking this pregnancy one step at a time and enjoying every moment. Even the aches and pains, nausea, and sleepless nights. Cree, you are my miracle and the little one, you are too. Mommy loves you both so much."
The famously known actress recently shared her tips and tricks for handling her second-trimester fashion, on her Youtube channel Tia Mowry's Quick Fix Writing, "Calling all my fashionistas! This week I'm talking about pregnancy fashion, but I mean really, when is a little black dress not appropriate? That said, I just feel so much joy with this pregnancy. Also, who knows if I'll ever be able to get pregnant again? So I am embracing and enjoying every moment."
Tia continues to say, "Even with my fashion, I'm like, 'I was a fashionista before — I'm gonna still be one while I'm pregnant. " she says.
"I'm not gonna force myself into pregnancy pants! I just wanted to really embrace every moment and also keep moving. My first pregnancy, I was afraid to do anything, and I feel better [now] because I'm moving, dancing."
We are here to watch and learn Tia. Keep inspiring other women to dress up their pregnant bodies.
14

Mama Showing Off Her Gorgeous Natural Curves
Tia looked full of life, as she posed for a picture in her kitchen. We love that Tia is not afraid to show off her gorgeous natural curves and even embraces them during her pregnancy. She shared the adorable picture on her personal Instagram account, looking gorgeous in a two-piece swimsuit by Africa's very own OFUURE. She was quoted saying,
"Embracing these curves and loving every bit of it! #pregnancy,"
Tia announced the new addition to the Mowry-Hardrict household, in early November, with a gorgeous picture of her son and husband embracing her growing baby bump. Shortly thereafter, Tia announced her bouncing bundle of joy is a girl! The popular child star and lifestyle blogger told People that the way she dresses is a part of her personality and that she plans on embracing her popular style during the remainder of her pregnancy.
The twin actress has a lot of respect for her changing body and has been an inspiration in regards to how she talks to her son's expectation of his soon-to-be little sister. She is also an inspiration to all women out there, pregnant or not, to look flawless throughout their pregnancy.
When you look good, you feel good, right?
13

Tia's A Pink Lace Goddess At Her Baby Shower
Tia looked adorable in a pink lace dress to complement the colors of her husband, Cory, and son, Cree, during her baby shower. She looked ecstatic to be surrounded by family and friends, for an intimate baby shower.
The couple spoke to People.com and this is what they had to say, "I'm literally still on a high from my baby shower. We chose the boho theme mainly because my husband and I have been looking at a couple of names and have been narrowing down. And we felt like her name fit that theme,"
Tia continues to say, "So we wanted to give some sort of tribute to her already. Cory and I also love the boho styles and everything. It made a lot of sense. The baby shower was in theme with her name."
Her initials –C.T.H – are already set in place and even the guests will have to wait longer to know her full names.
"I learned my lesson, so many people have so many opinions and this is kind of just between you and your husband, I'm definitely going to wait, but we did play a game where guests can guess the baby's name. And some of them were pretty close."
We're waiting for the announcement of her newest addition's adorable name.
12

Mama-To-Be Shows Off The Nursery
Tia looked stunning in a three-quarter sleeve white dress, with a giant peony across her right lady bit, and gorgeous silver pumps, as she gave fans a tour of her baby's nursery in one of her episodes at the Tia's Quick Fix. She gave us an inside look at her new baby's nursery and showed us everything from her clothes and shoes she has purchased already. She also shared the room décor that was just bright, simple and beautiful.
The mother of two described the nursery as to having an organic color palette, and minimal clutter, in order to make the nursery a calming environment for her daughter.
"You asked and you got it, baby girl is almost here and we are READY," Tia discussed during her Youtube's episode. "I'm loving the earth tones and calm vibes of all the decor, and can't wait to see her grow into this gorgeous room."
Jake Alexander was one of the designers involved in the nursery. The interior designer did an awesome job putting everything in place, repainting it, redecorating after Cree moved out into a bigger room in the house, to make space for his long-awaited sister.
11

Looking Picture Perfect In A Black Dress
Tia looked gorgeous in a black outfit that showed off her baby bump. Some fans took to her social media pages to shame her on her recent weight gain after Tia showed off her growing 9 months baby bump. The Atlanta Black star was a victim of brutal and malicious comments from online trolls. They left cruel and hurtful comments about her after she continually posts pictures of her growing baby bump.
One comment was particularly malicious and asked if she had eaten her twin sister, Tamera Mowry. Tia was seen wearing an oversized sweater and calf-length skirt while walking the streets of Hollywood. One troll decided to take to Twitter and asked, "She ate the other twin?"
She posted one of her maternity photos with the hashtags #love, #photography, #pregnancy.
Another hater, then, wrote that being pregnant "makes [Tia] look like Humpty-Dumpty or a bag of mayonnaise." Luckily, Tia's fans quickly rushed in to defend the star and tried to ease the comments. Tia has not responded to the comments.
However, unfortunately for Tia, this is not the first time the famous author and actress has been shamed for her weight. But, thanks to her thick skin, these online haters have not stopped Tia from posting selfies and pregnancy pictures.
10

Mother Nature's Maternity Photoshoot
As a fashionista, Tia did not let her fans down when it came to her maternity photo shoot with her ever-gorgeous baby bump. For the shoot, Tia chose a naturally themed shoot, where she can be seen with nude earth tones to compliment her natural skin tone. Holding a sheer garment, Tia cradled her third-trimester baby bump.
"In love is what I am. Can't wait to meet you," Tia captioned the shot.
"I think the best thing about being pregnant would definitely have to be seeing just my belly grow and seeing, like, wow, there is, you know, something inside of me." Tia has previously stated.
And, of course, as an expecting mother or experienced mother knows, there is nothing quite as glorious than seeing your baby bump move for the first time (or hundredth time.) But, regardless how many kicks a baby offers her mother in the ribs, these kicks are timeless.
9

Tia Taking A Stroll, Heading Out For Lunch
The 39-year-old The Game actress is glowing in her second pregnancy. She looked good as she stepped out for lunch in Los Angeles. She wore a sophisticated warm black knit sweater to keep warm with a knit black skirt and a pair of high heels. She accessorized with gold hoop earrings and a black bag. She seemed to be in high spirits as she was spotted laughing her heart out. Her signature braids that were tied in a clean bun, allowing her youthful face to shine. Her sweater had some cute circle cutouts at the sleeves to add some style to her outfit.
With her variety of maternity outfits, she commands attention and it's hard for her to go by without anyone recognizing her.
Tia recently told People that struggles she was facing with her second pregnancy. The former Disney Channel admitted that she was trying for her second baby for years, but was never able to conceive.
"I didn't let my infertility issues define me or define what my goals were and what I wanted out of life," Tia said.
Tia revealed she was having a baby girl, during one of her Youtube episodes. The couple currently has a 6 years old son together and have now delivered a healthy bundle of baby girl joy.
8

Glamorously Glowing During Her Second Pregnancy
"In love is what I am." Tia shared in her latest maternity shot.
She is showcasing her growing baby bump in this cute white themed shoot. She wore a white shirt that covered her breasts in the right areas and a white pantie. Her hand holding her baby bump to give the focus it deserves. She was glowing and her smile said it all. "In love is what I am," she captioned under one of her more candid images. "Can't wait to meet you," she wrote to her unborn daughter.
Tia also shared a picture of her son, Cree, who may we add, is growing to be a very handsome young lad, looking dashingly similar to his father, Cory.
"Children are our future," Tia continues,  "Cree, dream big and fight for what you believe in. As your mother, I will guide you every step of the way."
How precious!
Just a few days back she spoke to People about the potential names for her daughter. "We're juggling between a couple of names right now," Tia admits, "We don't want to reveal it. Cree is very unique. We like unisex names. Some do not understand the strength of a name."
However, the two seem to understand the importance of identity. "He's the one that names," Tia told reporters. "He named Cree and he's going to name her too," she added.
Cory did not give any hints as to what he was naming the couple's daughter, but he did say, "I'll give you the initial: It's a C. So that's what it's going to be."
7

It's A Girl For The Hardicts!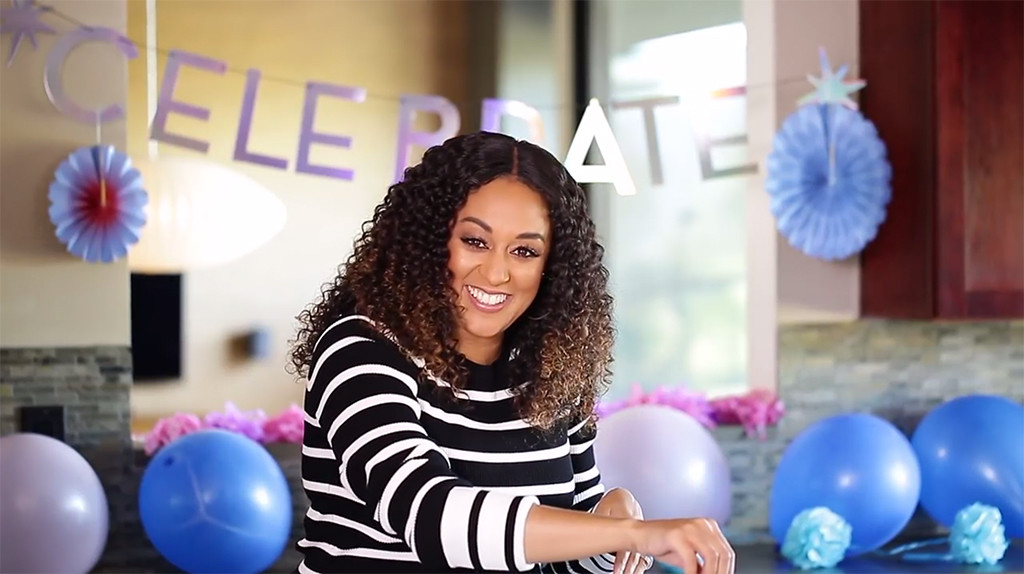 Tia revealed that her second child is going to be a girl on her YouTube channel Tia Mowry's Quick Fix, "Cree Taylor is going to have his own little Sister, Sister. We're having a girl!"
The actress and lifestyle blogger said in a video, which showed fans and viewers across the board the gender reveal sweets in the home. After Tia was seen biting into a pink cake pop, she continued to say, "Cree is going to have a baby sister. We are so excited."
"I can't wait to meet you. My love for you grows every day," 
Tia posted an image and captioned with her own sweet words, where she can be seen placing a hand on her growing belly. Tia's twin sister, Tamera Mowry-Housely, has a son and daughter of her own, but could not contain her excitement for Tia's new baby girl. "Yayyyyy! Couldn't wait to tell the world," The Real co-host wrote in a Tweet after Tia announced her pregnancy.  "I'm going to be an auntie!!!!!"
They are all happy for her pregnancy considering all she has been through to get here.
6

Mommy And Cree's Day Out
Tia looked gorgeous as she was spotted holding hands with her son. She wore a black and white sweater, with distressed blue jeans and a pair of converse to match her son's converse too. She accessorized with a pair of big hoop earrings, sunglasses, and a crossbody black bag. At an earlier interview with People.com, she shared how her son was responding to the pregnancy. Her son is super supportive and sweet. Here is what she had to say,
"The first parent-teacher conference that we had, the teachers said, What we notice with Cree that we don't really notice with other kids and at such a young age, is he's so considerate. So with me being pregnant, he's been so considerate. He's asking me if I've eaten. He's asking me if the baby is okay if I'm doing okay," she explains.
She continues to say, "He's even asking some hard questions I didn't have during the first pregnancy because I didn't have a child, like, 'Mommy, how'd the baby get in there? How's the baby coming out?"
That doesn't mean Cree doesn't have a few requests, though. As the star explains, "My son is so funny. He said a few days ago, 'Okay Mom, now that I have a sister, next time I want a brother,' " "I'm like, 'okay, now you're just putting your order in? Okay. How about we just wait to see what happens with this one,' " she laughs.
5

Queen Of Pregnancy Disguise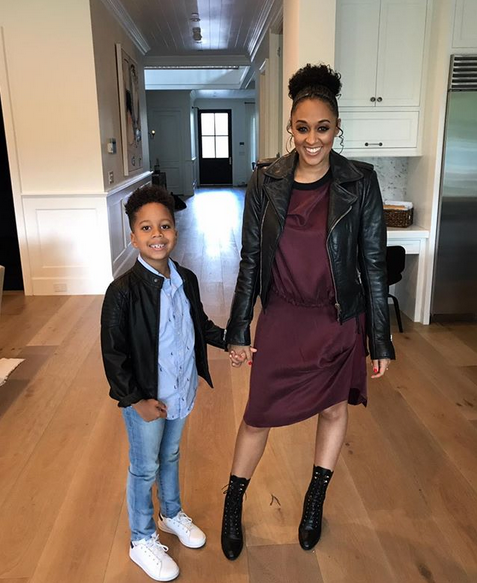 We can call her the queen of covering up her pregnancy bumps! Tia has managed to keep her pregnancy off the radar until November when she announced that she was pregnant.
She had been wearing heavy patterned dresses, with a bulk around the midsection, perfect selfie angels and took calculated poses that kept her midsection away from the eyes focus.
In this burgundy dress, she can be seen covering her gorgeous curves with a fitting black leather jacket, paired with a stunning pair of high top boots.
Before the pregnancy announcement, she wore a heavy patterned dress that hid the pregnancy perfectly. And, the day before the announcement, she took a picture leaning back with her leg bent in such a way that her stomach was blocked from the camera lens' view. Her pose steals the attention away from her growing stomach.
We're surprised Tia was able to pass 6 months without acknowledging the pregnancy, especially with how well of a job she did to hide it.
4

Youthful And Happy For The Mini Magazine Cover
Tia was excited as she shot for the spring cover of Mini magazine. She was featured sporting a blue floral print flowing dress. "This pregnancy is different in the sense that I am really enjoying it more. I am enjoying it through nausea, the sleepless nights, the pain. I am not taking any of it for granted," Tia tells Mini.
It feels like just a few weeks ago that the expecting actress shared gratitude over her family's expansion. "I was in denial, to be honest with you," Tia in an interview with Mini magazine. "I probably went through 20 pregnancy tests. It was hard for me to get pregnant, so I wanted to be super positive before I got too excited."
3

Tia And Cory Renew Their Solemn Vows At 10th Anniversary
Tia shared this beautiful caption on their anniversary date. She went all out to share sweet messages to her husband, Cory, as they celebrated their 10th wedding anniversary. They all looked great in the same color palates of neutral greys and black. Tia wore a long grey kimono, grey top, and black pants, while her husband wore a two-tone grey t-shirt and black pants. Let's not forget little Cree, who was also photographed wearing a grey top and black pants.
Tia Mowry and Cory Hardrict seem as though they are on the right track for their own Disney Happily Ever After.
Not only did this dashing couple welcome their newest addition after years of trying, but the pair also celebrating their 10th wedding anniversary!
Tia took to her social media pages to wish her man nothing but the best and thanked him for being around, "Wow! 10 years married to you! @coryhardrict. It's crazy how time flies. Building a family, dreams, and a life with you has simply been Gods purpose. Thank you for loving all of me. Thank you for loving me as my grays come in. Thank you for loving my character, my personality, and my soul. For you, I do the same. Those traits never change. #happyanniversary Mr. Hardrict. We love you!  #18yearsstrong."
Seriously though, that's the true meaning of Couple Goals!
2

Simplicity At Its' Finest
Tia looked gorgeous in this simple beige sweater, black jeans and a pair of calf-height boots. She accessorized her look with a black handbag and a simple gold neck piece. She posted this photo, as she shared her New Year's resolution on her Youtube channel. One of her resolutions was to be more present with her children.
With the many hats, this mama has to wear, we can't wait to see how she does it now that she is soon going to be a mother of two."I don't want to feel like I'm leaving my son Cree out. Being a twin, it's really important to focus on your children's individuality. I just want to make sure that I'm the best mom and that I'm present for both my children."
The pair began dating in 2001, before exchanging vows at the Santa Barbara For Seasons in 2008. Four Seasons in Santa Barbara. Cory revealed that he knew Tia was the one when he first moved to Los Angeles. "I was dirt poor, I didn't have anything and she appreciated everything for what it was and she loved me for me. It was real love." Cory said.
1

Welcome To The World, Baby Hardict!
Tia Mowry and Cory Hardict welcomed their highly expecting baby girl on May 5th, at 10:29 am. Their healthy bundle of joy was born weighing decent 6 lbs 4 oz and stands 19.8 inches long.
From everyone at Baby Gaga, we wish to send our sincerest congratulations to Tia Mowry and her family. We wish her a speedy recovery.
References: people.com, dailymail.co.uk, madamenoire.com, essence.com, aceshowbiz.com, people.com, people.com, people.com, dailymail.co.uk, enstarz.com, dailymail.co.uk, celebbabylaundry.com, bckonline.com, bckonline.com, dailymail.co.uk, ebony.ca, dailymail.co.uk, bckonline.com, firstladyb.com, bckonline.com, dailymail.co.uk, dailymail.co.uk, bckonline.com, bckonline.com, delish.com