To kick off 2017, The Silicon Valley company debuted a hands-free breast pump at CES2017, said to be the first of its kind available on the market. While breast pumps can be loud, unwieldy, and painful, this device is convenient enough that mothers can continue their daily activities while they pump. Willow, the first wearable breast pump, is hands-free, tube-free, and is small enough to fit inside a bra while pumping.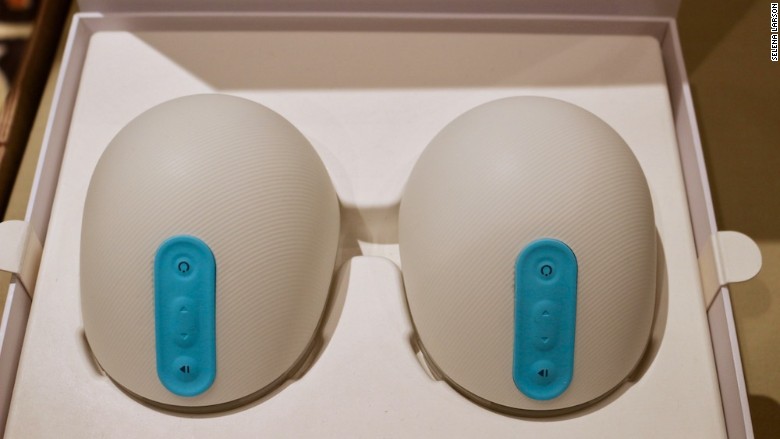 The creater of Willow, Johnny Chang, was inspired by his wife while she raised their three children. He wanted to create a more convenient and discrete breast pumping experience to encourage more women to breastfeed. Each collection bag holds up to four ounces of milk each, and the device hooks up to a phone app to measure session times and amount of milk pumped.
Willow launches at $430 retail this spring and may very well be a game-changer in breast pumping devices. This article explores fourteen more parenting inventions that range from fascinating to astonishing. Maybe they'll even inspire you to invent a device of your own and make a stressful aspect of motherhood a little easier.
14

Mobisante
Sometimes ultrasounds can give a first-time mother or a mother with pregnancy complications peace-of-mind when little else can. Unless you are an ultrasound sonographer, this may be a little beyond your budget besides when scheduled at an ob-gyn appointment.
Mobisante developed a portable ultrasound device that connects to most Windows laptops, phones, or tablets so you can use diagnostic imaging at home. This ultrasound device is small enough to take in your pocket and easy to operate. Although this device is by no means cheap, Mobisante provides an affordable price for accurate and useful medical equipment.
13

Snoo Smart Sleeper
Premiering at the same convention as the Robotic Breast Pump, the Snoo Smart Sleeper prides itself as the safest baby cradle ever invented. Newborns are safe and secure in the bed via its easy-to-use swaddle, which keeps the baby resting on their back. This feature inhibits the baby from rolling over and reduces the likelihood of SIDs.
When your baby cries, the Snoo Smart Sleeper responds by rocking the baby gently and emitting white noise. The cradle encourages sleep training and healthy nighttime habits in infants. Of the babies tested, over 200 were shown to exhibit less crying and more restful sleep.
12

Molar Muncher
The Molar Muncher is a teething toy that soothes the entire gum line at once. Creators of this soother wanted to combine all the most positive aspects of a teething toy into one product. They spent several years developing and testing a solution until they came up with a design that relieved teething pain from the molars to the front of the mouth.
Its shape also helps babies avoid nipple confusion during breastfeeding and prevents tooth displacement, two common concerns with pacifiers or certain teething tools. Because the Molar Muncher is dishwasher-safe and crevice-free, germs have a hard time hiding on the surface. These combined with the soother's non-toxic silicone body make it safer than many teething alternatives.
11

MaternAlign Contour Maternity Body Pillow
When you're a mom-to-be, you may struggle to feel truly comfortable, like... all the time. In fact, once you're approaching the third trimester, you may forget just what comfortable felt like. The days may leave you exhausted but because of back pain, swelling, stomach problems, and neck stiffness, you may have trouble falling asleep.
Maternity body pillows were designed to soothe multiple parts of your body at once. Designed by an RN to help expecting mothers rest at night, you can tuck the pillow in-between your knees and relieve hip and back pain without feeling cramped or overheated. Its curved bell shape helps the pillow relieve stomach pain or backaches in the third trimester of pregnancy.
10

The Buzzy
If you children are anything like my younger sister, immunization days are the bane of your existence. Children who have phobia of shots are a nightmare for mothers and nurses alike. Between the struggling, the pleading, and the tears, the doctor's office can be a very traumatic experience.
Children who have a fear of needles or whose condition requires them to receive lots of shots might find The Buzzy comforting. The Buzzy is a pain relief tool that works by numbing pain through ice and vibration. Together, this device desensitizes the area of skin where it's put and makes shots pain-free. Your child may also find the friendly design distracting, making all the difference between a scary or a cheerful doctor's experience.
The Buzzy is also useful for bumps and bruises. If your child gets hurt, you can place it by the wound for immediate relief. Unlike regular ice packs, The Buzzy's vibrating sensation blocks and stops pain quickly.
9

Baby Food Dispensing Spoon
Sure, you can try the airplane or "here comes the train trick," but your baby will probably still find a way to get dirty and wipe all food that misses their mouth onto their clothes. The Baby Food Dispensing Spoon makes lunch time a little less messy and more suitable to your baby's needs. By controlling the portions your baby gets at a time, you can make sure she isn't getting a bigger mouthful than she can eat.
How it works: first, unscrew the lid and add baby food into the container--because of the spoon's design, stage one or two baby food works best. While you're feeding your baby, the small hole at the base of the spoon allows you to squeeze a little food in at a time.  The container is seal-proof to prevent spills or leakage.
The Dispensing Spoon also allows you to feed your baby with one hand so that you can enjoy a meal alongside your child. When you're dining out, the need to worry that nothing on the menu will work for your baby disappears. Rather than lugging around baby jars and sticky spoons, you can bring the Dispensing Spoon along instead.
8

The Swoop Bag
If there's one thing more irritating than a cluttered playroom, it has to be stepping on a lego or other little toy that hasn't been put away. Why not eliminate both? The inventors of Swoop Bags asked this question and put their minds to work until they invented a mess-free solution.
Swoop Bags double as toy bags and play mats. During the day, you can store legos, lincoln logs, or other building blocks until your kids want to use them. When they're ready to play, they unfold the Swoop Bag and build to their heart's content. Once playtime is over, they pull the strings at the ends of the play mat and it transforms into a bag once more.
For car rides or trips away from home, Swoop Bags also offer Mini GO Bags to carry small toys, nursing items, books, or whatever else you need to bring with you.
7

ZipABoo
ZipABoo makes diaper changes hassle-free for you and your baby. The zipper line of this onesie runs from the base of one leg, down across the tummy, and then down the other leg. When you need to change your baby, you only need to unzip the outfit without needing to take it off and leave your baby cold.
Changing a baby is a cumbersome task, especially if your baby is wiggler. ZipABoos eliminate awkwardly stuffing your baby's leg into pajamas or trying to fit their head back through the outfit altogether. The only thing you'll need to change during the day is your baby's diaper, not their clothes.
Not only are ZipABoos incredibly useful, but they are also high-quality. The material used as fabric, Peruvian Pima cotton, is known for being soft, durable, and less likely to pill. A ZipABoo onesie should last your baby until they grow out of with, and afterwards you can keep it safe for your next child or send it off to another new mother.
6

Mother-Approved Organic Teething Necklace
Babies love anything shiny or colorful, including your jewelry. Necklaces with small beads can come apart easily and present a choking hazard for your baby, and they may not provide as much relief while teething as a pacifier or teether.
Silicone teething necklaces are cute and convenient: they soothe your baby's sore gums while you comfort them. Its donut-shaped design allows your baby to easily grasp it, and the bright colors make this teether both stylish and appealing to your baby. Moms recommend chilling the necklace before you wear it out to provide maximum relief.
Not only is it convenient, but the organic teething necklace is safe. Sometimes new pacifiers or teethers receive recalls because their product contains unusually high amounts of lead or metals. This necklace has been tested and approved as BPA, pthalates, cadmium, lead, and metal-free.
5

Good Nite Lite
Good Nite Lites minimize late nights up with toddlers while educating your children about healthy sleeping habits. Because kids under five are beginning to understand the concept of nighttime and daytime, this night light has a built-in timer that changes the visual display from a moon to a sun depending on what time it is. You can teach your child to stay in bed until the moon turns into a sun and it's morning time.
The makers behind Good Nite Lites believe that normal night lights, because they are bright, inhibit children from associating dark with sleeping. After a set time, the light dims until morning, when it brightens and changes into a sun visual display. During the daytime, the night light automatically turns off to conserve energy.
Good Nite Lites hook up to your phone or tablet via an app so you can set an individual wake-up time for your kids.
4

Milk-Saver
When you're a busy or working mother, breast milk is pretty much as valuable as gold. In-between pumping sessions, you may feel like any leaking milk is "wasted" and wish you could save it somehow. The Milkies Milk-Saver collects leaking breast milk in an easily-concealed pouch so you can transfer it into a container and store it in the fridge later. The Milk-Saver holds about two ounces at a time and, thanks to a protective lid, is leak-free.
The Milk-Saver also prevents embarrassing leaks while breastfeeding or pumping milk. While nursing, slip the Milk-Saver over your non-nursing side and it will collect any leaking milk. Sure, a nursing pad can do the same thing, but they can't collect and store the milk for later bottles.
3

iBaby Monitor
iBaby Monitors hook up to your WiFi so that you can check-in with your baby from your phone or tablet. The monitor's design offers a 360-degree pan for flexibility and to eliminate any blind spots a traditional monitor could have. If your baby's crying at night and you want to soothe them, you can do so from your bed via two-way audio. Unfortunately you still need to get up if your baby's hungry, as the monitor isn't programmed to feed the baby, but you can get a few minute's extra sleep by consoling your baby without leaving your room.
iBaby also monitors your baby's comfort levels through temperature and humidity sensors. Check them before you go to sleep to make sure your baby isn't getting to cold or congested through the night, and adjust as needed if you notice any changes.
2

RefreshABaby
Nothing is more frustrating than searching for a lost bottle while your baby's crying, except maybe leaving your baby's bottle behind when you're far away from home. Refresh a Baby fits on most bottles so you can feed your baby when you've left the bottle behind. If your baby still drinks formula, you can mix bottled water with formula and prepare a bottle on-the-go.
Refresh a Baby works by using a push-fit application, which "pops" securely onto most bottles and is spill-proof via a suction top. Instead of buying (and losing) more bottles than you can count, this invention eliminates the middle man and makes any drink a baby bottle.
1

Aden + Anais Serenity Star
Aden and Anais's Serenity Star is a multi-tasking tool that keeps your baby sleeping soundly and your own mind at rest. Instead of having a separate feeding journal, clock, room temperature monitor, and night light, the Serenity Star combines all of these in a smooth, stylish interface. Depending on the room, the Serenity Star can be battery-operated or plugged into a wall.
If your baby needs soothing, it also plays peaceful sounds to lull your baby to sleep. The Serenity Star's sound machine drowns out distracting noises around the house so your family can go about their daily business while the baby sleeps. A volume control at the top point of the star helps keep the sound controlled and comforting.
Some say necessity is the mother of invention: we say that moms themselves are the mothers of invention. Many of the inventions on this article were created by mothers who looked for solutions to their problems and, when they couldn't find one, made it themselves.
Next time you gripe about your toddler's terrible twos or your baby's insomnia, make lemons into lemonade and invent something new. You may just end up solving your and so many other mom's problems.
Sources: CNN.com, LeachCo.com, BuzzyHelps.com, MyMilkies.com, ZIPaboo.com, RefreshABaby.com, SwoopBags.com, HappiestBaby.com, GoodNiteLight.com, iBabyLabs.com, MolarMuncher.com, CES.tech, Willowpump.com.