Alfie Evans' parents welcomed their newborn, a "Rainbow Baby" just a few months after Alfie passed away.
Alfie Evans gained international attention, after being born with an undiagnosed neurodegenerative disorder. He began having seizures only a few weeks after being born and he passed away before he even turned 2 years old. Baby Alfie was being treated at Alder Hey Hospital when he died. His parents, Thomas Evans and Kate James, tried to give their son the best treatment possible. They wanted to move Alfie to a hospital in Italy to see if they could provide a different treatment plan and possibly get a second opinion on his diagnosis.  The doctors at Alder Hey Hospital denied their request. They claimed that scans showed "catastrophic degradation of his brain tissue" and that further treatment was not only "futile" but also "unkind and inhumane." Alfie's parents were very upset with the hospital and they felt like their son was a prisoner of the institution.
Alfie's parents immediately took the case to court to try and save their child. However, the court ruled in favor of the hospital, stating that there really was "no hope for the youngster." Protesters even began showing up to the hospital to fight back against the doctors and staff. Thomas Evans thanked the supporters but told them to go home so that the doctors could give Alfie the attention he deserved. Alfie Evans died after being taken off of life support on April 28th, 2018, a month before his second birthday.
[caption id="" align="alignnone" width="1096"]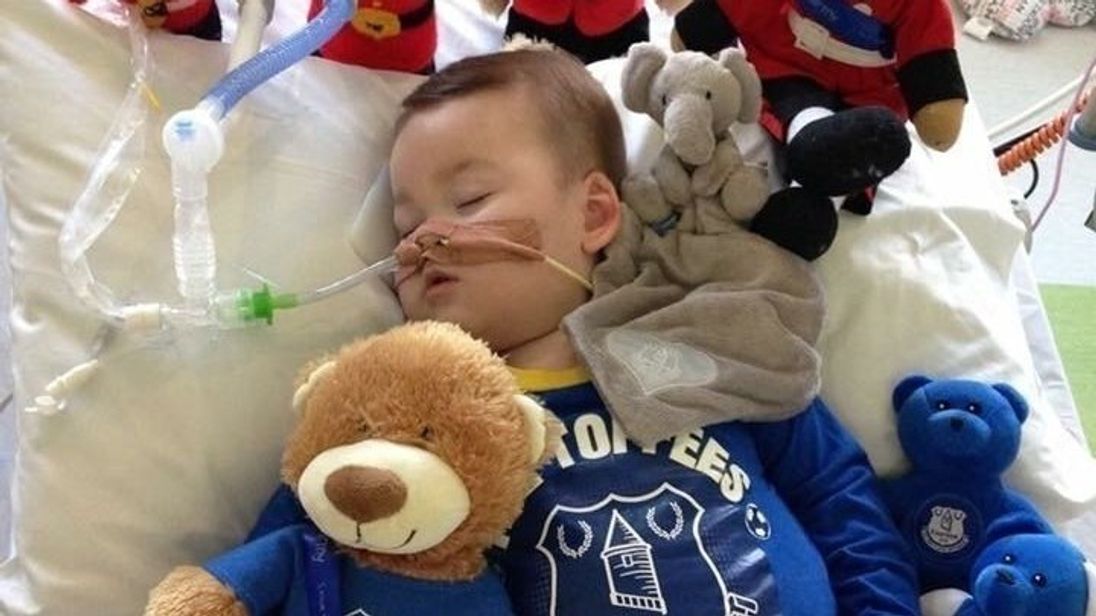 Via news.sky.com[/caption]
RELATED:  20 FACTS ABOUT ALFIE EVANS WE CAN'T IGNORE
Only three months after Alfie was taken off life support, Thomas Evans and Kate James welcomed baby Thomas. They spoke on This Morning and explained how they were very excited to be able to welcome their new little son, but it was certainly "bittersweet."
They would be lying if they said that there wasn't a little apprehension about baby Thomas's birth. Kate said she was scared she would "resent" their new son because he wasn't Alfie, saying: "I thought what if he does resemble Alfie, how am I going to take it? But when I wake up to feed him in the morning, it's lovely. Sometimes you feel like Alfie is in him." Both Thomas and Kate explained that they truly feel like Alfie is sometimes in baby Thomas. Kate says that baby Thomas is a double of Alife. They stretch and move the same. Thomas said that he says the name "Alfie" and baby Thomas will smile.  The interview on This Morning was very emotional, but they will always have two children. They have two sons and that's that.
Thankfully, baby Thomas doesn't have the same brain condition as Alfie. They performed several tests and baby Thomas passed all of the necessary ones. He had a one in four chance of being diagnosed with the same brain abnormality, but thankfully they will not have to experience that with baby Thomas.
We can't even imagine the pain that the Evans family had to go through with their little Alfie Evans. They went through the worst possible trial and the death of a child. We are so happy for the Evans family to have the opportunity to bring in a healthy baby and that he won't have to suffer like Alfie did. Congratulations on your beautiful baby boy and we wish him a life of happiness and health.
READ NEXT: HOW TO TALK TO YOUR KIDS ABOUT DEATH
Woman Reveals The Text Friends Can Send To New Moms To Help With PPD