When your pregnancy leave starts, or when it's getting ready to end, you may have questions floating around in your mind about going back. Will it be worth it financially? Will my job cover childcare, the commute or other expenses? Am I emotionally and mentally ready?
If you're like most working moms, you aren't working to just get out of the house. There's a good chance you need your income but there are options that offer more flexibility than working out of the house. All women have three options: work at home, work at a job where you need to leave the house and commute, and stay at home. Which one is for you?
If your baby has serious medical problems or unstable health, you may be afraid of leaving the baby in someone else's care. If your spouse or significant other's job is high enough paying, you may be thinking about staying home. There are benefits to staying home and there are some concerns.
Benefits: You don't have to pay to commute or childcare, you can control what your baby does and don't have to worry about a babysitter canceling last minute.
Cons: It's a lonely and isolating experience unless you have a strong support community in your area or a lot of friends in similar times of their lives, it can make you feel like you have no resources of your own and if something happens, you won't be able to just up and get on your feet as fast if you suddenly become single.
Working from home is another option. There are a growing number of employers offering remote work and depending on your education, experience, and resources, there are many options to start online businesses. Etsy, Amazon, and eBay are great starts to open online shops, if you have a talent like sewing, knitting, crocheting or any other skill that you make, Etsy may be the option for you. If you want to start an online boutique for kid's clothes or anything else, eBay or Amazon may be the right fit. There is also the option to start a blog and a website. Domains can be bought for under $20 and using Wordpress to host is typically one of the best options.
[caption id="" align="alignnone" width="990"]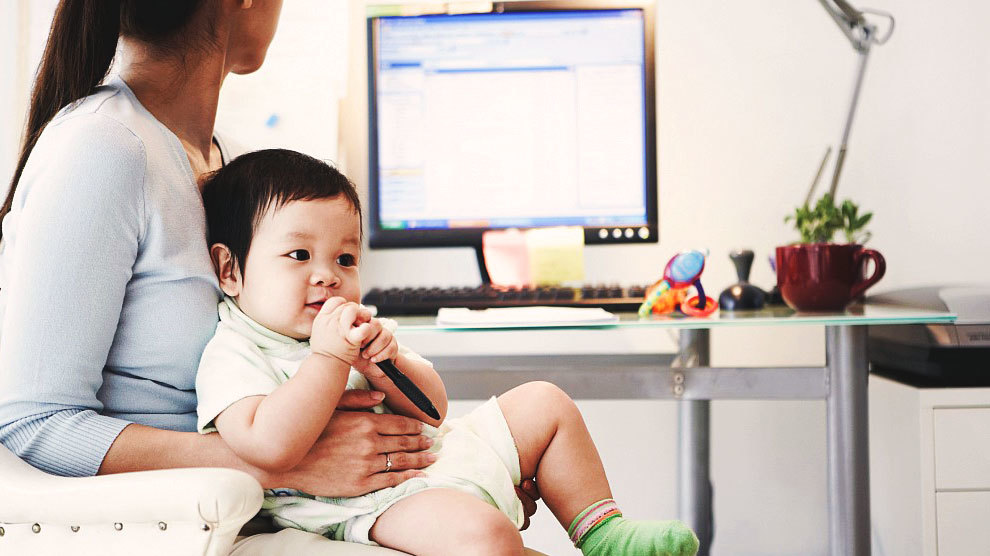 Via Stewardship.com[/caption]
Benefits: You get to stay home, you do not have to commute, you work on your own hours so you don't miss out. You'll also generally have more earning potential than if you were working for someone if something were to happen, you still have an income. Plus, you're also able to control your earnings based on the efforts that you are putting in and the opportunity in which you become involved.
Cons: You may still need to pay for childcare as you are working and kids can be distractions. You may also feel isolated like staying home and will have limited outside exposure. This is also a high-risk option. What is big one day may end up failing the next, you're fully invested so if it fails you can waste a lot of money
Working outside the home is the traditional route. It's typically lowest risk as well. You'll have a (relatively) stable job but most of the time the earning potential is limited and hours can take you away from what you're wanting to do.
Benefits: You'll earn a stable income, you'll get some outside exposure and adult interaction.
Cons: You'll have to commute, pay for childcare, and most of the time your earning is limited and you will have to answer to a boss.
Ultimately, do what is right for you and your baby, and you can't go wrong. And remember, there is nothing wrong with changing your mind down the line!
NEXT: PIN PERFECT PARENTING - HOW TO BE A PINTEREST MOM
Socialite Millie Mackintosh Admits To Having "Severe Anxiety" About Birth & Parenthood