There is something about bringing a new bundle home that brings an all-new excitement to all holidays. Baby's first holidays are some of the most special memories you'll have (until they're old enough to fully enjoy the holidays themselves- then it's a whole new level of magic).
Halloween is coming and with that comes movies, countdowns, a large variety of decorations from cute to spooky (or in some cases, near graphic) and all the feelings of fall. Pumpkin is everywhere, from pumpkin flavored everything to pumpkin patches and jack-o-lanterns. With your new baby, what are the things you can do?
Of course, the pumpkin patch is great for photo ops and to find a pumpkin as big as they are. There are so many cute ways to decorate pumpkins with newborns as well for first Halloween. Foot/handprints (or cute pictures like this of a baby painted like a pumpkin- make sure you use gentle and nontoxic paint- safe for baby's body. There is also the idea floating around on Pinterest to paint baby's booty to make a pumpkin.
[caption id="" align="alignnone" width="720"]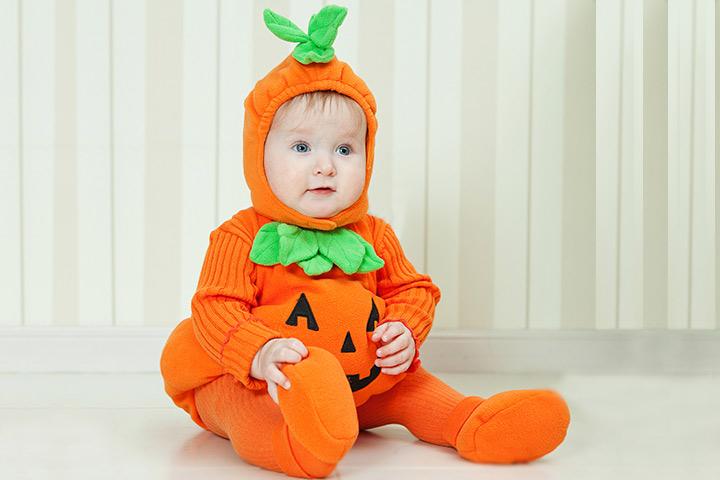 Via Mom Junction[/caption]
Of course, you can't have a holiday without having a cute "My first Halloween" outfit made. You can DIY it with fabric paint and a white shirt, or you can have one custom made. They sell My First shirts, outfits, hats, and other baby accessories in stores but custom can be way cuter and more original. You could also always look on Etsy to find the perfect outfit. Costumes need to be kept simple (for diaper changes) and something easy to clean because babies make messes.
"Baby's first-holiday scrapbook" is another great idea to celebrate with a little one. It is a place where you post pictures from each holiday, record everything memorable and dedicate the full book to the first holidays. Baby's first Jack-o-Lantern- where baby is sitting next to the freshly carved pumpkin along with pictures of their costume and every event they attended with you. When they get older, they will love looking back at all the pictures.
How about a fun craft to make with baby and keep in your scrapbook? Handprint bats are super easy, spooky, and adorable. All you have to do is space baby's fingers out and either dip them in paint or create a clay/dough and press babies hands fingers out to form the bat wings. Let it dry, then paint the prints in and press in the body to commemorate baby's first Halloween. It'll be a keepsake you can keep for years to come and can even set out in the garden or on the porch.
Just because baby is too young to eat candy doesn't mean that you can't find ways to let them celebrate Halloween with you. Make sure you take lots of pictures and keep the memories as best as you can, so even baby will "remember" as s/he grows up. The memories of the first holidays are mainly for you, but baby will love looking at the pictures as they get older.
NEXT: ALLERGY-FRIENDLY HALLOWEEN TREATS
Decorating A Nursery: 10 Glam, Luxurious & Stylish Ideas